'I'm Domino's youngest manager and met partner on job – my go-to pizza is epic'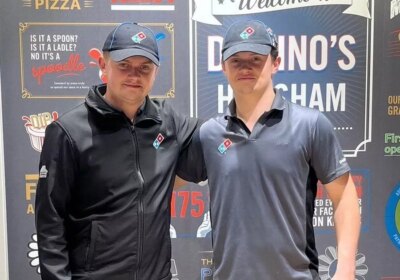 A lad has revealed how he's worked his way up in Domino's – and even met his girlfriend there too.
James Priestley was just 16 when he started rustling up pizzas in the Horsham, West Sussex, branch in 2017. Since then, he's become a shift manager, assistant manager and is the youngest ever store manager.
The 22-year-old is currently overseeing five stores in his region, working alongside his three brothers and uncle at the world-famous pizza chain.
READ MORE: England Women's World Cup star worked for Domino's before making it big in football
You can read more lifestyle stories from Daily Star here.
James' uncle Chris Speed is a full-time driver and his 18-year-old youngest brother Tom works as assistant manager overseeing the Horsham team.
Meanwhile 20-year-old Callum holds the role of store manager at the branch in Crowborough, East Sussex, and 16-year-old Daniel is a team member in the Southwater branch.
Before James took a big step in his managerial career, he worked alongside his now-girlfriend Leanne Tullett, 20, who is store manager at the Horsham branch in West Sussex.
James joked the family affair might suggest there would be lots of "rows and bickering", but actually it's a lot of fun. Now the chain is looking to hire its next generation of Domino's workers.
He said: "Some might think it would be really tough working with their family and think it would lead to rows and bickering. However, it's been really good working with my family, me and my uncle get on really well.
"I can also go home and talk to my girlfriend about my day, and she'll completely understand all of it. But there is a bit of healthy competition between us – as you would expect!"
'People judge me for being a lingerie-clad barmaid – but I'm earning thousands'
James, who describes himself as the "best pizza maker out of all of us", worked his way up so fast and began his career as soon as he could. His uncle knew he wanted to get stuck in so he eventually got a job as a team pizza maker.
He added: "It was a bit terrifying at first taking on my first management role at 17, but I loved the challenge. I worked hard and was able to prove that I could do it and continue to progress in the company.
"Domino's has always been a great place to work, and my progression is a great example of with the right work ethic you can progress at pace."
It's not just a case of being able to work alongside family, James found love among the doughballs after meeting Leanne.
James said: "We met while working at Domino's. We knew each other just over a year before anything happened. I got a promotion to store manager of a different store, which is when we got together.
"We started dating in February last year."
'I was born without a vagina – I felt like freak when I was compared to Barbie'
James has even developed Domino's latest menu addition – Twisted Dough Balls – after winning the internal Domi-chef competition.
The Twisted Doughballs are dusted with cinnamon sugar, baked and then topped with melted milk chocolate, which James made for Leanne at the end of his shifts.
Domino's also launched The Ultimate Spicy Meatball pizza – topped with pepperoni, pork meatballs, red onions and sliced jalapeños, then drizzled with new spicy sriracha.
It's the brainchild of Senior Store Manager of Domino's Smethwick, West Midlands, Chandandeep Singh who also entered it into Domino's DomiChef competition.
For more information about roles, visit www.dominosrecruitment.co.uk.
Want all the biggest Lifestyle news straight to your inbox? Sign up for our free Daily Star Hot Topics newsletter
Source: Read Full Article