'I'm a mum-of-12 – trolls are wrong to say I'm cashing in on my large family'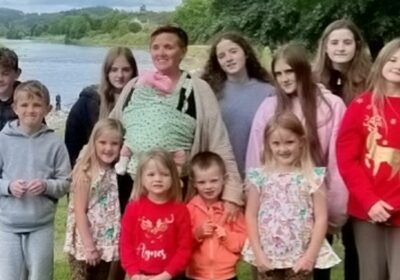 A mum-of-12 hit back at trolls who call her "irresponsible".
Zoe Sullivan is not phased by the hurtful comments as she often receives vile messages from trolls online.
The 44-year-old shares her life as a busy parent but she's been accused of "starving" kids.
READ MORE: 22 Kids and Counting viewers fume over Radford Family's 'tone deaf' comment
Haters accused Zoe and her husband Ben, 48, of not feeding them and even made comments about their kids' weights.
She said: "We provide for them financially, mentally, physically… we provide everything they need.
"For us, no it's not irresponsible (to have so many children)."
The couple have 12 kids, including Elizabeth, 18, Olivia, 16, twins Isabelle and Charlotte, 15, Noah, 13, Evangeline, 11, Tobias, 10, twins Leah and Erin, seven, Agnes, five, Joseph, four, and one-year-old Florence.
They often feature in Zoe's Instagram posts under @our_sullivan_family_life which boasts over 5,800 followers.
Zoe, from Scotland, even uploads images of her massive brood on family days out, including at outdoor attractions.
She told the Sun she used to take the comments as a "personal attack" but now embraces her family, regardless of the comments.
In a video, she said: "I spent so many years trying to justify having a large family, almost apologising sometimes because it goes against the 'norms' of society.
"The truth is I never liked being 'normal' anyway."
'I was in debt but paid off thousands by using my saucy circus skills'
She added: "I used to find myself constantly trying to explain being the butt of people's jokes and putting up with the same awful comments time and time again.
"The fact is we couldn't be more proud of the amazing family we have created."
Ben is the family's main breadwinner but to save money Zoe shops in the evening for discounted items and uses hand-me-down clothes.
She also gets saving cards for supermarkets to get extra offers and takes her family on trips to beauty spots next to their house instead of trekking far.
The couple only spend £200 on food and groceries each week and usually have their Christmas budgets in order by May each year.
The stay-at-home mum said in another post: "Our whole lives revolve around doing better for them (the children), in order to give them the best life we can.
"We may not be where we want to be just yet, but we work hard every single day to try and get there.
"Each pregnancy has been a really special time, not just for me but for everybody."
Want all the biggest Lifestyle news straight to your inbox? Sign up for our free Daily Star Hot Topics newsletter
READ NEXT:
Mum-of-22 Sue Radford's fortune unveiled as she boasts she's 'self-sufficient'
Fans all say same thing as mum-of-22 Sue Radford's daughter Ellie turns 18
'Britain's biggest family' in horror car crash as mum-of-22 Sue Radford writes off motor
Mum-of-22 Sue Radford planning a 'no-spend January' despite staggering net worth
Brit mum-of-22 Sue Radford at war with daughter after 'using grandkids to make money'
Source: Read Full Article