I'm 102-years-old and the secret to a long life is good SEX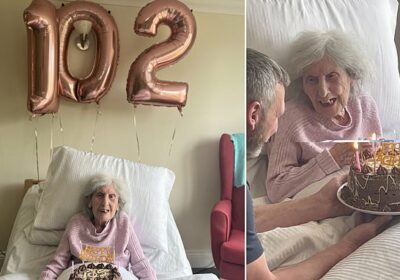 I'm 102-years-old and the secret to a long life is good SEX
Joyce Jackman, 102, from Essex, shared her secret to living for over a century
READ MORE:  109-YEAR-OLD man who lives alone and still DRIVES himself around reveals the very unique secrets behind his longevity
Asked what the secret to a long and happy life is, a 102-year-old woman answered honestly: good sex. 
Joyce Jackman, from Essex, who turned 102 on May 9, shared her secret to living for over a century.
The former RAF chef told staff at her care home that she credits 'good sex and good sherry' as the key to her satisfying life.
Joyce celebrated her birthday at Care UK's Silversprings, Thorrington, where staff surprised her with a cake.
Her family came to visit to celebrate her birthday with her, and the 102-year-old said she 'didn't want the day to end'.
Joyce Jackman, who turned 102 on May 9, told the staff at her care home that the secret to living for over a century was good sex 
Staff at Care UK's Silversprings surprised Joyce with a birthday cake. She joked that all the chocolate she eats must have also played a role in her reaching 102 years of age 
Joyce said: 'I had such a lovely day.
'I can't believe I'm 102 — it must be all the chocolate I eat that's helped!'
In her early life, Joyce worked in a sweet shop, before joining the RAF as a chef during World War Two.
Joyce, now widowed, married her childhood sweetheart, Terence Jackman, in 1945 — the year the war ended.
While they never had children, Joyce loved to help out looking after the children in her neighbourhood, as well as enjoying baking with her mother and going out with her friends.
Now, Joyce enjoys keeping her mind busy at Silversprings with regular crossword puzzles and staying up-to-date with the daily newspaper — as well as enjoying plenty of chocolate.
Joanne Rix, Home Manager at Silversprings, added: 'Joyce is a much-loved resident at the home – she's always making us laugh with her fantastic sense of humour and outlook on life.
'It was wonderful to be part of her special day.
'Here at Silversprings, we work hard to support residents to lead fulfilling lives, and celebrating special occasions and birthdays plays a huge part in this.
'We were honoured to raise a glass of sherry to Joyce's incredible life so far and are privileged to have her as part of our Silversprings family.'
It comes after a 102-year-old doctor shared her tips for living a long and fulfilling life as she continues to focus on the future with her 10-year plan.
Dr. Gladys McGarey, from Scottsdale, Arizona, is known as the mother of holistic medicine, a form of healing that takes the patient's mind, body, and spirit into account during treatment.
She co-founded the American Board of Holistic Medicine and had a family practice for more than 60 years. The mother of six continues to work as a consulting doctor and writer.
McGarey was 100 when she started penning her new book, The Well-Lived Life: A 102-Year-Old Doctor's Six Secrets to Health and Happiness at Every Age, which was published last week.
She makes an effort to move daily, including reaching her daily step count and riding her tricycle. In her free time, she knits, listens to audiobooks, and talks with friends.
As she lifts the lid on her keys to longevity while promoting her latest book, FEMAIL has highlighted her best advice below.
Source: Read Full Article