'I overcame troubled childhood to become OnlyFans star – now I'm worth millions'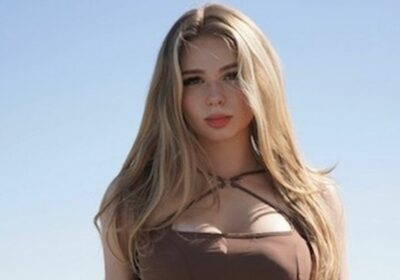 Bookmark
An adult entertainer overcame a troubled upbringing to pocket millions thanks to OnlyFans.
Sava Shultz, 21, from Utah, US, is a determined model and online creator who paved her own way to financial independence.
Sadly before doing so, she had to overcome misogynistic exploitation and a difficult childhood.
READ MORE: Millionaire Barbie who spent £60k on plastic surgery had very different life before fame
She told Daily Star: "My family growing up was extremely religious. I didn't see my mum often because she was always working and my father was unemployed for multiple years.
"We relied on food banks and charities for many of our needs. I also moved between multiple families while growing up.
"My brother also joined a hateful Christian sect growing up. I no longer participate in religion."
Sava claimed her family knows she has an OnlyFans page, which they're not supportive of at all.
Despite this, she said her family "lend their support in other ways".
The model hadn't originally planned on joining the subscription-based platform but made the decision to claim her power back.
While modelling at the age of 19, Sava's image was taken and posted to OnlyFans without her consent by a photographer she thought she could trust.
Taking back control, Sava decided to start her own personal OnlyFans instead – and she's gained hundreds of millions of followers since.
On Instagram, she has a whopping 1.3million fans and boasts 1.9m fans on TikTok.
But it was an uphill battle for her to get where she is now.
"At the time, I was devastated and blamed myself for not having a contract with him that prevented something like that," she explained.
"But staying in that mindset wouldn't help me, so I chose to take action.
"I didn't reconsider exiting the industry because I used modelling to support myself. It was a road to economic independence for me while I was studying. I didn't want to lose that, so I had to push through.
"I started my OnlyFans because I wouldn't let people like that 'photographer' win. I wanted to take back that profit and control my own image."
Her financial success allowed her to save for her return to nursing school but due to being on OnlyFans, Sava admitted that's now "out of the picture".
However, she still might return to education to help her learn about business.
Sava is proud of the hurdles she managed to overcome and the life she built for herself.
While she sometimes receives judgement from others, she doesn't care what people think about her.
"I ignore judgment on my choices because I do what's best for me. It's 2023 and we shouldn't have to think about this," she said.
"My necessity and my goal of making my own life happy for myself have motivated me to work hard. I'm still learning every day how to shape my life best.
"Fitness and working out have helped me stay grounded. I always recommend it to everyone wanting to keep their mind and body aligned."
Sava said that managing her own OnlyFans account has been "liberating".
READ NEXT:
Mum divorces husband and quits banking job to become award-winning porn star
Page 3 model unleashes inner Playboy Bunny with saucy new venture
'I set up sex shop after leaving Navy – my boyfriend was so ashamed I dumped him'
For more lifestyle stories, sign up to the free Hot Topics newsletter here.
Source: Read Full Article