'I left my $200k a year job to become a cleaner': Why people quit office work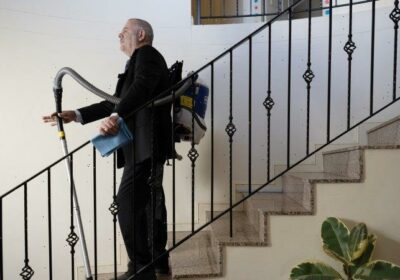 Tony Beaumont was earning more than $200,000 as the NSW marketing manager for BP. He had 45 staff reporting to him, access to a company car, regularly flew for work and even had shares in the oil company.
He gave it all up to be a cleaner.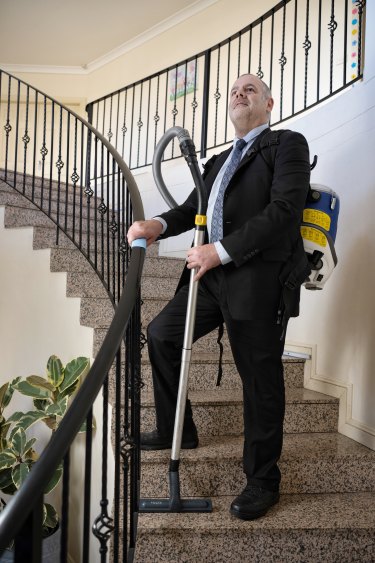 Tony Beaumont was an oil company executive until he quit his white collar job to become a cleaner.Credit:Nick Moir
Now operating Jim's Cleaning Bayview, he said he would "do the same thing again without a shadow of a doubt."
"I was corporate, corporate. NSW branch was run the best based on KPIs in the country. But it didn't matter. You were expected to be 24/7 available. I had to spend time in Melbourne most months. But I had a young family in Sydney. My peers were all career-focused, and I had no desire to go to Melbourne ongoing – the corporate culture, drinking until midnight, couldn't speak to my wife and kids," he said.
"I was exceptionally good, but getting 150 emails a day and being constantly on – I thought 'bugger it'. I had to make a change."
As a teenager, Beaumont had started his working life cleaning McDonald's restaurants, so he thought, why not give cleaning a go?
"I wanted to be my own boss. I didn't want to manage others anymore. I had had 10 direct and thirty-five indirect people reporting to me. I didn't want any staff that I had to worry about."
The move he made years ago has been repeated in the pandemic as workers have switched industries at an increasing rate.
Data from the Australian Bureau of Statistics showed 1.3 million people changed jobs in the year to February 2022 – at 9.5 per cent of employed people, it was the highest rate in a decade.
The statistics also showed 39 per cent of managers who changed jobs in the year left their industry entirely to go to a new occupation.
The trend was even more pronounced for sales workers – 53 per cent of workers who left a sales job went to another industry in the past year.
A PricewaterhouseCoopers report 'What workers want – The future of work', based on a survey undertaken in September and October last year, revealed a sizeable gap between what workers want and what senior leaders believe their workers want.
While money was the top-ranked priority, a close second among the workers surveyed was "wellbeing".
"Remuneration – it's not everything. I would much rather have a happy family life and watch my kids grow up," Beaumont said.
"I have taken a financial hit, but it was well worth it."
But for Behroz Hassan Ali Poul, the money made a difference.
He was a highly-educated scientist who realised before the pandemic hit that white-collar employment did not necessarily mean higher job satisfaction or even extra income.
Poul, 34, completed eight years of tertiary education to become a molecular geneticist. He decided to stop being a scientist and is now painting daily for his own business in Tambourine Mountain, QLD.
"When a painter is making more money than a scientist, then there is something really wrong there. If I was supporting myself on $60,000 to $70,000 – okay… but it is hard when you have a wife and kids," he said.
He said the annual income for a painting business can be $250,000 to $300,000. And getting his hands dirty with manual labour means less mental stress than before.
"In the lab, it wasn't physically hard, but you are constantly thinking 10 to 15 times more. Genetics is a very, very complicated field. Anyone can pick up a brush and paint and fill some gaps. Just not anybody can go in the lab and do genetics. It is a specialised field. I loved it, but unfortunately, the money is not there," he said.
Poul also said grant funding arrangements make it tough to keep working in science.
"Money has the final say. Researchers in areas immediately get affected depending on the grants. There is a limited amount of funding that the government has to distribute towards these things," he said.
"I got into science because I believed all these things. I believed you can do better and change the world. Now that I'm older, would you rather spend your time trying to change the world or provide for your immediate family? I am doing the complete opposite of what I set out to do. Is it right? I don't know. But if I don't struggle today for my children's future, they won't get anywhere either."
Jeff Borland, an economics professor at the University of Melbourne said part of the reason why the ABS had found such strong job mobility was that COVID had frozen the labour market.
"So a lot of people who might have been intending to switch jobs in 2020 weren't able to do that. Some of what we saw in the year to February 2022 therefore is likely to have been these workers who were 'delayed' in their job switching during 2020, now being able to do that," he said.
Borland said workers always switch industries when labour market conditions are strong.
"Work by Treasury, for example, has shown that the biggest wage increases at the moment are being achieved by people who switch jobs. In the mid-2000s, when labour demand was also strong, in that case due to the mining boom, we saw an even higher rate of workers switching between jobs," he said.
Beyond the people who shifted jobs, the data shows a rise in people taking on extra work too.
"Secondary jobs increased by 33 per cent over the 2020-21 financial year, from a low in the early stages of the COVID-19 pandemic in the June quarter of 2020. By June quarter 2021 they were 9 per cent above pre-pandemic levels," Bjorn Jarvis, head of Labour Statistics at the ABS, said in September.
Hayley, 39, from NSW, had been working as a high-level executive assistant for 20 years. When her office hours were reduced to part-time, she started working as an Uber Eats delivery driver for a few hours a week and on the weekends.
The masthead spoke to several Uber drivers and delivery workers who had previously maintained professional employment and were now supplementing or replacing their income thanks to the Uber platform but all declined to provide their full names.
"I used to do it every night or every second night for an hour or two. Now I do it every Saturday for three hours. Then a few hours during the week. It is instant money. You can cash it out. Or otherwise weekly. It is good for people that need that. It suits me and my lifestyle," Hayley said.
For Beaumont, he's happier now he's out of management. He does the cleaning himself, along with just one other person he occasionally shares cleaning jobs with. Coincidentally, they knew each other as old colleagues at BP.
"[They] returned from travelling abroad and I said 'I have some work for you if you want'. But [they're] not my employee."
Make the most of your health, relationships, fitness and nutrition with our Live Well newsletter. Get it in your inbox every Monday.
Most Viewed in Lifestyle
From our partners
Source: Read Full Article