'I hadn't even told my 101-year-old Nan': Why a gay Liberal came out in parliament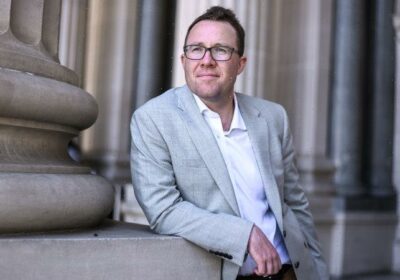 Liberal MP Joe McCracken has always known he was gay, but it was something he had mostly kept to himself.
That changed on Thursday night when the newly elected MP used his inaugural speech to the Victorian parliament to reveal he had a partner, Jack. Apart from his parents and some mates, few knew his secret.
Joe McCracken used his inaugural speech to the Victorian parliament to come out as gay.Credit:Justin McManus
"I hadn't even told my 101-year-old Nan; sorry Nan," he said.
"Deep down, I've known always, but it just took me a while to come to terms with it and accept it."
The news also came as a surprise to Opposition Leader John Pesutto, who last week became the first Liberal leader to march at the annual Midsumma Pride March in St Kilda.
But McCracken didn't join his colleagues in Fitzroy Street, arguing that gay people should not be defined by their sexuality.
The LGBTQ community, he told parliament, did not need to be treated any differently to anyone else: "No separate doctors, no separate radio stations, no festivals, and no separate flags."
"I don't like to go to those sorts of events because I think it makes an issue of it. I don't begrudge people that go, but it's not for me," McCracken told The Age.
He said the stereotype of the gay community, that it's "all glitter and streamers", might have played a part in his reluctance to accept his sexuality.
"As much as I will champion the rights of gay people, I will champion them for straight people, or people from a different continent or religion," he said.
"If I want to be known for something, it's for my actions, deeds or character – not because I am 'the gay'.
"I think of a person like a pie: gay is one slice of that pie, rural is one slice of that pie, male is one slice, and you have all different aspects going into the pie. We don't need to take a slice of that pie, amplify it, and say that defines the person."
While thankful for the work of gay rights activists who fought for equality, the former Colac-Otway mayor said those battles had "been fought and won".
"I acknowledge and accept that in the past there was a system that didn't acknowledge or accept that being gay was even a thing, it was criminalised. And over the course of the past 50 years, that has progressively changed for the good," he said.
Co-convener of the Victorian Pride Lobby, Austin Fabry-Jenkins, welcomed McCracken's decision to come out during his inaugural speech but disagreed with his belief that the equality fight was over for the LGBTQ community.
Fabry-Jenkins said vilification laws needed to be strengthened and there was a need for better reporting of prejudice-motivated crimes, for example. "There is still work to be done."
"Joe may not think he agrees with the Pride Lobby on anything, but he also is a gay man with lived experience in western Victoria and as a rural man. There are plenty of things that LGBTQ members of that community need to thrive."
While studying, McCracken said he was annoyed when he learnt about a scholarship specifically for LGBTQ students, prompting him to write a letter to the university labelling it "unfair".
"We have got a system where equality is enshrined with everything we do, we have anti-discrimination laws which make it a crime to discriminate someone based on their sexuality. If we really want to treat people equally, we should have that as our standard. I don't thing we need to go above and beyond that.
"I hope we don't go too far," he said.
As the broader Liberal Party grapples with how to diversify its ranks, McCracken rejects calls for quotas.
"We have a heap of diversity in the upper house, and we didn't need quotas for that," he said.
Asked to give examples, McCracken points to his Liberal colleague Trung Luu, who arrived in Australia as a refugee from Vietnam in the late 1970s. He also highlighted conservative MP Renee Heath as "female and Christian" and Bev McArthur as "representing older constituents".
McCracken, who represents Western Victoria, said he had been overwhelmed by the response from his colleagues and constituents, but that he had also received some negative emails from members of the LGBTQ community.
"My lived experience is also valid, and just because mine is valid, doesn't mean theirs isn't valid," he said.
Fabry-Jenkins said it was worth celebrating the fact McCracken had not been forced to come out during his time on council or during the preselection process and that he felt safe to do so in the Legislative Council during his inaugural speech.
The Morning Edition newsletter is our guide to the day's most important and interesting stories, analysis and insights. Sign up here.
Most Viewed in Politics
From our partners
Source: Read Full Article