'I don't want it to be my legacy': Gabrielle Carey, Puberty Blues co-author, dies aged 64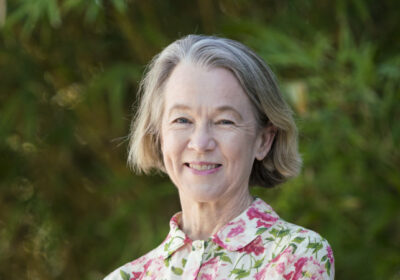 Save articles for later
Add articles to your saved list and come back to them any time.
The writer Gabrielle Carey, who died this week at the age of 64, was probably best known for co-writing the novel Puberty Blues with Kathy Lette. But she did not want that to be her legacy.
She told the novelist and academic Debra Adelaide that it would probably be on her gravestone. "I asked what's wrong with that," Adelaide said. "I told her she should be very proud of the book, but she wanted to escape it."
Gabrielle Carey did not want Puberty Blues to be her epitaph.
Carey and Adelaide were friends for more than 50 years. They met when they were 12 at Sylvania Primary School in the Sutherland Shire and were two of only three students who went on to "the huge and terrifying" Gymea High School.
"Gab was fun, the physical opposite of me – short, beautiful and blonde – and had a great sense of humour. She was an amazing person and made my world very special. We were friends because we clung together."
Adelaide said she would miss Carey's ability to talk about books absolutely candidly and her sense of humour.
Gabrielle Carey's most recent book
"And I will miss her quirky devotion to things like book binding, which she had taken up in the past couple of years; her obsession with James Joyce, and her jam making."
Carey left school when she was 15 and then struck up a professional relationship with Lette. Together, they wrote columns for The Sun-Herald as the Salami Sisters and Puberty Blues, which was directed for the screen by Bruce Beresford in 1981.
But Carey, who had been lecturing in creative writing at UTS for many years, turned her back on fiction, writing only one more novel, The Borrowed Girl.
Adelaide said her friend had an inquiring mind. "For Gabrielle, fiction writing was a bit of a mystery. She moved into memoir because she was fearless about interrogating complex issues. She was devoted to truth telling. To her, writing was about interrogating real people and the real world frankly."
Gabrielle Carey (left) and Kathy Lette around the time of Puberty BluesCredit:
"I think The Waiting Room [about her mother's ageing and growing fragility] was one of the finest things she ever wrote. It was extraordinarily good. It was warm, insightful, and fearless about pursuing the nature of family relationships."
In an article Carey wrote for this masthead late last year about the death of her father, Alex, she said: "It was only decades later, when my father died from suicide on the very day he turned 64, that I became terrified of that number. If I have inherited my father's disposition for depression, did that mean I would also end up in an early grave … All my working life I have believed that what happened to my father could not happen to me." Gabrielle Carey was 64 on January 10 this year.
Adelaide said she had spent a lot of time in the past few weeks talking to Carey. "It was clear to all her friends she was suffering."
Just Us, which she published in 1984, was about her relationship with a prisoner at Parramatta jail. She shared the Prime Minister's Award for non-fiction in 2014 for Moving Among Strangers: Randolph Stow and My Family.
Her most recent book, Only Happiness Here: In Search of Elizabeth von Arnim, was published in 2020. When Brenda Niall reviewed it in this masthead, she wrote: "The book is about her discovery of the works of Elizabeth von Arnim, a late 19th-century writer who restored Carey's faith in the possibility of being happy despite travails. At a hard time in Carey's life, von Arnim was a much-needed source of joy and courage … Only Happiness Here is as much about Carey's life as von Arnim's. It's a journey into the self as reader. Carey is as hard on her younger self as she is indulgent towards von Arnim."
Carey adored the work of James Joyce and told this masthead last year on the centenary of the publication Ulysses "was a book that changed English literature and even today I'd encourage everyone to read it and reread it because we are still learning to be Joyce's contemporaries – he was so ahead of his time in terms of gender fluidity, his voice is so astonishingly female in the final chapter."
Nick Walker director of Australian Scholarly Publishing, said her book James Joyce: A Life, would be published in August. "We are producing it exactly as she wished, in a well-crafted, dust-jacketed, hardback edition."
The Booklist is a weekly newsletter for book lovers from books editor Jason Steger. Get it delivered every Friday.
Most Viewed in Culture
From our partners
Source: Read Full Article