I compared Coca-Cola to Aldi, Asda and Tesco pop – and one was like bleach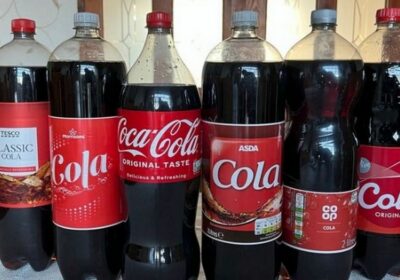 To save money on our groceries, many of us swap big brands for supermarket-own items instead.
But is it worth sacrificing Coca-Cola for cheaper fizzy alternatives?
Birmingham Live reporter Dayna Farrington roped in the help of her partner and two step-children to find out.
READ MORE: M&S launches Percy Pig frappe after customers beg for sweet treat
She challenged them to do a blind taste-test to see if they'd make the swap.
So how did the likes of Asda, Co-op, Aldi, Morrisons and Tesco fare against regular Coke?
You can check out Dayna's brutally honest verdict below…
Coca-Cola – £2.25 for 1.75L
What first struck me was the price. £2.25 for a 1.75 litre bottle from Tesco. All the supermarket bottles were 2 litre – this was smaller AND a lot more expensive.
I guess you really do pay for the brand. I could have bought five of the cheapest supermarket bottles compared to one Coca-Cola.
But you can't go wrong can you? I didn't put Coca-Cola first in the taste-test, I actually sandwiched it in the middle of the others to try and trick my tasters.
Let's skip to the point. I failed. As soon as all three tried a sip they immediately knew it Coca-Cola. No more comments needed, it was a 5/5 from them all.
Asda – 70p for 2L
First up on the taste-test was Asda. The joint second cheapest out all the supermarkets.
As I opened the cap I first noticed a lack of fizz as I twisted. Unusual. And not like the real deal. I poured away and handed the three glasses over and tried one myself.
Immediately there was a distinct lack of fizz – it wasn't flat, but it wasn't as bubbly as you expect. There was a strange after-taste too.
Not awful, but not great either. We scored it a 2/5.
Co-op – 80p for 2L
I couldn't even open the bottle of Co-op Cola. Fail. I had to enlist my partner to help, while urging him not to look at the bottle to spoilt the experiment.
Anyway, this one was not enjoyable. It had a real ginger taste, like too overpowering. Not nice.
Then the after-taste hit. Not pleasant. We were all in agreement, it was a 1/5.
Aldi – 45p for 2L
This was the cheapest out of all the supermarket alternatives we tasted. We were really hopeful for high things.
And like I said previously, I could buy five bottles of Aldi Cola compared to a similar size bottle of Coca-Cola.
On first sip, we all remarked how it tasted like fizzy Cola bottle sweets. Nice enough, there was a good fizz to it too.
But then there was a slight liquorice taste afterwards, not the worst but not the best either.
We were going to give it a 3/5 but for the price we bumped it up to 4/5.
Morrisons – 79p for 2L
This had a fantastic fizz when I opened the bottle cap and it continued to fizz away nicely as I poured the liquid into four glasses.
But before I could even sip, the smell hit me. It was a kind of bleach, cleaning fluid smell. My step-children also recoiled at the smell.
We all tentatively took tiny sips but it was an immediate no. It didn't taste pleasant at all – and we poured it away.
And we washed our mouths out with water straight away. It was a 0/5, sorry Morrisons.
Tesco – 70p for 2L
And last, but by no means least, we come to Tesco. Again, another bottle I failed to open so enlisted the help of my partner again.
There was a good fizz to it, so I poured away. I had high hopes for Tesco for some reason, it kind of resembled Coca-Cola in colour and look.
But I guess that's where the similarities ended. It wasn't a great taste. It wasn't the worst we had tried, but by no means the best.
We all remarked it lacked the sweetness of Coca-Cola. We gave it a 2/5.
Verdict
Dayna noted that her family were able to taste which Coca-Cola was the real deal straight away.
And while it's much pricier than own-brand alternatives, it proved to be worth the hype.
Aldi came the closest in the end – and it's the most affordable way to get your fizzy drink fix too!
So would you be tempted to make the swap?
READ NEXT:
Mum loses 5st of excess weight after girls holiday – and ditched husband too
People are only just realising why Polo mints have hole in middle

Woman shares long list of turn offs – like men tying shoe laces or buying loo roll

For more lifestyle stories, sign up to the free Hot Topics newsletter here
Source: Read Full Article