How to clean laminate flooring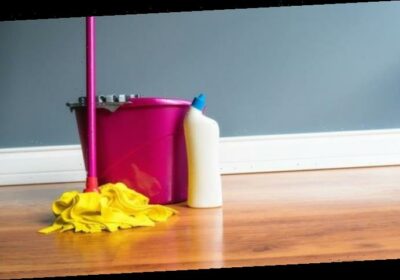 Mrs Hinch tests out a variety of new cleaning products from B&M
When you subscribe we will use the information you provide to send you these newsletters.Sometimes they'll include recommendations for other related newsletters or services we offer.Our Privacy Notice explains more about how we use your data, and your rights.You can unsubscribe at any time.
Laminate flooring is commonplace in houses, as it is often cheaper than solid wood floors. Laminate flooring is designed to be versatile, while it's coating often means it looks effortlessly shiny. Here are some simple ways you can clean your laminate floors.
How do you clean laminate flooring?
Before you decide to clean your laminate flooring, check the specifications for your flooring.
Manufacturers will usually include some guidelines on how to clean their specific laminate flooring in the product guidance or on their website.
Before getting to work on mopping, it's a good idea to sweep or vacuum up any debris on the floor.
When it is time to mop, there are plenty of floor cleaning products designed specifically for laminate flooring on the market.
According to Carpet Right, most laminate floors can also be cleaned with a simple solution of vinegar and water.
Just mix one cup of household vinegar with a gallon of warm water.
When cleaning laminate floors, it is important to bear in mind the floors cannot get too wet.
Too much water on laminate floors can cause warping or water spots.
So using a damp mop, or a mop with a disposable pad will help to keep floors free from damage.
The mop should be rung out well before use, and no puddles of water should pool on laminate flooring while mopping.
Laminate floors with bevelled edges or V grooves should not be cleaned with a damp mop, because this could cause dirt to accumulate in the grooves of the floor.
DON'T MISS:
Baking soda: Why you should NEVER use baking soda on wood [INSIGHT]
10 things you should never clean with washing up liquid [ANALYSIS]
Cleaning: Mrs Hinch tests out new cleaning products from B&M [VIDEO]
Should you polish or wax a laminate floor?
People should not polish or wax their laminate flooring, in order to prevent any damage.
Laminate flooring is designed to be shiny without the need for polishing, while polish could actually have the reverse effect and dull floors.
Laminate floor cleaner and a damp mop should be enough to get laminate floors sparkly again.
Tips for looking after laminate floors
Aside from mopping floors, you can take steps every day to keep your floors looking their best.
Laminate floors shouldn't be exposed to liquid for too long, so any spills should be wiped away immediately.
Doormats and rugs can help prevent dirt and debris from being carried into the home.
Making sure pets nails are trimmed will not only keep your pets happy but also help ensure your flooring is free from scratches.
Pads on furniture legs and appliances can also help to minimise marks and scuffs.
Source: Read Full Article