How Princess Eugenie's new baby will affect the line of succession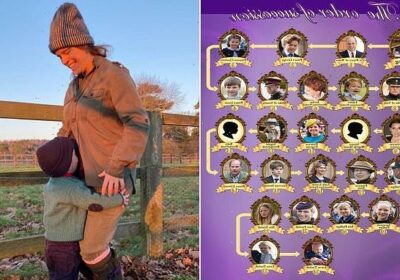 Prince Edward moves down the line of succession: Princess Eugenie's new baby means Earl of Wessex will become 14th in line to the throne
Princess Eugenie announced her second pregnancy on Instagram this afternoon
The youngest daughter of Prince Andrew and Sarah Ferguson is 11th in line 
Her son August is 12th in line to the throne with her new arrival in 13th place 
The new baby will push Prince Edward down to 14th in line to the throne 
After Princess Eugenie has announced she and her husband Jack Brooksbank are expecting their second child this summer, the line of succession has once again been shifted.
Following the death of Queen Elizabeth II in September last year, the royal family's line of succession moved around as King Charles ascended the throne and the Prince and Princess of Wales assumed their new roles, giving up the titles they previously held as Duke and Duchess of Cambridge.
Now Euegnie, 32, who is currently 11th in line to the throne, will see her second child added into the line of succession, meaning several people behind him or her will be pushed back a step.
With August Brooksbank, who is just about to turn two years old, 12th in line to the throne, the new arrival this summer will take 13th place – bumping their great uncle Prince Edward to 14th in line to the throne.
Princess Eugenie's second pregnancy announcement means Prince Edward, her uncle, moves down to 14th place in the line of succession
Princess Eugenie is the youngest daughter of Prince Andrew (who is eighth in line) and Sarah Ferguson, the Duchess of York. The 32-year-old's older sister Beatrice, 34, is ninth in line while Beatrice's daughter, Sienna Elizabeth Mapelli Mozzi, takes 10th place.
The Duke and Duchess of York's youngest daughter confirmed her pregnancy this afternoon on Instagram in a sweet post.
Princess Eugenie announced her pregnancy on Instagram with a sweet photo of her son August kissing her baby bump in a photo taken by her husband Jack Brooksbank
Prince Edward (pictured with the late Queen Elizabeth in 2021) has been shifted further down the line of succession following Eugenie's pregnancy announcement
She posted a photo of herself standing in a field next to a wooden fence, wrapped up in a hat, wellington boots and a jumper and jacket.
With her baby bump visibly on show, she smiles down at her son August while he wraps his arms around her legs and kisses the baby bump.
The pair are set against a wintry backdrop with the sun low in the sky.
Alongside the photo she wrote: 'We're so excited to share that there will be a new addition to our family this summer.'
It is not currently known whether she is expecting a boy or a girl. 
The Princess has had a busy few months, making a number of appearances at royal events, including attending church in Sandringham at Christmas and attending Kate's carol concert.
Eugenie and her husband Jack first began dating in 2011 and confirmed their relationship in an appearance at Royal Ascot that same year.
When Eugenie left London to work for an auction house in New York in 2013, the pair maintained a long distance relationship.
At the time, Jack told The Daily Mail: 'We spend a lot of time on Skype. It's great. We're still very much together.'
In 2015 the Princess returned to London where the pair grew ever closer – and they sparked engagement rumours the following year.
But it was two more years before Jack popped the question while the pair were away in Nicaragua in January 2018.
Eugenie tied-the-knot with Jack in October 2018, before they welcomed their first child, August, in February 2021. 
She announced her first pregnancy in a similar fashion, posting a snap on Instagram at the same time the palace announced the news. 
He weighed 8lbs 1oz and the couple broke with tradition by immediately sharing a black and white photo to Eugenie's Instagram of their baby boy, showing them holding his tiny hand. 
She followed the post with three blue hearts after welcoming her son at the luxury private hospital where Meghan also gave birth to her son, Archie. 
Eugenie largely kept August out of the limelight for his first two years, but delighted fans when she shared a video of her son dancing during the Platinum Jubilee celebrations. 
It comes after Eugenie said she wants her son to be a climate change activist from 'aged two' and has stopped using plastic at home. 
At the World Economic Forum in Davos, the 32-year-old said giving birth to her son August in 2021 'totally changed' her outlook on the environment. 
She said: 'My son's going to be an activist from two years old, which is in a couple of days. 
'Everything is for them, right? Every decision we now make has to be about how August is going to be able to live his life.'
Source: Read Full Article