How Do You Meet People At A Bar By Yourself? I Tried & Here's How It Went
My grandma first said hello to my grandpa at the beach when they were teenagers. My mom approached my dad on the dance floor at a singles' mixer. With all that family history, you'd think that flirting IRL would be ingrained in my DNA. But thanks to the tried-and-true combo of Tinder and meeting people at college parties, I never learned how to meet people at a bar by yourself. Why bother when you can flirt, exchange numbers, and plan dates on dating apps from the comfort of your own couch?
That philosophy served me well up until 2017. I had a managed to score a job interview at Elite Daily for the site's Dating Editor position. For a girl who dressed up as Carrie Bradshaw for more than one Halloween, a role that requires studying dating apps, researching relationship tips, and keeping up with celebrity relationship drama is the ultimate dream job. I was proud of my application, but I felt kinda freaked out about the interview. I had marketed myself as a bona fide dating expert — but I'd been on a self-imposed dating detox for the past four months after a breakup left me feeling pretty pathetic. Normally, I dated guys back-to-back-to-back; now, I wailed along to sad Demi Lovato songs with my cat. I felt sure that the interviewer would see right through me. I needed a confidence boost — fast.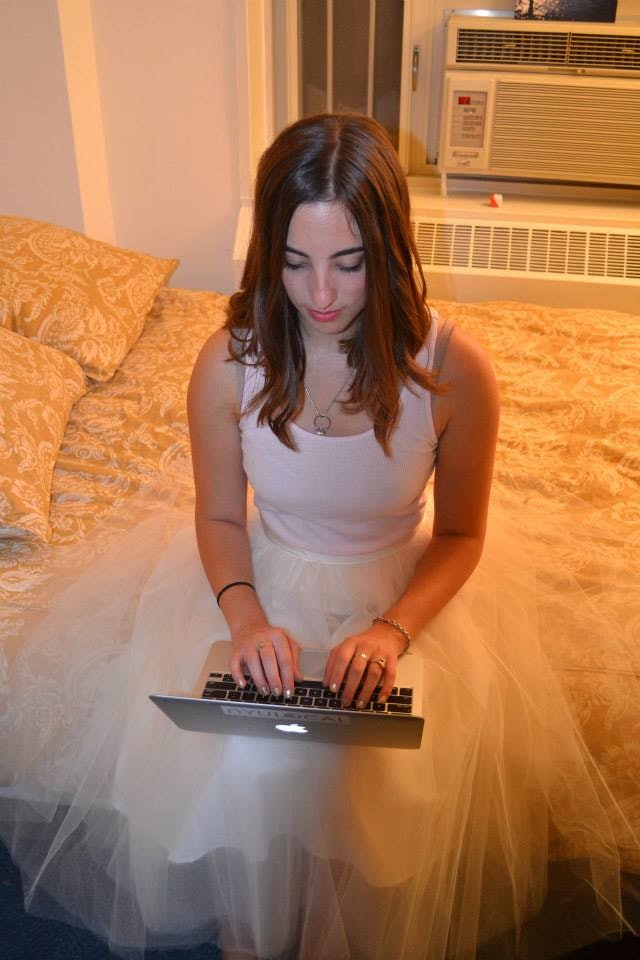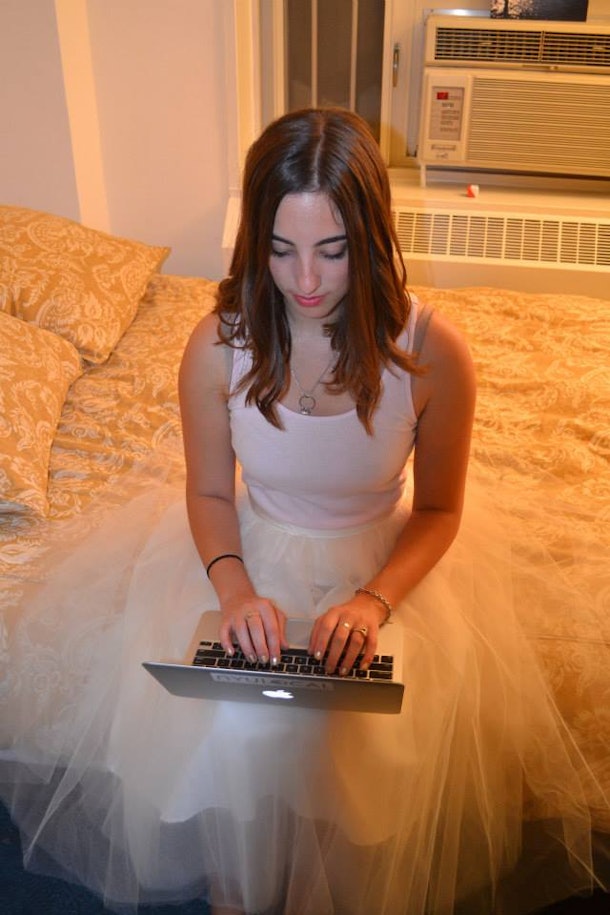 I decided that in order to get my mojo back, I needed to sit at a bar until I felt brave enough to make conversation with a cute stranger. (I mean, if he said hello first, that would still count. I was hoping I would be able to take the easy way out.)
I picked a random Tuesday night in September. I came home after work, poured myself a glass of wine, and blasted Demi's iconic post-breakup anthem "Sorry Not Sorry" while doing my hair and makeup. I probably went overboard on the highlighter and sea salt spray, but it's hard to exercise restraint when you are dancing alone in your apartment. "Now I'm out here looking like revenge, feeling like a 10, the best I ever been," I crooned, zipping up the lucky blue dress I always wore on promising dates. I spritzed on perfume and headed out the door.
I was aware that — unfortunately — drinking alone at an unfamiliar bar is not always entirely risk-free, especially if you're a woman. As a safety precaution, I texted my friend Annie, who lived in the neighborhood, and told her I'd be checking in with her throughout the night. She texted back that she'd keep an eye on her phone and that she was excited for me. "Good luck!!!!" she wrote.
After six years of living in downtown Manhattan, I had just moved uptown. I only knew of one good singles' bar: the Penrose, where people who look like Gossip Girl extras congregate to sip fancy cocktails and pick at cheese plates. But when I breezed into the Penrose, full of adrenaline, every seat at the bar was taken. Dejected, I left.
I texted Annie an update, and she suggested a string of other places I could try. I was determined to hit up as many of them as I could before my sandals gave me blisters. But the first bar was too loud and fratty. The next was cash-only, whereas I only had cards. The third was too expensive and filled mostly with older folks. I started to trudge home… and that's when I spotted Bar-Coastal, a sports bar. I had never been inside before because my understanding of sports begins and ends with a mild attraction to Tom Brady (I grew up in Massachusetts, where that's basically required by state law). But through the window, I saw a handsome guy sitting next to an empty seat at the bar. Demi would want me to flirt with him. I took a deep breath and walked inside.
I slid onto the bar stool and pretended to be extremely immersed in the tennis game on TV until the bartender approached to take my order. I was suddenly terrified to turn my head toward the dude seated on my right. How was this supposed to work? He wasn't going to offer to buy me a drink, was he? The bartender blinked. She was waiting for an answer. I asked for a gin and tonic.
I slurped down half the drink out of nerves while staring intently at the TV. I was afraid to actually look at the guy, but I could sense he was sipping his beer and scrolling through his phone. Finally, after an eternity, I blurted out, "Hi! So, I just moved here. Are there any spots you recommend in the neighborhood?" As far as icebreakers go, it wasn't the world's worst.
He introduced himself as Will and explained that he had actually just moved here recently, too. He turned to the guy next to him. "Hey, Alejandro, do you know of any cool spots around here? Bars, restaurants, that kind of stuff?" Oh. So Will was not alone. As they chatted, I realized that they were roommates.
Will and Alejandro scooted their bar stools back so that the three of us could easily talk. Honestly, they were awesome. If I had known I'd stumble across two guys who were this cool, I wouldn't have been so nervous about the whole night! We traded horror stories about searching for an apartment in New York, swapped life histories, and debated the merits of different bar sports (they both loved beer pong, while I was too shy to reveal that I completely suck at it).
Soon, they mentioned that their friend Ian would be stopping by… and they were going to need a fourth person so they could play doubles in beer pong. They asked if I wanted to join. Even though I had set out with the sole purpose of learning to strike up a conversation with cute strangers, I wound up actually having fun with these guys. So I said yes. Ian arrived and we all walked to the Stumble Inn, a bar around the corner with beer pong tables.
At the second bar, the guys briefly got into a verbal scuffle over which would purchase my beer. I won't lie, that didn't exactly hurt my ego. We divided into teams: me and Alejandro against Will and Ian. Even though I typically miss every shot, I somehow kept sinking the balls into the cups over and over again — I was on fire. Hello, 1-800-Lost-And-Found? I found my confidence again. Thank you.
Two games later, I left the bar with Alejandro's number, a date planned for the following week, a new set of friends, and fully restored confidence in my ability to flirt, date, and take risks. The night had unfolded in such a spontaneous way; it was the most fun I'd had in months. I realized that flirting in-person wasn't something to be scared of — in fact, it was something I wanted to do more often.
Later that week, I visited Elite Daily's office for the job interview. I wasn't nervous anymore. I still felt the adrenaline rush of my flirty night out, and I realized that it's easy to talk to anyone — whether it's a guy at a bar or your potential future boss — if you're friendly and try to find common ground. As you can probably guess, I got the job. And when my first day rolled around, I wasn't nervous about talking to anyone.
Source: Read Full Article