How Busan's ACFM Is Helping Producers Get An Early Jump On Hot IPs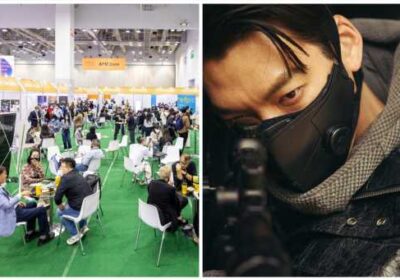 Busan's industry platform, Asian Contents & Film Market (ACFM), is a marketplace where sales agents set up their stalls to sell projects in development and completed films. But increasingly, it's also becoming a place where producers can find the stories and other source material they need to bring those films and series to life.
Last year, ACFM launched the Busan Story Market, a more user-friendly moniker for the various strands of the market that present works available for adaptation and remake. The initiative was a hit with industry participants and this year has been adjusted further to include a greater number of early stage IPs.
Related Stories
Breaking News
'Moving', 'The Long Season' Head Nominations For Busan Film Festival's Asia Content Awards
Breaking News
Busan Film Festival To Open With 'Because I Hate Korea'; Chow Yun-Fat Named As Asian Filmmaker Of The Year 
"The feedback we received last year is that the industry hoped to discover more original works, rather than material that has already been adapted, including stories that have yet to be published," explains ACFM general manager Seri Park.
"We didn't necessarily intend it, but this year's selection includes more original stories such as novels, web novels and webtoons. I think it's because the selection committee includes industry professionals, not insiders of our organization, so the industry feedback is naturally reflected."
Some of the selected projects from Korea include the books 'On Suffering', a disaster story from Greenbook Agency, and 'Anonymous App, The Behind The Scenes', an office-set thriller from Sam&parkers, as well as webtoon 'General Manager Dharma' from Toyou's Dream Inc. Previous editions of ACFM's IP market have showcased projects such as dystopian sci-fi webtoon Black Knight, which Netflix released as a six-episode series this year.
BSM is also working with TAICCA and Japan's VIPO to broaden the selection of IPs to works from Taiwan and Japan, and is also introducing some IPs from Indonesia, working with Indonesia's Ministry of Education, Culture, Research and Technology, which is bringing a big industry delegation to Busan this year.
Among the Asian IPs that have been selected are Taiwanese writer Wu Xiao-le's novel 'No Secrets Between Us' and Japanese novels that have been translated into Korean such as Kadokawa's 'Hotel Miacis' and Tokuma Shoten's 'Fragile'.
This year's ACFM is also collaborating with FLY ASIA, an initiative to support tech start-ups supported by Busan Metropolitan City, to co-host CINE FLY 2023. Working with Berlin film festival's EFM Start-up and Cannes NEXT, the new initiative will invite a group of tech start-ups related to the audiovisual industries to pitch their services to ACFM participants.
Among other new developments, Taiwan's Rising Films is launching a $750,000 (KRW1BN) investment programme, Rising Films International Awards, to support independent Korean films. Rising Films' first film production, Ho Wi-ding's Terrorizers (2021), received five nominations at Taiwan's Golden Horse Awards. "By organizing these awards, Rising Films aims to bolster original IPs and integrate the international resources in the Korean and Taiwanese film and TV industries," Park explains.
ACFM is just one of BIFF's many industry support and talent development programmes, which also include the Asian Project Market (APM), Asian Cinema Fund (ACF) and Platform Busan. APM is presenting 30 projects, including new works from Koji Fukada, Makbul Mubarak and Rima Das, and will present cash awards of $15,000 from Hong Kong's One Cool Pictures and China's Dreama Pictures for the first time.
Platform Busan, a networking event for Asian independent filmmakers, is also collaborating with TAICCA, VIPO and several other Asian film organizations including Thailand's Purin Pictures, Philippines' FDCP, and Indonesia's Ministry of Education, Culture, Research and Technology. In addition to networking, the initiative also offers case studies, seminars and pitching sessions.
Park says that registrations for this year's edition of ACFM had already outstripped last year by early September, with the largest contingents coming from Korea, Japan, Taiwan and Southeast Asia.
ACFM takes place October 7-10 at the Busan Exhibition and Convention Center (BEXCO).
Must Read Stories
CEO Bill Block Exits Miramax In Shocker; Company's Future Direction Questioned
Actors Including Jon Cryer Are "Cautiously Optimistic" As Talks Restart
Union Sends Out Ratification Ballots To OK New Contract; Read Email To Members
With Taylor Swift At Game, Chiefs-Jets Is Most-Watched Sunday NFL Tilt Since Super Bowl
Read More About:
Source: Read Full Article