Horrifying reports suggest Russian soldiers are raping Ukrainian women in occupied cities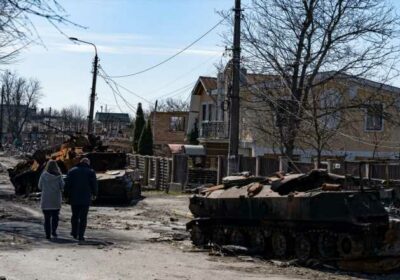 Ukrainian aid workers fear that the current reports are "just the tip of the iceberg".
Content warning: this article contains descriptions of multiple counts of rape and sexual violence.
Less than two weeks since Ukraine's successful pushback of Russian forces from the areas surrounding Kyiv, more and more harrowing reports of rape and sexual violence against civilians are emerging.
Human Rights Watch – an organisation that spotlights human rights abuses and fights to bring perpetrators to justice – says it has documented several cases of Russian soldiers committing "laws of war" violations against civilians, including the use of summary executions and rape.
In one case, the organisation said a Ukrainian woman sheltering with her family in the Kharkiv region reported that a Russian soldier had repeatedly raped her at gunpoint before going on to beat her and cut her face, neck and hair with a knife.  
Another woman said she was raped several times in front of her child just moments after her husband was shot dead in their home, the Ukrainian MP Maria Mezentseva told Sky last week. 
"There are many more victims rather than just this one case which has been made public by the prosecutor general," she said. "We are expecting many more of them, which will be public once victims will be ready to talk about that. We will definitely not be silent."
Speaking on BBC Radio 4's Woman's Hour last week, the BBC's Lviv correspondent Emma Vardy gave listeners a snapshot of the situation on the ground. 
Aid workers in Lviv have heard reports of rape and sexual violence from women escaping areas occupied by Russian forces.
"There's certainly evidence of sexual violence beginning to emerge from areas that have been occupied by Russian forces, and women and girls are coming forward to tell police and aid workers about sexual assaults they say have happened to them at the hands of Russian soldiers," Vardy said.
"There is a Ukrainian charity here that has a phone line for women and girls and they say too they are receiving calls from victims alleging they've been assaulted by Russian soldiers, and their aid workers say they worry that what they are hearing is just the very tip of the iceberg." 
While Russia has denied all of these allegations, the sheer number of reports coming out are leading to officials facing increased pressure to look into the numerous war crimes which are believed to have taken place across Ukraine.
As stands, both Ukraine's prosecutor general and the International Criminal Court have said they will open investigations.
Click the links to check out the latest updates from the war in Ukraine and learn more about how to help.  
Images: Getty
Source: Read Full Article