Hi Hello, Your Weekly Tarot Card Reading Is Here
You don't need to know the difference between a three-card and a Celtic cross spread to get the most out of a tarot card reading. All you need: your Sun sign! Here's what I do: Shuffle my tarot deck and pull out the cards in order from Aries to Pisces plus one general card for everyone so that you can get specific advice around your personality. Let's go!
A GENERAL CARD FOR EVERYONE: EIGHT OF COINS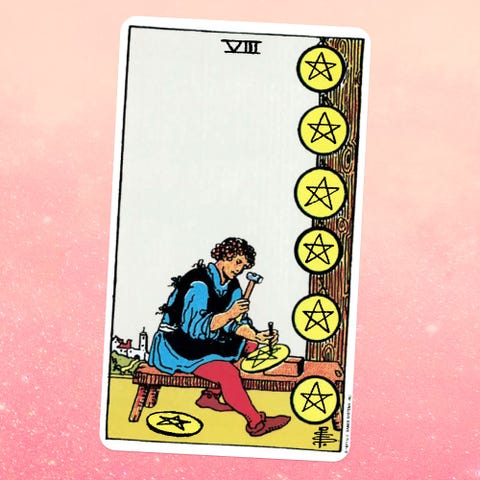 Keep on pushing! Whatever you've been working on, it's worth it, even if it doesn't feel that way right now. However challenging life feels, it will get better. The Eight of Coins is a promise that your energy isn't being wasted—you're making progress, even if it feels like you're getting nowhere. This is the darkness before the dawn. Don't give up!
ARIES: TWO OF COINS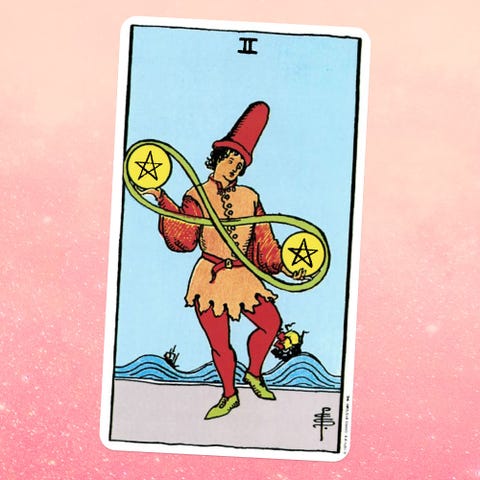 The Two of Coins is all about variety and multitasking. You've got a lot going on, but that's okay—you can handle it, Aries. You can do more in one day than most of us can in a week. Enjoy yourself! Put your energy into places which inspire you, and don't worry about running out of gas. This week, you can do it all.
TAURUS: KING OF WANDS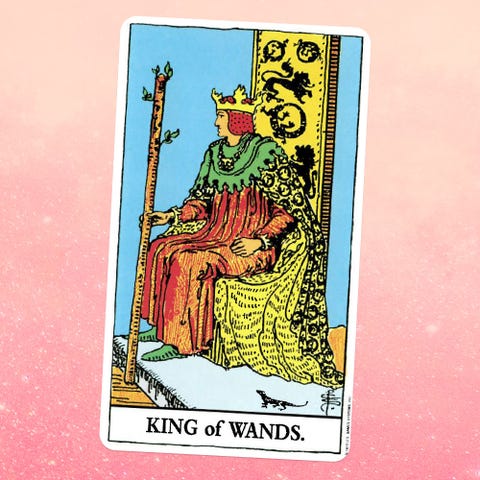 Big, bold energy is flowing through you this week, Taurus, with the adventurous and risk-taking King of Wands. You feel like taking a daring leap into the unknown (which is kind of out of character for you). Good! Whatever happens, it's an experience. Make your move, and know that even if it doesn't work out, you can just try something else.
GEMINI: EIGHT OF WANDS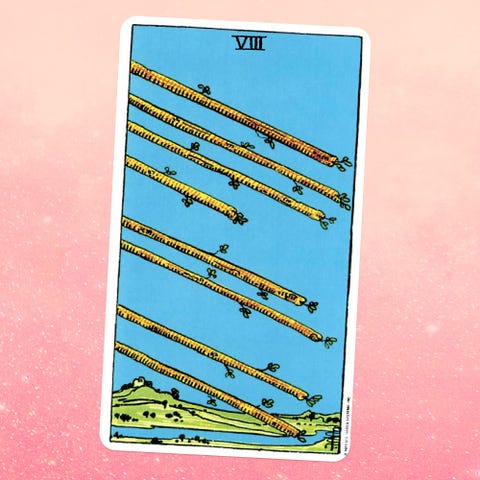 Mercury, planet of commerce and communication, is your ruling planet. And that's what this week is all about: hustling. The Eight of Wands puts you at the center of the Universe, receiving invitations, information, opportunities, gossip, and news galore. It's fantastic, and you enjoy every minute of it! Make the most of it and say YES to everything that comes your way. Have fun!
CANCER: THE DEVIL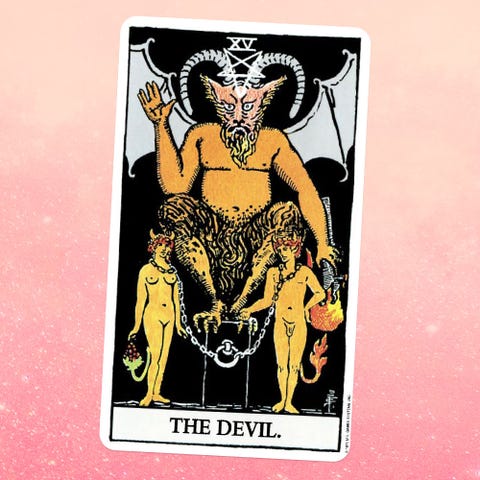 The Devil is all about temptation, signaling that we're being caught in patterns of behavior or thought that limit us. It's like being your own worst enemy, following the paths of least resistance that you KNOW, deep down, are no good. Make a change this week, Cancer, and stop a bad habit. You can do this!
LEO: NINE OF SWORDS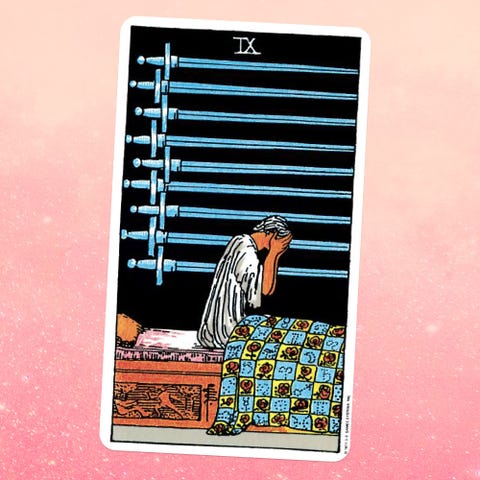 Stop bottling it all up inside, Leo! You're blowing things out of proportion down there in your private psyche. The Nine of Swords is a kind of therapy card—it urges you to talk through your unspoken fears. Say them out loud and feel their hold on you fade away. Let it all out!
VIRGO: THE HIGH PRIESTESS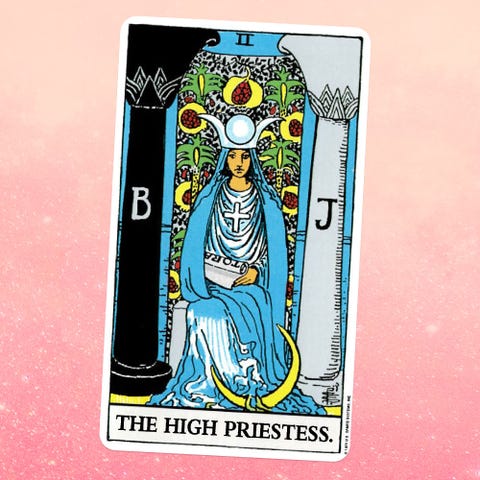 Consult your inner psychic, Virgo, and tune into your intuition. It has an important message for you. The High Priestess is a powerful card about the inner knowledge that waits just beyond our conscious mind, unless we allow it the time and space to emerge. There's something, deep down, you need to acknowledge. This week, spend time relaxing and being quiet and peaceful so you can hear that inner voice.
LIBRA: QUEEN OF COINS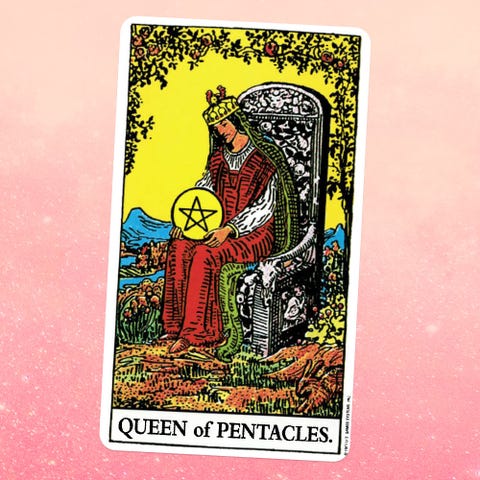 You make a great business partner, Libra, because you've got a fast, inquiring mind that can easily can analyze tons of information. You're also a diplomat and charmer—able to talk anyone into your plan. The Queen of Coins urges you to put your skills into motion this week, whether you're making a new proposal at work or starting your own side gig . Be business-y!
SCORPIO: THE STAR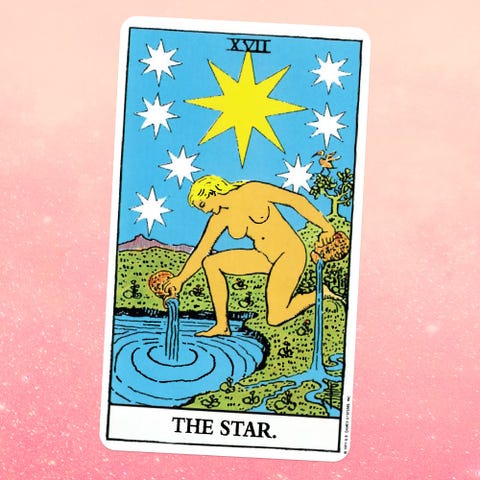 The Star is a magical card, Scorpio, and it brings wish-come-true energy into your life. It represents the hopes and dreams we want to see become a reality. Its presence means we're closer than we think to manifesting our heart's desires. Make confident moves in the direction of something (or someone) you really want this week. You might be surprised at what happens.
SAGITTARIUS: TWO OF CUPS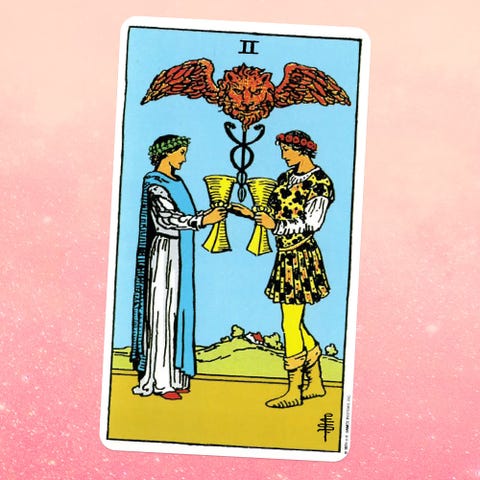 Friendships mean a lot to you, Sagittarius. You love feeling like you know what your ride-or-dies are thinking without saying a word. The Two of Cups urges you to stay close to those you're closest to this week. It's a tough world right now, and we all need a little help from our BFFs. Let them lean on you.
CAPRICORN: THE SUN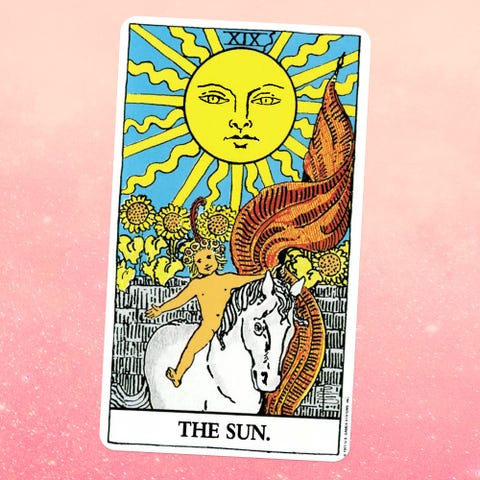 The Sun is the tarot's most positive card, and when we receive it, we're being told to be bold and positive about our dreams and ambitions. There's a door ahead that leads to their fulfillment, if we're confident enough to step through it. Don't hesitate this week, Cap. Look for your opportunity and seize it. You'll be granted an opportunity to make your dreams come true, and you need to be ready to act on it.
AQUARIUS: TEN OF WANDS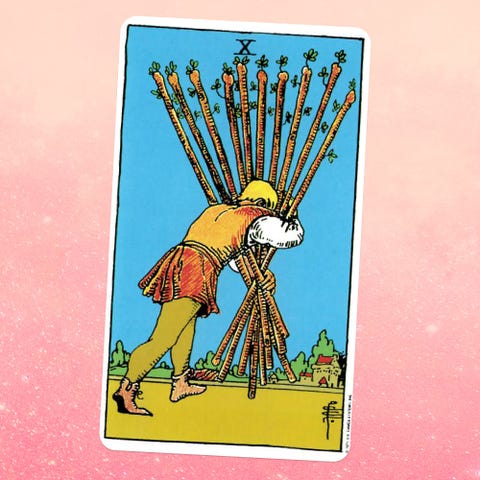 Aquarius, stop overdoing it! You're in danger of burning out. The Ten of Wands is a warning about working too hard. Less can be more right now. You need to put anything that isn't urgent on hold, and refocus on what's left. You need to take a step back.
PISCES: TEN OF CUPS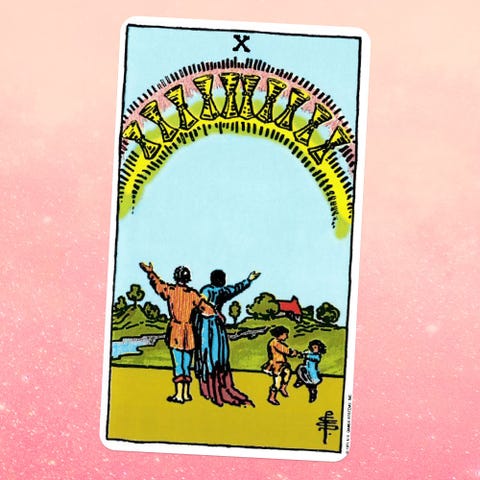 Pisces are natural-born romantics. You prioritize your relationships above all. The good news this week, is that others feel the same way about you. Time for a love-fest! The Ten of Cups sprinkles glitter over all your most important connections. Spend time with those you love and like this week, and let them make you feel like a million bucks.
Source: Read Full Article