Here's what we learnt from Victoria's 'Dump Day'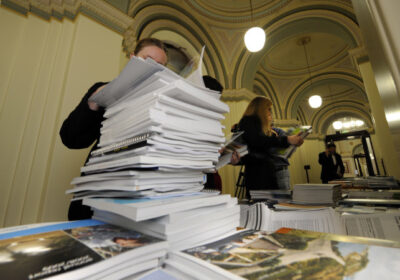 Save articles for later
Add articles to your saved list and come back to them any time.
More than 240 annual reports and reviews were tabled in Victoria's parliament on Wednesday, in an annual tradition known as "Dump Day". The practice involves the government publishing hundreds of reports in one day in an effort to make sure journalists have as little time as possible to scrutinise them.
Here are some of the things we learnt.
Dump Day has a long history. This picture was taken in 2009, when John Brumby was Labor premier. The reports were all dumped out the back then too.Credit: Penny Stephens
Child safety
Victoria's child safety watchdog has warned it is overworked and underfunded as reports of child abuse and misconduct grew by a record 18 per cent last year, including a surge in parent complaints about schools.
The Commission for Children and Young People received close to 1500 reports of harm against children by workers and volunteers in organisations such as schools, early childhood education, out-of-home care and religious bodies in the year to June 2023.
The complaints cover sexual offences, sexual misconduct, physical violence, significant neglect, and behaviour that causes significant emotional or psychological harm to a child. About 28 per cent were substantiated.
The commission said the combination of an 81 per cent rise in complaints since 2017 and government underfunding might compromise its ability to keep children safe.
Commissioner Liana Buchanan said the number of complaints would only grow at a time when Victoria's finances are under pressure.
"We understand that both last year and likely next year we're in a constrained financial environment within the state," she said.
"We now need to understand that child abuse is not a matter of history, it's not just something happened historically, and that we need to appropriately resource these schemes."
V/Line
V/Line's patronage has surged by more than 70 per cent as the state government has slashed the price of regional train fares.
There has been a rise in the number of V/Line passengers since the government capped daily travel at $9.20.Credit: Eddie Jim
More than 18 million trips were taken on V/Line trains and buses last financial year, up from 10.77 million the year before.
The most popular rail lines were Geelong (8.15 million patrons during the 2022-23 financial year), Ballarat (4.68 million) and Bendigo (2.06 million).
"V/Line continues to closely monitor patronage from week to week and make adjustments across the network to improve passenger experience," the V/Line report says.
The above figures won't surprise people who have struggled to find a seat on a peak-hour or weekend service. However, it is the first time we have a full picture of the spike in demand since cheaper ticket prices were introduced on March 31 this year.
Domestic building insurance
The state-backed insurance agency that provides cover to home owners if a building company collapses lost $115.4 million in the 2022-23 financial year after Porter Davis went into liquidation and floods swamped the state.
"Recent builder insolvencies have left more than 1500 Victorian home owners with incomplete projects at a time of skills and material shortages, and strong inflation," the Victorian Managed Insurance Authority annual report said.
"This year was challenging from a claims perspective. The Porter Davis Homes insolvency was the largest domestic building insolvency in our history of providing domestic building insurance, and the October and November 2022 floods and storms also resulted in significant claims."
The state government was forced to step in to compensate hundreds of Porter Davis customers who risked losing their deposits after the major builder failed to seek the necessary domestic building insurance for its customers.
Even before the Porter Davis collapse, the VMIA had an operating deficit of $249.2 million.
Education
Students in years 7 to 10 took almost a month off school last year.
As students returned full-time to classrooms after two years of COVID disruption, the average number of annual student absences was 29.2 days in 2022, up from 22.7 in 2021, the Education Department's annual report says.
Absences also increased for other grade levels, to an average of 23.6 days for year 5, 24.3 in year 6 and 23.4 for years 11 and 12.
The Education Department said there were high levels of illness, particularly during second term, and absence levels reflected a national trend.
Student satisfaction decreased. Only 50.5 per cent of students in years 7 to 9 agreed that their school provided a stimulating learning environment last year, compared with 53.2 per cent in 2021.
In years 10 to 12, those who agreed dropped from 54.3 per cent in 2021 to 52.5 per cent in 2022. About 45 per cent of students in years 7 to 12 felt their teacher failed to set clear rules or manage misbehaviour effectively.
The number of registered school teachers grew 1.95 per cent to 110,408 in 2023, only slightly easing the state's teacher shortage.
The Victorian Institute of Teaching enacted interim suspensions on 45 teachers. Nine of those were then suspended permanently after being charged with a serious offence.
Health
Almost 15,800 patients have been removed from the elective surgery waiting list, which has recently been renamed "planned surgery" to reflect that the operations are medically necessary and not a choice.
The Health Department's annual report does not specify how many of these patients died while waiting for surgery or what proportion were diverted to alternatives such as occupational therapy.
There are more than 72,000 Victorians waiting for planned surgery.Credit: Nicolas Walker
A blueprint released by the department last week details a new push to offer patients alternatives to surgery. There are more than 72,000 Victorians languishing on the waiting list for planned surgery.
There has been a significant rise in the number of Victorian women who are freezing their eggs, according to the Victorian Assisted Reproductive Treatment Authority's annual report. A total of 8144 women had their eggs in storage in June this year, up 26 per cent from the previous year.
While egg-freezing rates increased, for the first time in five years there was a slight decrease in the number of women receiving fertility treatment.
WorkSafe
The Victorian workers' compensation scheme recorded a $176 million deficit, despite receiving a cash injection from the state government of $300 million.
Exposure to dust from cutting stone benchtops is one of the hazards Victorians face at work.Credit: iStock
WorkSafe received an extra 32,780 claims in 2022-23 compared with the year before.
This was driven by a 17 per cent increase in mental injury claims and a 14 per cent increase in physical injuries. In total $3.1 billion in payments were made to workers.
State parliament will debate this month changes to WorkCover that will limit the ability of employees to claim compensation for stress and burnout. WorkSafe Minister Danny Pearson says these changes are needed to prevent a $1 billion yearly deficit and make the scheme sustainable alongside premium hikes.
WorkSafe's annual report said modelling completed before the changes were announced had shown insurance premiums had been below what was required for a decade. The average rate rose to 1.8 per cent in July, an increase of 42 per cent.
Commonwealth Games organisers
The government-appointed organising committee for the now-cancelled 2026 regional Commonwealth Games, known as Victoria 2026, spent $21.68 million last year arranging an event that is no longer going ahead.
A handsome portion of that went towards paying 32 executives, one of whom earned more than $500,000. Eleven had a salary of more than $300,000 and all 32 executives earned more than $180,000.
The team had a further 43 non-executive staff. Employee expenses in total – including wages, leave, termination payments, WorkCover premiums and fringe benefits tax – added up to $10.85 million.
Missing reports
Dozens of annual reports missed the legislated deadline and were not published on Wednesday. A government spokeswoman said they had not yet returned to the government and were still undergoing a due diligence process by the Victorian Auditor-General's Office.
"All reports that VAGO returned to government on time have been tabled this week. Remaining reports will be tabled before the last sitting day of the year," she said
With Rachel Eddie and Henrietta Cook
Get the day's breaking news, entertainment ideas and a long read to enjoy. Sign up to receive our Evening Edition newsletter here.
Most Viewed in Politics
From our partners
Source: Read Full Article