Here's What Kylie, Kim, & Khloé Had To Say About That Fake Travis Scott Cheating Video
Remember those viral photos where a Justin Bieber lookalike ate a burrito sideways — solely with the intention of fooling the internet into thinking it really was the "Sorry" singer? Well, this is sorta like that. Earlier this week, rumors that Travis Scott was cheating on Kylie Jenner spread after photos circulated with what looked like Travis cozying up to a mystery woman. The rapper quickly shut down the speculation, claiming he was being trolled — and yes, he was telling the truth. A YouTube video revealed the Travis photos were intentionally faked, and understandably, the Kardashian-Jenner family is not pleased.
Not long after the video, titled "We Fooled the Internet w/ Fake Travis Scott Cheating Photo," was released on Wednesday, Kim Kardashian shared her thoughts on Twitter. Instead of linking to the video, Kim screenshotted it (likely a strategic way to not give it excessive attention or clicks) and wrote:
Knowing how often Kim goes to bat for her family, it's not surprising she's defending her sister. But it is a little surprising that this situation happened in the first place. Following Kim's lead, Khloé Kardashian also weighed in, replying to her sister's tweet:
And of course, Kylie also voiced her disappointment in a since-deleted Instagram Story post on Wednesday night. The reality star-slash-makeup mogul wrote atop a screenshot of the video:
She makes a valid point. Kylie and Travis have a daughter, Stormi Webster, together. Based on how frequently the post and travel with her, Stormi is a huge part of their worlds. To fabricate cheating rumors that could potentially lead to a split, especially for a couple where a child is involved, feels like a step too far.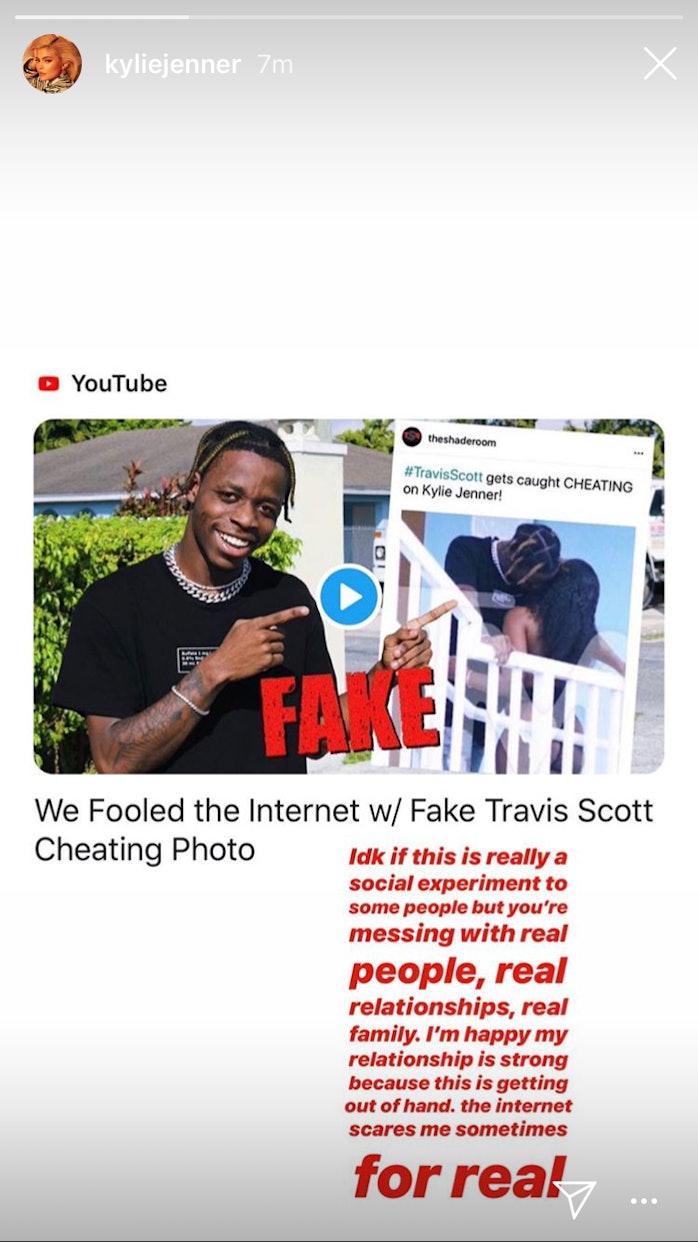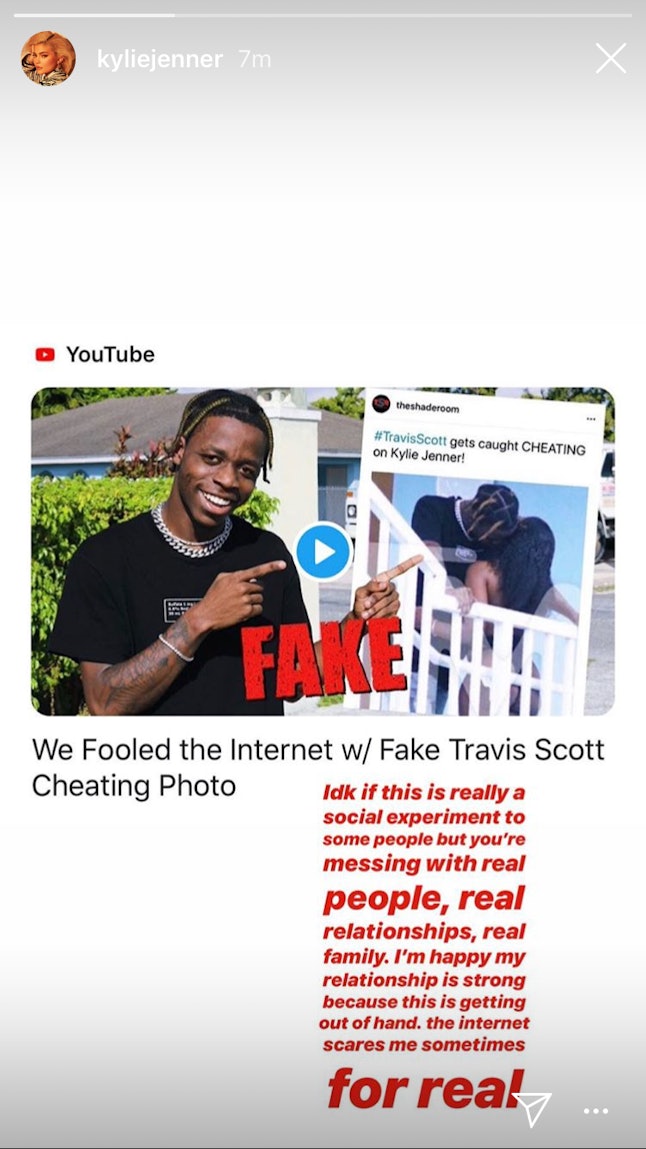 Showing how strong their bond really is, Travis also spoke of his "sturdy" relationship with Kylie earlier this week when the fake photos first surfaced. As pointed out by @CommentsByCelebs, the rapper commented on an Instagram post featuring the photos not once, but twice. He wrote:
He also added, "Only got love for my wife. No time to be wasting. Try again." And in retrospect, he was right — it was just an overly orchestrated case of internet trolling.
It's worth noting that the video's creator, @ChristianAdamG, commented a disclaimer on YouTube, clarifying their side of the situation:
Nevertheless, even if hurting anyone wasn't the intention, it sounds like the famous family is less than thrilled. (Bustle reached out to @ChristianAdamG for additional comment, but did not receive an immediate response.)
The Kardashian-Jenner family is already the source of constant online speculation, backlash, and rumors. Sure, they might be used to it by now, but that doesn't mean it's OK to create fake photos and infidelity rumors just for fun.
Source: Read Full Article