Here's How Big Sean Became One Of The Most Influential Rappers Of The New Age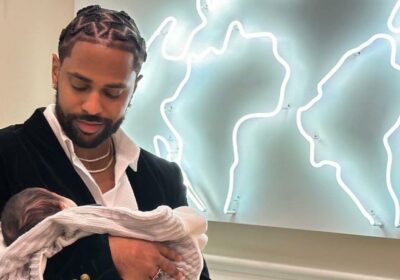 Sean Michael Leonard Anderson, better known by his stage name Big Sean is a rapper born on March 25, 1988, in Santa Monica, California. When he was just three months old, his family moved to Detroit, where his mother and grandmother raised him. He was enrolled in Detroit Waldorf School and graduated from Cass Technical High School. He regularly participated in rap battles organized by local hip-hop stations during high school.
Big Sean released his debut album, Finally Famous, in 2011, which charted at no.3 on the billboard list and released several chartbuster albums in the subsequent years, establishing himself as a credible rapper.
Kanye West Played A Role In Boosting Sean's Career
After flaunting his rapping skills during high school, Big Sean approached Kanye West in 2005. West was in an interview with 102.7 FM when Sean came into the radio station and demonstrated his freestyle skills. West was initially reluctant to hear him but later enjoyed and was impressed by his Freestyle. Sean left a demo tape for West, and eventually, in 2007, West signed him up for his music label G.O.O.D Music as per Billboard.
RELATED: He's Legen-dary: How Neil Patrick Harris Made His $40 Million Fortune
Signing up for Kanye West's music label did not bring overnight success to Big Sean. He released his first mixtape, Finally Famous: The Mixtape, in 2007. One of the singles from the mixtape Get'cha Some was a hit and brought the California-born rapper into the limelight, as per IHH. After recording a music video for Get'cha Some, he started getting noticed, releasing his second mixtape UKNOWBIGSEAN in 2009 and his third mixtape, Finally Famous Vol. 3: BIG, in 2010.
Sean's Journey To Topping The Billboard Charts
After releasing several mixtapes from 2007 to 2011, Big Sean finally released his debut album, Finally Famous, on June 28, 2011, which charted at No. 3 on Billboard 200 and was certified Platinum by the Recording Industry Association of America as reported by IMDB, this got him all the fame he was hustling for. Along with three hit singles, Sean's debut album boasted star-studded guest appearances by John Legend, Nicky Minaj, Wiz Khalifa, Kanye West, etc. But despite featuring various A-listers, this album was considered mid and surface-level compared to Sean's previous releases.
Big Sean announced his fourth mixtape, Detroit, which was supposed to be a predecessor for his second studio album. Detroit was released in 2012 and had several high-profile guest appearances, including J. Cole, Juicy J, King Chip, French Montana, etc. As per HNHH, Detroit acted as the industry's wake-up call and made people realize Sean's potential. Sean released his second studio album Hall of Fame, in 2013, which charted at No.3 on Billboard, just like his debut album, while also earning a Gold certification though it received polarizing reviews. Hall of Fame included five singles starring A-listers like Lil Wayne and Miguel.
Big Sean released his third studio album, Dark Sky Paradise, in 2015, shutting down all the criticism surrounding him. The album featured the vocals of leading artists like Kanye West, Ty Dolla Sign, DJ Mustard, Drake, Travis Scott, and Ariana Grande. Dark Sky Paradise debuted at No.1 on the Billboard charts making it Sean's first chart-topping album while also being labeled Platinum by the RIAA. The album sold a record 173,000 units making it Sean's biggest hit and establishing him as one of the hip-hop stalwarts.
Gaining Global Influence 
Before releasing his fourth album, Big Sean took a creative diversion and collaborated with Jhené Aiko for the 2016 album Twenty88. Big Sean had collaborated with Jhené Aiko previously for several songs. Still, this album had to be their best work together, providing full justice to the potential of both talented artists. In 2017 Big Sean released his fourth studio album, I Decided, which further cemented his position and increased his prominence.
I Decided followed a darker and deeper route in comparison to Big Sean's previous albums and explored topics like regret, depression, and purpose. Despite its gloomy tone, the album debuted and topped the Billboard charts selling over 150,000 units in just the first week of release, eventually earning a Platinum label. The artistic side and depth of Big Sean were put out by this album in contrast to his debut album, which was considered surface-level and sophomore. Sean was nominated for a Grammy for I Decided.
Big Sean released Detroit 2 in 2020 as a successor to his 2012 critically acclaimed Detroit. Like the predecessor, Detroit 2 opened to widespread critical acclaim and was labeled one of his best works. It debuted at No.1 on Billboard, making it his 3rd consecutive chart-topper, which is quite a rare feat for any artist. Detroit 2 was of paramount importance in evolving Big Sean as a full-fledged artist and a force to be reckoned with. This album shut down all the critics of Big Sean once and for all and made him one of the greatest hip-hop artists ever to live.
Big Sean never got overnight success, even after getting signed on by Kanye West. He hustled through all obstacles and kept experimenting with his music style instead of being redundant. He knocked on the doors of success as hard as possible, eventually breaking through and etching his name in history as one of the best rappers of the modern age.
READ NEXT: Inside Pi: Starbucks CEO Howard Schultz's $145 Million Luxury Yacht
Source – Billboard, IHH, IMDB, HNHH
Source: Read Full Article