Health Minister confident in vaccine timeline despite European supply issues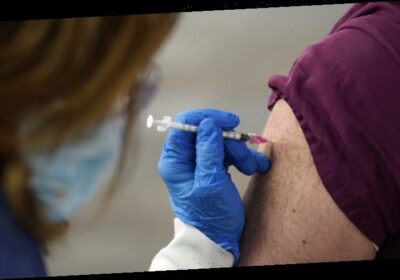 Health Minister Greg Hunt is confident Australia remains on track to receive its first shipment of the Pfizer vaccine in the second half of February despite concerns in Europe over shortages and delays.
Unveiling more details of the COVID-19 vaccination plan on Thursday, Mr Hunt said the "ace in the hole" is the AstraZeneca vaccine. More than 50 million doses of the vaccine will be manufactured locally, and that will be used to immunise the majority of the population.
Doctors, nurses and pharmacists will soon start compulsory training in how to deliver COVID-19 vaccines.Credit:AP
"We have the comfort and security of sovereign domestic production here in Australia," he said.
As the country edges closer to the slated mid-February commencement of the vaccinations program, doctors, nurses and pharmacists will start compulsory training in how to deliver COVID-19 vaccines within the next two weeks.
Four private medical workforce providers will bolster health teams across the country as the government remains confident there will be no delays with its planned vaccine timeline.
Aspen Medical, Healthcare Australia, International SOS and Sonic Clinical Services have been recruited to supplement the existing healthcare workforce. Mr Hunt said they'll provide at least an additional 500 workers but there was capacity to get more assistance if needed.
Pfizer is expected to begin delivering about 80,000 vaccine doses a week from the second half of February, and that number is expected to increase over time. That vaccine will be administered at up to 50 hospital hubs across the country.
With the addition of the AstraZeneca vaccine, which will be rolled out more widely, the government expects 4 million people to be inoculated by the end of March.
Several European countries have reportedly complained supplies of the Pfizer vaccine have been falling short of their orders but Mr Hunt said the company told him on Wednesday they were still confident in a late February delivery, but no date has been confirmed.
"That start date for the latter half of February was advised again to us yesterday, and so there's no change in that," he said.
"But if there are changes, of course we would share them immediately."
The national immunisation network will be used for the broader phase two of the program. It's the same network that enabled 17 million influenza vaccines to be distributed last year, Mr Hunt said.
Phase two will start by focusing on those aged over 50, Aboriginal and Torres Strait Islander people between 18 and 54, and other critical workers before moving on to the rest of the adult population.
In that phase, general practices, pharmacies, state and federal vaccination clinics, and Aboriginal community controlled health organisations will administer vaccines.
"General practice is the cornerstone. Pharmacies from phase two will play an important role. And I want to thank both of those groups for their very constructive action," he said.
The aim is to have the majority of the adult population vaccinated by the end of the year.
But the Health Minister said that would not mean an end to social distancing or hand hygiene practices, as we do not yet know how long immunity from the disease will last after vaccination, or how the vaccines will affect transmission.
"For the time being, continuing our COVID safe practices is immensely important," he said.
Start your day informed
Our Morning Edition newsletter is a curated guide to the most important and interesting stories, analysis and insights. Sign up to The Sydney Morning Herald's newsletter here, The Age's here, Brisbane Times' here, and WAtoday's here.
Most Viewed in Politics
Source: Read Full Article