Guy Fieri Gets $50 Million Raise With New Contract, Now One Of The Highest Paid TV Hosts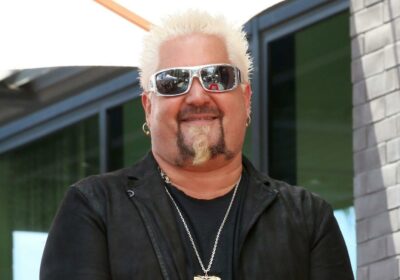 Food Network's hit show Diners, Drive Ins and Dives continues to bring in millions in viewership across the globe since it first aired in 2006. Because of its massive success, everyone's favorite food fanatic host, Guy Fieri saw the network smacking him with a contract that'll bring him $80 million over the next three years.
RELATED: 5 Ways Celebrity Chef Guy Fieri Raised $20 Million To Save Restaurants
From the moment the show hit the air, fans were immediately captivated by Fieri's top notch hosting skills and beyond affable personality. The program's success continued to grow over the years, with Forbes citing analytic firm, Kantar's report of its $230 million in 2020 ad venue.
Fieri's new contract came as a shock to many as the Discovery owned network is known for paying their hosts far less than what he'll be receiving. Forbes states that the pay for most hosts under Discovery is commonly capped at around seven figures. The publication compares Fieri's massive check to that of a hallmark in Food Network's rolodex of celebrity chefs, Emeril Lagasse. In the early 00's, Lagasse made an estimated $8 million through his various hosting gigs on such shows as The Emeril Lagasse Show, Emeril Green, and Shop at Home Network. 
A post shared by Guy Fieri (@guyfieri)
When your stardom and success is as big as Fieri's, it's easy to give way to the many deals that are put on the table. While the new king of tasty television has had a plethora of deals come his way, he has no intentions of leaving the network where he got his big break.
"We've been offered and enticed, and, yes, there's probably a way to do this in some different levels, but I'm treated pretty well," Fieri tells The Hollywood Reporter, ""I got a chance of a lifetime, and I think I played it good."
Fieri has garnished quite the reputation as the people's champion. His drive for giving back was shown most notably in his 2020 campaign to help restaurants around the country that were affected by the pandemic.
He and a assortment of other big names in the food industry teamed up with the National Restaurant Association's Educational Foundation to give out grants to struggling food workers at the height of COVID-19. With over a third of the 60,000 applicants being approved, Fieri helped raise $25 million.
His good deeds didn't stop there. During this year's South Beach Wine & Food Festival, the famed host left a pretty hefty tip: $5,000
Restaurateur and friend to Fieri, Alex Guarnaschelli took to the Hollywood Reporter to praise him as a, "human air conditioner for good feelings. Being around him makes you more confident in yourself."
Through the next three years of his generous contract, we'll surely be seeing much more of this lovable foodie.
Read Next: Guy Fieri To Host Luxury Auction To Help Hospitality Industry
Sources: Forbes, The Hollywood Reporter, Maxim
Source: Read Full Article