Ground down and invisible, a menopausal mother takes flight in joyful comedy The Change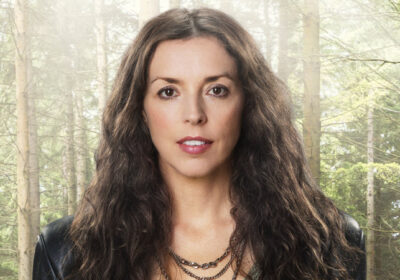 Save articles for later
Add articles to your saved list and come back to them any time.
Linda's 50th birthday party is a depressing affair. Sitting in the backyard, surrounded by ungrateful kids and an unappreciative family, listening to a speech by her husband in which he declares her "well fit … for your age", and stuck, as always, cleaning up after everyone, her life has sunk into a distinctively grim rut. All she needs at this point is to find out she's going through menopause.
The Change is the first sitcom by English comic Bridget Christie.Credit: SBS
Thus, in domestic gloom begins The Change, a sitcom written by and starring English comic Bridget Christie. For Christie, the show has been a long time in the making, although the original idea acquired a different shape and direction during the pandemic lockdown.
"I started writing it about seven years ago," she says, "and it was originally a middle-aged person whose life hadn't worked out as planned – still kind of like a midlife crisis type thing, journey of self-discovery, but she wasn't in the menopause. And what happened was I entered the menopause in lockdown, and then the show evolved. And I'm really glad because it wouldn't be what it is now if I'd got it made before lockdown and before I had my menopause."
In the show, Linda, fed up with not being seen – for decades she has been keeping a ledger detailing exactly how much invisible, unpaid, uncredited work she has done for her family – decides that it's now or never for a shift in perspective and sets off on a motorbike for the Forest of Dean in England's rural southwest, there to find an artifact of long-ago memory and, hopefully, a better sense of who she is.
The scenery of the forest adds a new dimension to the comedy: frequent lingering shots of lush, serene woods, backed by a gorgeously haunting soundtrack of folk songs. The setting, like the menopausal plot line, owes a debt to the lockdown.
"It (lockdown) really made the show look the way that it looks as well," Christie affirms, "because it reminded me of how beautiful my country was. And I sort of fell back in love with it, and I became quite patriotic again. I wanted to show my land, you know, I wanted to show it often.
"That's why the show has a really beautiful kind of cinematic feel to it. I wanted the Forest of Dean to almost be like another character in the show, that I wanted to nurture people."
It's a side of England rarely seen on British TV, which is frequently fixated on urban landscapes, decamping to the countryside mainly to stage quaintly grisly murders. "It doesn't seem like a time in history when a lot of people seem to be celebrating what's beautiful in Britain," says Christie. "I think that something like nature, and reconnecting with the land, they're very powerful things."
Given Christie, 52, recently gone through menopause, hailing from Gloucestershire, had written a show about a 50-year-old woman going through menopause in Gloucestershire, there'll be many who assume The Change is a heavily autobiographical exercise.
"I think women get that more than men," she said. "I'm on tour at the moment, doing a live show, and one of the themes in that show is the gender double standards and how men can pass through the world as kind of individual human beings – when you see a guy on a train or in a shop you don't label him, you just see him as a person. You don't think, husband, father, you don't just slap a load of labels onto him the same way we do for women.
"We can't separate the women from the work whereas we can with men – men make creative decisions to perform in a certain way or write in a certain way and we wouldn't assume that a guy's writing was autobiographical in the same way that we do for us."
In The Change, Linda (Bridget Christie) keeps a ledger detailing exactly how much invisible, unpaid, uncredited work she has done for her family.Credit: SBS
So while there are parallels, Linda's voyage of self-discovery and trip through the eccentrics of rural England are not based on any similar adventure in Christie's life. "The similarities are that I am in the menopause, Linda is in the menopause. I ride a motorbike, she rides a motorbike. She has two kids, I have two kids. But everyone's invented, everything's invented."
This is not to say that the show's themes and messages are not very close to her heart. Linda is fighting to escape forces that have ground her down over many years: forces that millions of women will no doubt find powerfully familiar. Her husband's ignorance of just how much his wife has been doing for him without thanks for all these years, her sister's fury with her for refusing to remain dutifully within the gender role prescribed for her – the burdens pile up to make Linda's quest to discover her own identity a steep task. On these themes, the character's creator speaks with a fire that comes from experience that is deeply personal as much as it is universal.
"The honesty of the show is that my heart and soul is in it, in terms of what I believe in, which is that women's time is seen as less valuable than men's often – we do invisible work."
It is heavy stuff, but with all its lilting folk music, cinematic forest-scapes and portraits of quiet desperation, still a comedy, and frequently a joyful, exuberant one.
"Making people laugh is my most important job," says Christie. "What I wanted to do is start a conversation about these themes, the menopause especially. I think it's been silent for too long and to me, it's really tragic to think about women going through this by themselves. If it starts a conversation my heart will be bursting. But I hope they're laughing and talking about it at the same time."
The Change is on SBS On Demand.
Find out the next TV, streaming series and movies to add to your must-sees. Get The Watchlist delivered every Thursday.
Most Viewed in Culture
From our partners
Source: Read Full Article