Grammys' Emotional In Memoriam: Quavo Honors Takeoff, Kacey Musgraves Plays Loretta Lynn's Guitar and More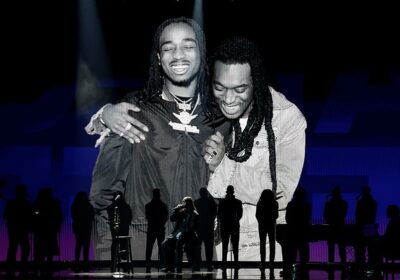 This year's Grammys In Memoriam tribute honored a diverse range of artists who died late last year, including Loretta Lynn, Fleetwood Mac's Christine McVie and Migos rapper Takeoff.
Barefoot and draped in red, Kacey Musgraves opened the segment by delivering an emotive performance of "Coal Miner's Daughter." Musgraves' voice was backed by a single Epiphone guitar once owned by Lynn herself. The pair previously performed together at the 2014 CMA Awards.
Maverick City Music then joined Quavo for a performance of "Without You," a tribute song dedicated to the life and legacy of Takeoff. The performance then segued into a stripped-back rendition of Wiz Khalifa's "See You Again."
"Days ain't the same without you / I don't know if I'm the same without you," sang Quavo, as a photo montage of the fallen rapper played behind him. "I wish I had a time machine / Just so you can take a ride with me / I miss just how you smile at me / Unc and Phew until infinity."
Takeoff, 28, was murdered during a dispute outside a Houston bowling alley on Nov. 1. His Migos bandmate and uncle, Quavo, was at the scene of the crime but was unharmed.
Then, Sheryl Crow, Mick Fleetwood and Bonnie Raitt honored three-time Grammy winner Christine McVie with her emblematic "Songbird." McVie, an integral member of Fleetwood Mac, died in November after a short bout of illness.
The In Memoriam segment also honored a wide array of artists and music industry figures who died last year, including Jeff Beck, David Crosby, Yukihiro Takahashi, Terry Hall and Olivia Newton John.
Read More About:
Source: Read Full Article