Gisele Bündchen makes rare red carpet appearance with twin sister Patricia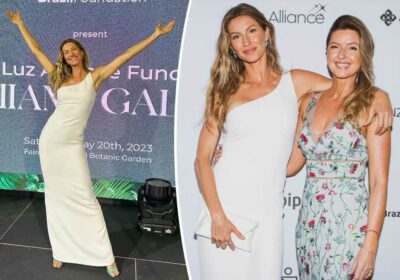 More On:
gisele bundchen
Newly single Shakira, Gisele Bündchen have GNO with their kids in Miami
Fans rip Kim Kardashian, Tom Brady friendship: 'Run Tom'
Tom Brady gushes over 'amazing' Gisele Bündchen, Bridget Moynahan on Mother's Day
Gisele Bündchen's ab-baring workout set is a celebrity favorite
Sister, sister.
Gisele Bündchen's fraternal twin sister, Patricia Bündchen, joined the model for a rare appearance at the Luz Alliance Gala benefiting the Brazil Foundation.
The two women, both 42, were all smiles as they posed with their arms wrapped around each other on the red carpet Saturday night.
For the special outing, Gisele wore a simple one-shoulder white gown, which she paired with green heels while styling her hair in loose waves.
As for her twin, she sported a floral gown with her hair styled over her shoulders. She accessorized the look with minimalist gold jewelry.
The swanky Miami soirée — which was attended by A-listers like Karlie Kloss — raised almost $1 million to benefit reforestation efforts in the sisters' native country.
Speaking to PEOPLE about the affair, Gisele said, "This was my first gala and couldn't have done it without my sister Pati. We're very close, as you know, we're twins."
In addition to Patricia, who works as Gisele's business manager in Brazil, the former Victoria's Secret angel is a sister to Raquel, 48, Graziela, 46, Gabriela, 40, and Rafaela, 34.
For more Page Six you love …
Listen to our weekly "We Hear" podcast
Subscribe to our daily newsletter
Shop our exclusive merch
Although she rarely posts photos with her sisters, the proud mom paid tribute to her twin on their 40th birthday in July 2020.
"Today Pati and I get to celebrate four decades of being alive on this amazing planet! How lucky I was to be born with my twin and best friend!" she captioned an Instagram post featuring several throwback snaps of the duo. "I am so grateful for all the people who have been a part of my journey."
Gisele specifically shouted out ex Tom Brady, saying, "My husband, my family (especially my loving children!), my friends and so many others who I never got to meet but who have supported me through all these years."
As previously reported, Gisele split from the star quarterback last year following an "epic fight" over his shocking decision to "un-retire" from the NFL.
The model and the seven-time Super Bowl champ have since found their footing as amicable co-parents who praise one another on social media.
Brady, 45, finally hung up his jersey for good this past February.
Share this article:
Source: Read Full Article