From dating dilemmas to pop culture, see The Receipts Podcast's no-filter talk at Stylist Live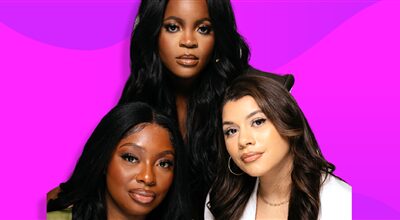 Written by Leah Sinclair
Audrey, Milena and Tolly will be taking to the Stylist Live stage next month to discuss dating, pop culture and the things they want to leave in 2022.
If there's one British podcast we love, it's The Receipts.
The podcast, which celebrated its six-year anniversary this month, is known for its no-filter chats, weekly dating dilemma advice and all-around good vibes, thanks to hosts Audrey, Tolly and Milena – and now they will be taking to the stage at Stylist Live.
The podcasters and authors will be speaking at the three-day extravaganza on Friday 11 November for a talk filled with dating dilemmas, pop culture moments and all about what they want to leave behind in 2022.
Since its launch in 2016, The Receipts has stormed up the podcast charts, amassing 100,000+ weekly listens on Spotify with listeners from 71 countries.
The podcast has also been nominated for several awards, and in 2021, the hosts released their debut book, Keep The Receipts, which was number 4 on the Sunday Times Bestseller list after its initial release.
Get your Stylist Live Friday ticket here
Image: Laurence Howe
Source: Read Full Article