From Conor McGregor To Logan Paul: Floyd Mayweather's High-Earning Spectacle Matches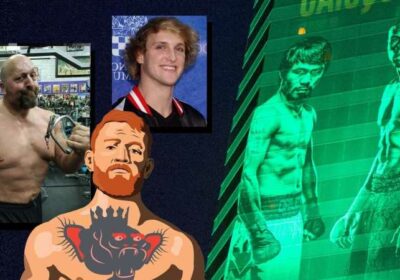 Born in Grand Rapids, Michigan, Mayweather Jr. is the son of Mayweather Sr., himself a professional boxer, known for his historic fight with Sugar Ray Leonard. Boxing was in his blood as two of his uncles were also professional boxers, and he received his preliminary training at home. Floyd did not enjoy a happy childhood as his mother was a drug addict, and his father was absent when he was very young. He began seeing his father once he was old enough to visit the boxing gym. Unfortunately, due to some twist of events, Mayweather Sr. was behind bars. That is when Floyd decided to give up his studies and practice full-time as a boxer.
Floyd's talent and hard work paid off, and soon the boxer had scored a hattrick by winning three Golden Gloves challenges in 1993, 1994, and 1996. His victory as an amateur did not stop there. He also won a bronze medal at the Atlanta Olympics. Eventually, as he grew, the boxer was unbeatable and mastered boxing championships in different weight categories. Today, Mayweather Jr. has a mind-blowing record of 50 wins in total.
The following are some of his high-earning matches.
2021 Match with Logan Paul
A surprising feature of this match is that Logan survived eight rounds against Floyd. As stated by Independent, even Logan was taken aback by the outcome of the game as he was fighting one of the best boxers of his time.
RELATED: Looking At The High-Grossing History Of WrestleMania
The match was spectacular and lived up to the viewer's expectations. Mayweather was reported to earn $10 million, while Logan's earnings were estimated to be $250,000. However, the match gained tremendous popularity, and the pay-per-views shot up. So, the profits of these two boxers are reported to have increased exponentially. Experts predict that the income from this match might even outdo Mayweather's payout from the 2017 fight with Conor McGregor.
2008 Match with "The Big Show" Paul Wight
In 2008, Mayweather was basking in the prime of his boxing career. WWE's WrestleMania XXIV put him up against The Big Show. This fight became very interesting because Mayweather replaced the fallen Rey Mysterio.
It was a historical event as it also marked the official debut of Floyd into WrestleMania XXIV, as stated by Sportscasting. The fight didn't end when The Big Show broke his nose as the gigantic boxer further challenged Mayweather to another battle in March's WrestleMania. In the over-the-top buildup, Floyd famously broke Show's nose, adding some real life drama to an in-ring work. The match turned out to be another marvel, but Mayweather, with his insane tactics, was able to defeat The Big Show after a long fight and also earned an impressive $20 million out of it.
2017 Match with Conor McGregor
The 2017 UFC match was the first boxing match of Conor McGregor, and it became a big deal when he challenged Mayweather to a fight. The fact that McGregor vowed to take down Mayweather in this match was too much to handle. Eventually, Mayweather welcomed the challenge, which also forced him out of retirement.
The language of triumph and defeat is also the only language that causes major hype amongst fans. As expected, this turned out to be an interesting match in Mayweather's career, and he also won it. According to ES, Conor earned $100 million while Mayweather made $300 million, as he was the winner. This is reportedly the highest payout boxing match of Mayweather to date. It was also the highest-grossing pay-per-view boxing event going up to 3 million.
2015 Match with Manny Pacquiao
Another highest-earning match of Floyd Mayweather would be the 2015 fight with Manny Pacquiao. It was held on the 2nd of May in Las Vegas and had the reputation of being one of the highest revenue-earning boxing fights in sports history.
As reported by Celebrity Net Worth, it generated insane profits, which Mayweather and Pacquiao shared in a 60:40 ratio. Manny made an incredible $150 million out of it, whereas Floyd's share was $250 million. After the match with Conor, this is the second-highest boxing payout in the long-lasting and successful career of Floyd Mayweather.
Among other successful matches that Floyd Mayweather had earned to date would be the 2013 Match against Saul Alvarez, which earned him about $75 million. In the game against Robert Guerrero, Floyd made $50 million. Currently, the boxer boasts an extravagant net worth of about $450 million and earns an average of $300 million in every fight.
READ NEXT: Floyd Mayweather Set To Fight Logan Paul In June For $100 Million Payday
Source: Celebrity Net Worth, ES, Sportscasting, Independent
Source: Read Full Article