Friends! The Musical Parody is for haters as much as it is for superfans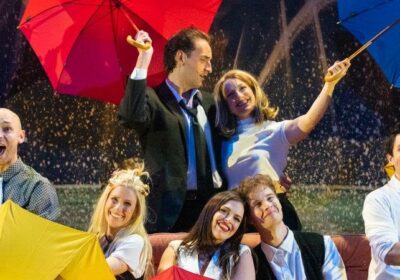 This wrap of shows around Melbourne includes a parody which distils 10 seasons of Friends into a two-hour performance, and a work of chthonic horror created through blending theatre and dance.
MUSICALS
Friends! The Musical Parody ★★★½
Athenaeum Theatre, opens November 30
The sudden uptick in parody musicals may be a side-effect of the pandemic – I first received an invite to Friends back in 2020 – but could also help to recover from it. Audiences, it seems, just want to have fun, and such shows can give us an uncomplicated pick-me-up that throws dignity to the wind. This one does have the advantage of being more entertaining than the object of its mockery.
The cast of Friends! The Musical ParodyCredit:Oliver Toth
Wild horses couldn't drag me back to the long-running sitcom. In the pre-streaming years of the late '90s and early aughts, the TV series proved so ubiquitous that it became less a cultural touchstone and more of a hostage situation.
This tightly orchestrated piss-take left me shocked at how much bloody Friends I imbibed without ever meaning or wanting to watch the show, and it's as likely to appeal to detractors – or those who want to draw a line under the experience – as it is to superfans and more nostalgic members of Generation X.
It helps that the lampoon whizzes through all 10 seasons in under two hours, with book and lyrics written by in-form humorists Bob and Tobly McSmith (currently hard at work on The Sopranos: On Ice! A Figure Skating Parody).
And it certainly doesn't hurt that, as with the preponderance of musical theatre delayed by the pandemic, the luxury of extra rehearsal time puts performers at the top of their game.
The cast of Friends! The Musical ParodyCredit:Oliver Toth
The leads all look the part and they all bring genuinely amusing touches of ensemble comedy.
Rachel (Eleanor Macintyre), Monica (Annie Chiswell) and Phoebe (Belinda Jenkin) take it up to Joey (Conor Putland), Chandler (Maverick Newman) and Ross (Tyran Stig), merrily upstaging one another in caricature of well-worn sitcom typologies, singing and cavorting their way through a rapid-fire review of idiotic plotlines – Phoebe being pregnant with her own brother's triplets, for one.
Conor Putland and Maverick Newman in Friends! The Musical ParodyCredit:Oliver Toth
Assaf Gleizner's music skates across the rink of copyright violation without slipping. Show tunes aficionados will lap up the compulsive range of musical pastiche on offer, from a thematically repurposed lampoon of Chicago's Cell Block Tango to immortal riffs from Rent being used to take the mickey out of the fact that, after Friends became a global hit, the show's actors began to charge $US1 million per episode.
My hopes weren't high for this one. I fully expected to grind my teeth through the cringe of yet another crassly commercial exploitation of '90s nostalgia. Yet while Friends might be a smidge too long, no element in Dash Kruck's production overstays its welcome.
It's a pleasure to be able to relax and watch talented performers embracing the ridiculous with a zest that will placate the show's haters as well as its fans.
Reviewed by Cameron Woodhead
THEATRE & DANCE
Monsters ★★★½
Malthouse Theatre & Stephanie Lake Company, until December 11
Monsters dives into a well of chthonic horror through a self-conscious layering of theatre and dance. It's a subterranean quest narrative that quickly descends into cavern fever fuelled by fear of the dark, by claustrophobia, by the terror of being buried alive, or worse, of falling victim to some formless entity – hideous, predatory and bent on our destruction – spawned deep in the lightless underworld below our feet.
Kimball Wong and Alison Whyte in Monsters.Credit:Pia Johnson
Emme Hoy's script plays with a theme that has long been fertile ground for the uncanny – think of H P Lovecraft's malevolent Cthulhu slumbering beneath the waves, or the pallid and misshapen prodigies in C S Lewis' The Silver Chair – and Alison Whyte is no stranger to whipping up the kind of white-knuckle anxiety spiral Monsters seems to demand.
An unassuming, almost throwaway intro belies the panic that seeps slowly into the piece. We are told that cenotes, or large sinkholes, have begun to appear without explanation across the globe. One such chasm has swallowed part of a city block, skyscrapers and all – and with it the narrator's sister, lured to the sinkhole by her morbid obsession to explore and expose the dark.
Hiring an expert caver to guide her, the woman braves the mysterious abyss hoping to find and rescue her sibling. What she discovers gets increasingly strange and terrible as the woman's emotional distress and the psychological effects of sensory deprivation begin to bite and inchoate fears coalesce into the stuff of nightmare.
(L-R) Josie Weise, Alison Whyte and Samantha Hines in Monsters at Malthouse.Credit:Pia Johnson
Whyte handles the storytelling with a spectral intensity and presence, and the atmosphere gets even creepier embodied as it is by three dancers – Samantha Hines, Josie Weise and Kimball Wong – from Stephanie Lake Company.
The choreography couldn't be more different from the joyful exuberance of the company's last work, Manifesto, a percussive rumpus featuring nine dancers and nine drummers.
Here, the movement is scuttling, contorted, shadowed by menace.
Aided by a cavernous set festooned with trapdoors and escape hatches, the dancers embody tormented, evanescent figures, their human forms dissolving and recombining to create grotesque and alien morphologies.
It's cleverly done – the movement is so protean and unstable you keep doing double-takes, as if you'd glimpsed something unspeakable in your peripheral vision.
Theatre and dance don't always dovetail as seamlessly as they could, though the design keeps visual and sonic thrills coming. Rosalind Hall's unsettling composition lets dark synth and frightening noisescape do the dirty work, while Paul Jackson's lighting shifts from tranquil pools of half-light to flashes of genuine discomfort as the tension escalates.
If there's a criticism, it's that the story doesn't give us quite enough detail to mould the experience into a non-trivial allegory. Where H P Lovecraft went underground to dig up cosmic and existential horror, and C S Lewis for a travesty of Christian creation myth, the source of the angst here remains muddled, and could be further distilled.
Reviewed by Cameron Woodhead
A cultural guide to going out and loving your city. Sign up to our Culture Fix newsletter here.
Most Viewed in Culture
From our partners
Source: Read Full Article