Forgotten something? Top five things UK pet owners forget most since lockdown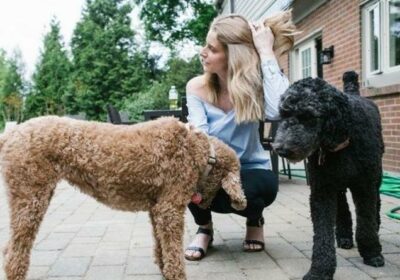 This Week On The Farm: Helen reveals names of her dogs
We use your sign-up to provide content in ways you've consented to and to improve our understanding of you. This may include adverts from us and 3rd parties based on our understanding. You can unsubscribe at any time. More info
The research by pet wellness experts Itch found that 69 percent of the nation of pet lovers felt their increasing forgetfulness is affecting their day-to-day activities. With summer and peak flea season upon us almost a third of dog owners said they are most likely to not keep on top of their treatment.
Remembering to pack poo bags when your dog does their business came in at 29 per cent while failing to give worming treatment came in a close third (28 per cent).
Here are the top five things most likely to be forgotten by pet owners since lockdown:
1. Flea treatment 32%
2. Poo bags when out 29%
3. Worming treatment 28%
4. Letting them inside from the outside 18%
5. Their hiding places 17%
Dr Paul Manktelow, well-known TV vet and Itch advisory panellist, comments: "The pandemic disrupted our daily routine and schedules in many ways, so it's no surprise that things were forgotten.
"But parasites don't go away! So having your pet's preventive treatments delivered directly to your door is a great way of reminding you to administer them on time."
According to Itch's study, Brits are forgetting an average of 1,095 things per year, with 32 percent saying they struggle to switch off at the end of the day.
Brain fog, a term used for certain symptoms that can affect your ability to think, is also on the increase, with 71 percent saying they have experienced symptoms since the start of lockdown.
Two fifth of respondents said they blame lack of sleep for not remembering while 34 percent felt it was due to a lack of a diverse routine.
Jo Hemmings, an experienced Behavioural Psychologist and registered member of the British Psychological Society (BPS), comments: "Whether it's going upstairs to do something and then forgetting why you went there, or telling a story with a point that you can't quite recall halfway through your first sentence, we have all had one thing in common during this pandemic – we have suffered in one form or another from 'brain fog'.

READ MORE: Sir Bruce Forsyth daughter's dog law battle
"Brain fog is undoubtedly a form of cognitive impairment, but unlike many more serious conditions, it is nearly always temporary and will return once we get back into a recognisable and familiar routine.
"Did you know that doing something like walking your dog at the same time each day can create micro-doses of order out of potential chaos and offer that all-important structure?
"As Itch's research found that flea treatment is the most likely forgotten pet responsibility, with forgetting poo bags during walks following shortly behind, it's worth trying to keep to a routine with your pet. This will help both of you!"
For further advice and top tips from Jo Hemmings on how to deal with brain fog, plus tips from Paul Manktelow on dealing with fleas, visit https://blog.itchpet.com/covid-brain-fog.
DON'T MISS:
Brussels' huge disappointment after Biden keeps ban on EU travellers [REPORT]
The Yorkshire Vet's Julian Norton admits 'work's been challenging' [VIDEO]
How much Tokyo Olympics athletes REALLY earn – Team GB's bonus [[REVEAL]
Source: Read Full Article