Forget When Harry Met Sally, this is Nora Ephron's funniest film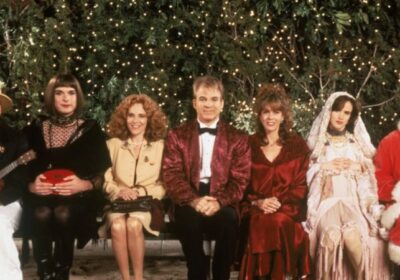 In this column, we deliver hot (and cold) takes on pop culture, judging whether a subject is overrated or underrated.
Save articles for later
Add articles to your saved list and come back to them any time.
It's practically impossible to see Meg Ryan and not think about Nora Ephron. By the time Ryan starred in You've Got Mail (1998) – her third film either written or directed by Ephron – the two were officially a package deal.
That's why all I could think about when I saw Ryan had made a new film, What Happens Later, was the late, Oscar-nominated screenwriter. Ephron, who died in 2012, revolutionised the romantic-comedy genre, highlighting not only strong female characters but also their sexuality (we all want what she's having now).
Nora Ephron's Mixed Nuts is a sleeper Christmas hit.Credit: TriStar Pictures
Where Ephron goes, the holy trinity follows: When Harry Met Sally (1989), Sleepless in Seattle (1993) and You've Got Mail. We romcom lovers collectively recite the Katz's Delicatessen fake-orgasm scene word-for-word, we worship the ground Tom Hanks walks on (in either film, take your pick) and we give thanks to how far we've come since ye olde email.
But has our devotion to this sentimental triad overshadowed Ephron's other gems … or nuts?
That's right, I'm talking about Mixed Nuts, Ephron's 1994 dark-comedy Christmas film. Based on the 1982 French film Le pere Noel est une ordure (Santa Claus Is a Stinker), Ephron's take is set in Venice Beach, Los Angeles, on Christmas Eve. It follows a ragtag group of misfits, including the frazzled operators of a crisis helpline, as everything – and I mean everything – goes wrong around them. The disgruntled, widowed employee Mrs Munchnik (Madeline Kahn) gets trapped in an elevator, the milksop leader Philip (Steve Martin) is brutally broken up with over the phone, and they're all getting evicted from their office space. What a holly jolly Christmas.
Audiences and critics at the time seemed to have an allergic reaction to Mixed Nuts. The Chicago Sun-Times' Roger Ebert gave it a dismal 1½ stars, comparing it to "smiling politely for hours in the enforced company of strangers, madmen and bores". Variety said Ephron displayed "the comedic equivalent of two left feet". Basically, it flopped.
Admittedly, I don't think 1994 audiences were ready for Mixed Nuts. They were too wrapped up watching Arnold Schwarzenegger save Jamie Lee Curtis while dangling off a helicopter in True Lies, or Schwarzenegger becoming the first man to give birth in Junior (what a year for Arnie). They wanted their action hardcore and their comedy ridiculous. The fatalistic farce that is Mixed Nuts was evidently just too bleak for the sugary cinema of the mid-'90s.
For 2023, on the other hand, it's arguably perfect. These days, cinema operates less as a salve against the pain of reality and more as a reminder that life can sometimes feel like a cruel joke – but it's a cruel joke worth living. That may sound depressing but it offers a strange form of solidarity, reiterating that we're not alone in our struggles. After all, the TikTok age is all about authenticity and truth, is it not? We don't want to be pandered to.
"In every pothole there is hope," Philip says at one point, before explaining how his father had said the same thing before being run over by a truck carrying mixed nuts. It's hilariously horrible, summarising the delicious nihilism of the entire film.
Not only was its tone ahead of its time but so was its talent. The cast could be mistaken for a carefully curated Saturday Night Live episode, with standout performances from Martin, Wilson, Juliette Lewis, Rob Reiner, Parker Posey, Anthony LaPaglia and a Billy Madison-era Adam Sandler.
Liev Schreiber (left) and Adam Sandler (right) in Mixed Nuts.Credit: TriStar Pictures
The real show-stealer, however, is Liev Schreiber (Asteroid City), whose deft performance as the lonely transgender woman Chris became his film debut. In what would otherwise have been a rather insensitive portrayal of a trans person – namely, the unseemly attempt at visual comedy by casting a noticeably tall, broad-shouldered man, and the initial discomfort most characters greet Chris with – Schreiber imbues his character with more tenderness and humanity than any other on-screen. The serenading scene between Schreiber and Sandler, who plays the loveable downstairs neighbour, is particularly touching – a moment of acceptance and empathy amid what's otherwise a frenzy of mishaps.
Of course, some elements of the film cannot be as easily defended. One scene – in which a depressed person, played by comedian Steven Wright, shoots himself as a result of technical difficulties with the Life Savers phone line – leaves a bad taste in your mouth, and the ending returns to the sugary yuletide sentimentality that most of the film strives to dismantle. But for a film made nearly three decades ago, it arguably remains remarkably relevant.
Sure, none of its one-liners survived the test of time (though I would argue that "my psychiatrist thinks we should break up" could easily become a Gen Z anthem), making it almost impossible to live up to often-quoted behemoths like When Harry Met Sally. But, for what it's worth, while everyone else repeats lines like, "Waiter, there is too much pepper on my paprikash", I'll be ironically reciting, "if you don't have tits like Dolly Parton, no one wants you".
Find out the next TV, streaming series and movies to add to your must-sees. Get The Watchlist delivered every Thursday.
Most Viewed in Culture
From our partners
Source: Read Full Article