For integrity's sake, Australia needs a change of government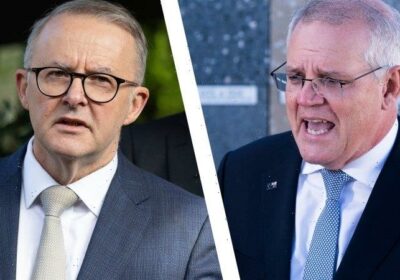 The unusual intervention by 31 retired judges this week calling for a strong national integrity commission was one of the most significant events of the election campaign. The government may believe this is a niche issue of scant interest in the suburbs, and perhaps it is right. But integrity is, in The Age's view, the overarching theme of this campaign.
It is not about an integrity commission in isolation. It is about trust in our political system to act in the public interest, about an insistence that public money be used for public, not political, purposes. It is about accountability for alleged wrongdoing. It is about political donation reform to reduce the risk of wealthy interests buying influence. Whether the issue be taxation reform, climate change, infrastructure or community grants, the integrity of our systems is bedrock.
Prime Minister Scott Morrison and Labor leader Anthony Albanese.Credit:Nine
This government has no interest in a strong integrity commission despite its promise at the 2019 election. Its inadequate bill would not allow the agency to launch its own investigations or act on tips from the public. Senior legal figures have said it is not designed to expose corruption, but to cover it up.
Whether it be the so-called "sports rorts" grants under which a minister ignored independent advice to funnel millions to Coalition-targeted seats, the commuter car parks promised overwhelmingly to Coalition electorates, or the refusal to hold an inquiry into former attorney-general Christian Porter's use of anonymous donations to fund his legal fees, the government's "nothing to see here" responses have normalised wrongdoing as just the way politics works.
Overall, this election campaign has been dispiriting because both major parties have conducted intense disagreements over a small range of issues, with neither telling the truth about the big challenges the country faces.
But Labor leader Anthony Albanese understands that trust in government has eroded and that it matters. "We need to make sure that we restore faith in the integrity of our political system," he says about the opposition's proposal for a strong commission. We would prefer to see the details, but Labor's early plans to clean things up would begin to dispel the cynical idea that somehow integrity in politics is an oxymoron.
The government's central pitch for a fourth term is that it is the better manager of the economy. The unemployment rate of 3.9 per cent – the lowest in half a century – is not entirely the government's doing, but it deserves some credit. The past three years have been dominated by the pandemic. While the federal government made mistakes, it – along with the states – also deserves credit for the decisions made in a fast-moving crisis that meant that we have a low death rate comparatively and, after a tardy start, a high double-dose vaccination rate among adults.
Prime Minister Scott Morrison has said that "JobKeeper saved the country". That one decision to spend tens of billions to subsidise workers' wages during the worst of the pandemic was the government's finest achievement, saving hundreds of thousands of jobs, although the scheme was marred by too many companies that did not need it receiving billions.
While massive temporary spending was justified to avert an economic and human catastrophe, this election is being fought in the context of endless government deficits. It is a pretence that both sides of politics prosecute – that we can spend more money on aged care, the NDIS, defence, childcare and training with scant savings and deficits out to the next decade. At some point, the government will need to raise taxes to pay for services the public rightly demands, such as a dignified aged care system, or trim spending elsewhere.
We have had a semi-debate about wages and inflation but no serious discussion about tax reform or productivity, although Albanese argues his increased childcare subsidies are aimed at boosting productivity, the key to wages growth. Whichever party forms government, falling real wages, higher interest rates and rising inflation will be the reality. Perhaps then we can talk seriously about productivity that includes cheaper childcare, reforming the tax system and improving education standards.
The housing debate has had an air of fantasy. Nobody seriously believes the modest promises of either side will do anything about housing affordability, because neither wants prices to drop for fear of upsetting existing home owners. The policies tinker around the edges, if anything likely to increase housing prices while doing nothing about the lack of housing supply.
Throughout the campaign, the government has failed to make a compelling case for a fourth term. Labor's agenda may be modest, but it is hard to discern a serious government agenda after nine years of Coalition government. It has shown scant interest in economic and tax reform and is headed by a prime minister who too often has failed to take responsibility until forced to do so.
On one issue in particular, Australia cannot afford three more years of this government. Neither side of politics is telling the truth about the future of coal, but at least the government's tired attempts to run another scare campaign on electricity prices fell flat – it is hard to argue with the Australian Industry Group, the Business Council and the National Farmers' Federation, which all prefer Labor's plans.
Australians have had almost 10 years of a government that has misled the country on climate change, one that has only recently committed to the bare minimum, with some members of the Coalition already undermining that. It supports net zero emissions by 2050, but has refused to increase its commitment to reduce emissions by 26 to 28 per cent by 2030. All the evidence is that it is this decade that matters most, and we have little confidence that the Coalition would do more than drag its heels.
Labor's interim target of emission cuts by 43 per cent by 2030 is better, but not ambitious enough, but at least Labor has some plan to get there, including a $20 billion fund to build electricity transmission links. Only the Greens' target of a 74 per cent reduction by 2030 is judged consistent with limiting warming to 1.5 degrees.
An honest campaign would have all sides acknowledging that coal is quickly on its way out and reassuring communities that transition plans are serious. The suggestions from the Coalition and Labor that coal has a long-term future in Australia are misleading.
While we despair at the lack of truth-telling in this campaign, The Age believes a change of government is needed to begin restoring integrity to federal politics and to, finally, face up to the challenge of climate change. The Coalition warns that electing Labor would be a risk, but at this election, more of the same would be the greater risk for the country.
Gay Alcorn sends a newsletter to subscribers each week. Sign up to receive her Note from the Editor.
Most Viewed in Politics
From our partners
Source: Read Full Article