Five ways to successfully avoid Coronation including World Naked Gardening Day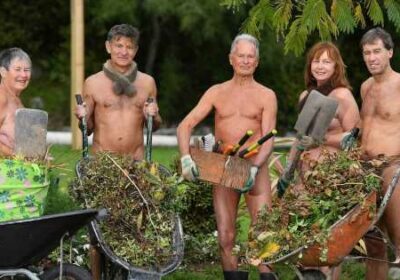 Bookmark
Sign up for the Hot Topics newsletter for hot style and sex tips
We have more newsletters
It's going to be hard to avoid the Coronation of King Charles III today (May 6) as he's crowned at Westminster Abbey.
Many Brits will enjoy celebrate the royal occasion with a knees-up at a street party or family bash as they get up the bunting and get out the tasty Coronation Quiche.
However, there will be people out there who don't want to watch or celebrate the King's big day.
READ MORE: Coronation-themed sex positions to promise royally good time between the sheets
If that's you, then we have five tips on how you can successfully avoid it.
1. Get offline
Social media is bound to be covered with Coronation content this weekend, so it might be worth switching off your phone and turning off your laptop.
You may even find that you have tons of extra time to spend getting stuff done without all that scrolling.
Why not go on a long walk or get your supermarket shopping done while everyone is out partying.
2. Find other plans
Despite most people out celebrating the Coronation, there are many other events running today.
The Dog and Partridge pub in Sheffield has named itself an anti-Coronation safe space, and The Brewers in Manchester has also put together an alternative Coronation Quiz.
Why not host a last-minute alternative Coronation community party, yourself, or you could even get starkers for World Naked Gardening Day.
3. Avoid central London
This may be an easy one to do if you don't anywhere near the capital.
If you do live in the Big Smoke, we suggest you avoid central London and Westminster in particular, where royal-watchers will be wearing their best union jack outfits and waving their flags.
It's also probably best to stay away from other big areas in the city, such as Hyde Park, Green Park and St. James's Park.
If you are driving, the roads will also be closed around Knightsbridge, Waterloo, Leicester
4. Get away to the country
If you seem to be surrounded by everyone celebrating the Coronation, why not get away to the countryside.
Luckily for you, the Countryside Charity has provided map of the quietest places in England – including Fen Drayton Reserve in South Cambridgeshire, Bossington Beach in Somerset and the North York Moors.
Make sure you check the weather though, as you may need an umbrella.
5. Enjoy Daily Star's alternative content
If you fancy reading about something other than King Charles, Daily Star has got you covered with some top content.
Why not read about the woman who's transformed her 'big forehead' with a hair transplant, or check out the Playboy model flaunting her famous 30GG boobs in nothing but body tape.
There's also the contortionist who quit the circus and makes £27,000 a month from her sexy snaps and videos on OnlyFans.
READ NEXT:
'I have saggy boobs, hip dips and a square bum – but I'm still beautiful'
Women say men with a 'J' name are the worst to date as they share 'red flags'
Model 'so hot she makes men cry' turns 'poolside goddess' in skimpy bikini
Brits shown 'correct' way to use a colander – but they slam 'dangerous' method

For more lifestyle stories, sign up to the free Hot Topics newsletter here
King Charles Coronation
King Charles III
Source: Read Full Article