Five Micronesian countries to quit the Pacific Islands Forum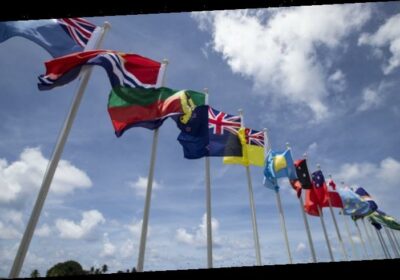 Five Pacific island nations have announced they are quitting the key regional body in a blow to Australia's efforts to unite the region.
The Pacific Islands Forum has suffered its biggest setback in decades with the Marshall Islands, Nauru, Kiribati and the Federated States of Micronesia following Palau in leaving over the election of a new leader.
Five countries have declared they will leave the Pacific Islands Forum.Credit:AP
Palau announced last week it was leaving the PIF and called on its fellow Micronesian countries to follow suit after former Cook Islands prime minister Henry Puna won a ballot by one vote to become its new secretary-general. Mr Puna edged out Marshall Islands candidate Gerald Zackios, who was backed by the five nations from Micronesia.
The Micronesian states claimed there was a "gentlemen's agreement" whereby the three regions of the Pacific – Micronesia, Melanesia, and Polynesia – rotate the role of secretary-general.
In a statement released after meeting virtually late on Monday night, the Micronesian states said there was "no value in participating in an organisation that does not respect established agreements, including the gentlemen's agreement on sub-regional rotation".
Former Cook Islands prime minister Henry Puna won the ballot 9-8.Credit:Marty Melville
The countries made clear that each of them would undertake the process of formally leaving, which is expected to take about a year, "with respect to its own internal legal and procedural requirements and final decision rests with respective governments".
"The Micronesian Presidents collectively expressed great disappointment with the Pacific Islands Forum, as set out in Article XII of the Agreement Establishing the Pacific Islands Forum Secretariat," the Micronesian states said in the statement.
"The Micronesian Presidents look forward to strengthening the work of subregional organisations including the Micronesian Presidents' Summit."
Australia had been trying in recent days to convince the four other Micronesian states not to follow Palau in walking out of the PIF.
Australian Foreign Minister Marise Payne on Monday said Australia would continue to work with the Micronesian group if it chose to pull out of the forum.
"There is no doubt, as one would expect in the Pacific, that this is the subject of robust contest and Micronesian leaders have expressed their concerns and their disappointment that the outcome was not for the candidate that they had supported," Senator Payne said.
"Unity is very, very important in the Pacific right now. It will be a matter for those countries as to how they want to take that forward, but Australia wants to work in a constructive spirit and in a united spirit to address the challenges of 2021."
Start your day informed
Our Morning Edition newsletter is a curated guide to the most important and interesting stories, analysis and insights. Sign up to The Sydney Morning Herald's newsletter here, The Age's here, Brisbane Times' here, and WAtoday's here.
Most Viewed in Politics
Source: Read Full Article