Ferrari-Driving Pastor, Joel Osteen Shamed Into Returning Millions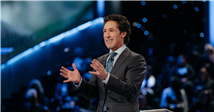 Public shaming has led to Texas megachurch owner Joel Osteen returning $4.4 million in COVID-19 disaster loans. The Ferrari-driving pastor received criticism for accepting the loans while flaunting his wealth.
A post shared by Joel Osteen (@joelosteen)
Osteen and his tax-exempt Lakewood Church became viral villains last year when they received one of the pandemic's biggest taxpayer-funded loans. The megachurch received about $4.4 million through the Paycheck Protection Program to cover payroll and other expenses as it shuttered in-person services for seven months last year.
After the Houston Chronicle reported the loan, Osteen's name trended nationally on Twitter as people criticized him.
His Lakewood Church in Houston is a 600,000 square-foot former sports stadium with a 17,000-person seating capacity. The church has said the organization lost revenue as a result of those seats being empty.
Lakewood spokesperson, Donald Iloff, defended the decision to seek support from the program at the time.
"Believing the shutdown would only last a few weeks, Lakewood did not initially apply for PPP assistance during the first half of the program," Iloff said in a statement. "However, as the shutdown persisted month after month, given the economic uncertainty, Lakewood finally applied for the PPP loan and has been able to provide full salaries and benefits including health insurance coverage to all of its employees and their families."
RELATED: 20 Celebrities Who Escaped Scientology
Many on social media took issue with Osteen not helping pay his own employees. The pastor has accumulated a fortune of $100 million according to celebrity net worth. He forgoes the $200,000 salary he's entitled to as Lakewood's pastor. Osteen makes his money off of speaking engagements and his best-selling books. His lucrative ventures have netted him upwards of $55 million a year, according to NY Daily News.
But, enormous displays of wealth from the pastor have drawn contempt from the public.
The prosperity gospel televangelist owns a $10.5 million mansion in the wealthy Houston suburb known as River Oaks. But, the 17,000 square foot home isn't his only property. The pastor and his wife also own a second $2.9 million mansion in Tanglewood, Houston.
Osteen regularly drives a Ferrari 458 Italia and reportedly owns a private jet. Aero Corner reports he purchased an $86 million Airbus A319. The giant A319 is usually used for commercial flights and is one of the most expensive jets money can buy.
READ NEXT: 18 Things Justin Bieber Doesn't Share About His Celeb Pastor Carl Lentz
Sources: New York Post, Houston Chronicle, NY Daily News
Source: Read Full Article