Ferne McCann admits she's 'surrendered' her love life after split from Jack Padgett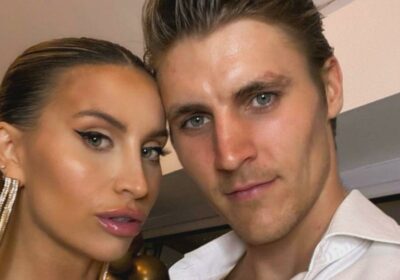 Join the OK! VIP newsletter and receive big exclusives to your inbox before anyone else!
It's fair to say that the past 12 months have not been the easiest for Ferne McCann.
The former TOWIE star, 31, has revealed she suffered from Covid in October last year, then she split from her boyfriend Jack Padgett in June.
But big-hearted Ferne is bouncing back with a brand new series of First Time Mum, which is returning for a seventh season. In this extended series, fans of the show will see her heartache over her most recent break-up, as well as the challenges she faced during the pandemic.
Here, Ferne opens up about battling the virus, why her three-year-old daughter Sunday is her focus right now, and what it was like trying a therapy treatment involving the poisonous secretions of a giant monkey frog…
Hi Ferne! What can we expect from the new series?
I'm so excited – I've put so much into it. I genuinely mean this, hands-down, it's the best one. You'll be laughing and crying – it's just jam-packed. And Sunday is so different – challenging, but she's a joy. She's always changing and I'm always learning as a parent. She's at such a fun age. Of course, she's still got the tantrums.
There are usually only three or four episodes, but this time there are eight…
It was more of a mini series before. Now there's more time to tell the narrative and show everything that's happening
in my life.
And that includes your split with Jack in June – that must have been hard…
It's been a mature break-up and no one did anything wrong. I've learned so much from this relationship and from Jack – we had some beautiful times. But in the end, with coming out of lockdown and the world opening back up, suddenly our lives were very different.
So are you looking to find love again?
Right now, I'm just focusing on my career and my daughter. She's the most important thing. I've surrendered my love life – what will be will be. I'm not fixating too much on it and I'm definitely not back on the dating scene. If somebody comes along, great, but if not, I'm happy being just me at the moment. People say, "Well at least you're on the heartbreak diet now", but I'm eating my way through life right now. I'm like, "Give me the food!"
You still look amazing. Have you been working out?
I've started boxing. I'm actually learning the technical side of it, so I started on pads and now I'm sparring, which is a whole different ball game. I would love to fight in a boxing match. I always have something in the diary to work towards. I love a challenge.
How has the pandemic been for you? Did you have to spend any time alone during any of the lockdowns?
No – in the first lockdown my mum Gilly moved in with me, which was amazing. Obviously, being a single parent, it would have been really tough. I love spending so much quality time with my daughter but it has its ups and downs. Then in the second lockdown, my friend Carl moved in, which was so nice as I've never lived with a friend. And in the third lockdown my ex [Jack] moved in with me and that was the first time I'd lived with a boyfriend. That was a different dynamic. It was great fun, even though sadly it didn't work out.
And you ended up with Covid – how tough was that?
I haven't told anyone this before, but I had it in October last year. I completely lost my sense of taste and smell – it completely went. I didn't feel poorly, but I rested a lot at home. But afterwards, I was very fatigued. It knocked me for six. My senses didn't come back for quite a while, so I didn't have either over Christmas. It took months for them to return. Losing my sense of taste was terrible.
That sounds traumatic, but you're all better now?
Yes, but it made me realise that your health is everything.
You've been through so much in your life. Do you ever use any alternative therapies to help you cope with stress?
I tried something recently – you'll see in the new series – it's called Kambo. It's one of the weirdest things I've ever filmed. It's a holistic spiritual therapy method to help you purge and it's kind of out there. Kambo is meant to be very cleansing.
If you've got any blocked trauma, or if you're looking for love for real, it claims to kind of purify you. It's not for the fainthearted.
Isn't it some sort of medicinal ritual that involves the poisonous secretions of a giant monkey frog?
You'll have to tune in to see it. I can't say too much apart from I was there being sick in this bucket and I was like, "This is the greatest thing I've ever filmed." It was amazing.
Do you use alternative therapies a lot?
I'm into mindfulness, breathing techniques and alternative therapies. I also follow Wim Hof [The Iceman] and his breathing techniques. I'm big into meditation and journalling, writing down my gratitude and affirmations. I listen to a sleep meditation every single night.
I'm big into talking to my angels, too. You can call on your angels to guide you. I've been listening to this woman called Doreen Virtue. She writes incredible books. I listen to her audiobooks when I'm driving around.
Can we expect to see any more reality TV in the future?
I'm a very in-the-moment girl. I just like to be present and in the here and now. And right now, I'm feeling super-proud and excited to launch the new series of First Time Mum. Who knows what tomorrow will bring?
First Time Mum airs Tuesdays at 9pm on ITVBe.
For more reality TV gossip, sign up to OK! newsletters here.
Source: Read Full Article