'Extra time': Albanese braces for drawn-out Senate fight on IR laws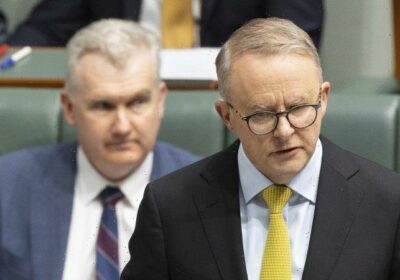 A dispute over the federal government's workplace law is set to go into extra time after Prime Minister Anthony Albanese admitted on Sunday he might need to extend parliament in order to strike a deal with crossbenchers.
Albanese cleared the way for further talks with the Greens and key independents such as ACT senator David Pocock by declaring he would "welcome" changes to give the Senate more time to debate the bill to overhaul industrial relations law.
Prime Minister Anthony Albanese is open to more parliament sitting days if needed to pass the industrial relations bill.Credit:Alex Ellinghausen
The government chose to make December 1 the last sitting day for this year when it set the calendar for federal parliament after the election and stuck to the plan when it had to cancel parliament after the death of Queen Elizabeth in September, despite calls from Pocock for more time for debate.
"We might well have to sit extra days and that's fine," Albanese said on Sunday morning.
"I don't mind the parliament sitting at all. That's what we're paid to do. So if the Senate needs extra time to give consideration to any matters before it, then I'd welcome that."
The Greens have concerns the workplace bill could weaken the "better off overall test" that aims to ensure workers do not lose wages and conditions under enterprise bargaining agreements, a message also coming from some union leaders.
Pocock is not convinced by the government plan to allow multi-employer bargaining so a single union could strike an enterprise agreement with many companies in the same industry, a move industry groups see as a step toward industry-wide strikes.
Parliament resumes on Monday for its final eight days of the year – Monday to Thursday this week and again next week – amid growing expectations the government will agree to extra time on each Friday and possibly additional days from December 5.
The agenda includes the bill to create the National Anti-Corruption Commission as well as the Fair Work Legislation Amendment (Secure Jobs, Better Pay) Bill.
Labor went to the election with a promise to lift wages and is under pressure to deliver when inflation is set to stay higher and last longer than expected, eroding wages in real terms until at least 2024, according to federal budget forecasts.
A key point of contention in the workplace bill is that Labor did not go to the election with a policy for multi-employer bargaining and only unveiled the change after ACTU secretary Sally McManus called for the change in August and Employment Minister Tony Burke agreed to the idea at the jobs summit in early September.
Albanese pointed to the government's recommendation to the Fair Work Commission to lift the minimum wage as proof he was acting on the issue. He backed an increase during the election campaign and the commission increased the minimum wage by $40 to $812.60 per week for full-time workers.
"We need to make sure that we do lift wages. It's something that I said consistently before the election," Albanese said in an interview aired on Sky News on Sunday morning and recorded in Bangkok before the prime minister flew home from a series of leadership summits.
"We know that we've done that through the Fair Work Commission making a decision around the minimum wage. We've done that for aged care workers.
"But we need to have an industrial relations system that is fit for purpose, that's in the interests of both workers but also employers. And that's the balance we're trying to meet.
"We've sat down constructively with employers over many weeks now, and we've sat down with unions as well. I know that there's some disagreement from employers, there's some disagreement from some unions. That to me says we're getting the balance right."
Greens leader Adam Bandt told this masthead he was worried some parts of the bill as drafted could see people go backwards.
"I don't think that's the government's intention, so we've been having good faith discussions with the government for some weeks about how to close those loopholes," he said.
Cut through the noise of federal politics with news, views and expert analysis from Jacqueline Maley. Subscribers can sign up to our weekly Inside Politics newsletter here.
Most Viewed in Politics
From our partners
Source: Read Full Article