'Exorcist' Reboot 'Obviously' Couldn't Open Against Taylor Swift's 'Eras Tour,' Says Jason Blum: 'It's Too Risky…We Bowed Our Head' to Her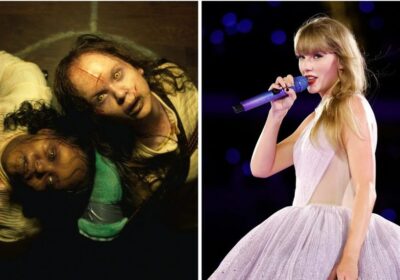 Universal Pictures and Blumhouse thought they had the perfect release date for their upcoming "Exorcist" reboot: A Friday the 13th in October, the spookiest month of the year. But it turns out the only thing more terrifying than that cursed day is Taylor Swift. Once the Grammy winner announced her "Eras Tour" concert film was opening on Oct. 13, the studios bumped up the release of "Exorcist: Believer" to Oct. 6
"The one thing that scares me to death is Taylor Swift!" Blumhouse founder and "Exorcist" producer Jason Blum recently told Entertainment Weekly.
"We had this amazing Friday the 13th in October, which is the single best day to release a scary movie," he added. "Obviously, we moved off that [date] and we bowed our head to Taylor Swift."
At first, Blum toyed with keeping the Oct. 13 release date for "Exorcist: Believer" and launching an "Exorswift" movement, a nod to the Barbenheimer craze that swept the nation over the summer. But there was no guarantee that "Exorswift" would take off in the public consciousness, so a date change was the only sensible move.
"It was too risky to see if 'Exorswift' was going to take or not," Blum said. "People will still have the Exorswift opportunity, so maybe we got to have our cake and eat it too."
"The Exorcist: Believer," directed by David Gordon Green, sees the return of Ellen Burstyn's Chris MacNeil from the 1973 original. The story picks up as two local girls escape into the woods, only to return three days later with no memory of the episode. This unleashes a horrific chain of events, forcing the father of one of the girls to seek out MacNeil, the only living person who has experienced anything like it before. The cast also includes Leslie Odom Jr., Ann Dowd and Jennifer Nettles. The film re-teams Blumhouse and Green, who worked together on the most recent "Halloween" trilogy.
"I really give David Gordon Green credit for that," Blum said. "He was able to get Jamie Lee Curtis comfortable [on 2018's 'Halloween'], and David got Ellen to feel comfortable to join us in this iteration of her iconic movie."
While "Exorcist: Believer" is intended to kick off a new trilogy of horror films, Taylor Swift's "Eras Tour" concert film will easily be the blockbuster of October. The earned a whopping $26 million in AMC Theatres presales in a single day (breaking the previous record of $16.9 million held by "Spider-Man: No Way Home"), and could launch to over $100 million during its opening weekend. Those numbers would instantly make Swift's movie the highest-grossing concert-film of all time.
Read More About:
Source: Read Full Article