Ex-Playboy model credits fame to weird viral moment she got groped by elephant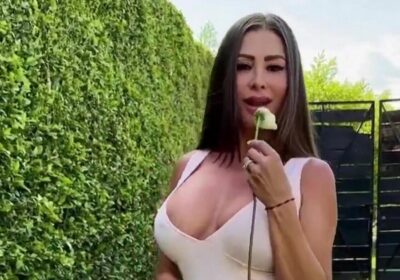 Former Playboy model Francia James has revealed the truth about her success as a digital creator and surprisingly, it was down to an unfortunate incident with an elephant.
The Colombian beau, who now has an army of 11.7 million followers on Instagram, celebrated her 33rd birthday last week and gave fans a cheeky strip tease by a pool.
Last month, the model attended UFC 287 in Miami and gave the winning fighters an eyeful of her stunning outfit.
READ MORE: Ex-WWE star Mandy Rose 'blessed' as she posts bikini snaps six months after sack
She was invited by MMA fighter Kevin "Trailblazer" Holland on a podcast to share how she started her content creator career.
Co-host Dustin Gutkowski asked Francia on Real Eyes Recongnize podcast: "So for listeners who don't know you, what do you do? And how many followers do you have?"
Francia said: "So I started with an elephant video, the elephant grabbed my boobs, that's how it started.
"It went all over social media. When I first started [my career], I used to be a model in Colombia but it never worked.
"You never get the support and I was an aesthetician before I started this.
"You know — facials and massages, things like that.
"I wasn't making any money so I started doing this and suddenly I blow up with this elephant video and it went all over the country and I started getting all these crazy views."
The elephant video made her famous in 2019 when she visited Myrtle Beach Safari Park in South Carolina.
Footage showed the bikini model trying to take a picture with an elephant as she stood close to its face.
But the mammal got distracted and swung its trunk to fondle Francia's breasts.
She pushed away the trunk and screamed: "What are you doing? Oh my God!"
Francia then described the trunk as a "large man's hand with a high-powered vacuum attached".
READ NEXT:
Busty mum, 53, loves flashing bralettes as 'mature women should wear what they want'
Balding OAP says hair transformation that 'made her 20 years younger' was life-changing
Woman shares 'insane' anti-ageing pillow hack that can reduce wrinkles during sleep
Source: Read Full Article