Enrique Iglesias Hints At Retirement From Music After Next Album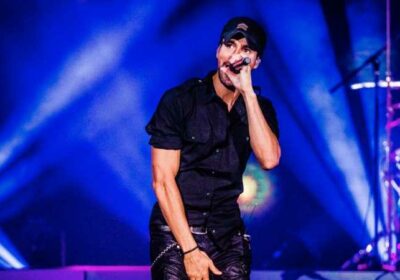 He's been making music for over two decades, but Enrique Iglesias admits that his retirement may be on the horizon.
The singer is currently working on his next album, which is being called Final, and will be released on September 17th. But Enrique admits the title may be literal – this could be his last album, at least for the foreseeable future.
RELATED: Kylie Jenner's Kylie Swim Will Have Swimsuits For Babies Too
"It might be my final album," Enrique said during a discussion with Ricky Martin and Sebastian Yatra, PEOPLE Magazine reports. The Spanish entertainer admits he's been thinking of stepping back from music for a few years, emphasizing he's given the subject a lot of thought.
"I've been thinking about this since 2015," Enrique continued, explaining that Final will have a Vol. 1 and Vol. 2.
However, he clarified this doesn't mean he's stepping back from the music industry entirely. Enrique says he still plans to write music. "But I'm going to do it in a different way," he explained, adding that it likely wouldn't be in the form of a full album.
A post shared by Enrique Iglesias (@enriqueiglesias)
This isn't the first time Enrique has opened up about the possibility of retiring. Back in 2008, the singer said he saw himself stepping back from show business before he turns 50-years old.
"I'm not sure I want to be up on stage when I'm 64 or 65," he told The Associated Press at the time.
Enrique went on to reference his father, Julio Iglesias, a Spanish musician who's sold 100 million records worldwide. At 77-years old, he continues to put out new music and perform. Enrique explained, "In my father's case, I think he's going to die onstage, and I respect that very much," though he says that's not the future he envisions for himself.
Enrique released his first self-titled studio album in 1995, and it sold half a million records in less than a week. He's put out ten albums since then, with Final perhaps being his last.
A post shared by Enrique Iglesias (@enriqueiglesias)
Early in his career, Enrique was releasing new music every couple of years. In fact, he released albums in 1995, 1997, 1998, 1999, 2001, 2002, 2003, and 2007. But in recent years, he's taken more time in between albums. His last album, Sex and Love, was released in 2014, which means there was a 7-year gap between his most recent record and Final.
The singer has also been more focused on his family in recent years. Enrique shares three young children with his long-time partner Anna Kournikova, with whom he's been in a relationship since 2001. The couple share twins Nicholas and Lucy, born in 2017, as well as another daughter, Mary, welcomed in January 2020.
Sources: PEOPLE Magazine, The OCR, Just Jared,
Source: Read Full Article