Eight times Princess Diana was the best-dressed guest at a wedding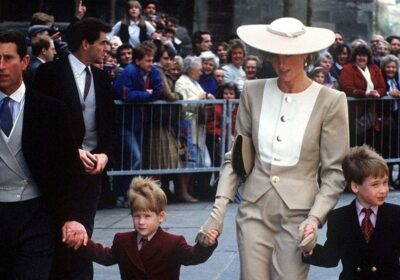 Whenever we see a member of The Royal Family step out at an public engagement or event, we can't help ourselves but rush to catch a glimpse.
Sadly for the men, it's more the ladies which catch our attention with their effortless fashion choices – sorry boys.
One event in particular that we get to see the likes of Kate Middleton and Sophie, Countess of Wessex get glammed up for is a wedding, and who doesn't love a wedding?
However, there was one lady that was a step above the rest with not only just her everyday looks but also her wedding outfits, and that was of course none other than the late, great Princess Diana.
In May 1989, Princess Diana along with Prince Charles and young Prince William and Prince Harry attended the wedding of Duke Hussey's daughter in Bath.
Diana opted for a chic beige and cream skirt suit with a matching wide brimmed hat and we think this is one of the Princesses most stylish moments – we're getting Pretty Woman vibes.
Attending the wedding of Miss Camilla Dunne to the Honourable Rupert Soames in October 1988, Diana made sure to capture everyone's attention in a striking bold blazer and matching hat.
We're huge fans of the asymmetrical lapel, it's giving us major 80's vibes.
For the wedding of Prince Andrew and Sarah Ferguson in July 1986, Diana opted for a playful blue polkadot skirt suit.
Carrying on the theme of blue, which was clearly a favourite of the Princesses, Diana swapped her vibrant shades for a soft hue for the wedding of David Armstrong-Jones, Viscount Linley and The Hon. Serena Stanhope on 8th October 1993.
They say not to wear white to a wedding but Diana paired the white skirt with a stunning light blue blazer and Marina Hill coordinating hat to create an effortless outfit.
When it comes to deciding what to wear to a wedding, as a guest you can spend ages looking for the right outfit.
Well, in July 1985 at the wedding of Lady Carolyn Herbert and John Warren, Diana set a brilliant trend of opting for a ditsy pink polka dot dress which became a statement style for wedding guests to follow.
The summer-inspired look was paired with her favourite three-strand pearl choker necklace which was given to her as a gift on her 18th birthday from her family.
When we first saw this look, we weren't so sure, but upon closer inspection we actually quite like it and let's face it, it's rare to find something of Diana's we don't like.
When attending a wedding, one strict rule is to not upstage the bride but we're pretty certain that all eyes were on Diana as she sported this black and pale blue striped blazer and matching hat to the wedding of Harry Herbert, son of The Queen's racing manager in December 1992.
To attend her brother, Viscount Charles Spencer wedding in September 1989, Diana, alongside a young Prince William, sported a gorgeous white dress with a grey lilac overcoat by one of her go-to designers, Catherine Walker.
Despite this being back in 1989, this is definitely a look we can imagine her daughter-in-law Kate Middleton sporting today.
Whilst attending the wedding of Lady Helen Windsor and art dealer Tim Taylor in July 1992 with Prince Harry, Diana sported a green look which we are simply obsessed with.
Not only does Diana look elegant and regal as always but we love the black waist panel that is sewn into the jacket and accessorised with a matching bag and heels.
We're certain that if Diana were still here today, that she would be putting all the rest of the wedding guests to shame as she continued her winning fashion streak.
Source: Read Full Article