Eight submarines, three decades, up to $368 billion: Australia's historic AUKUS plan at a glance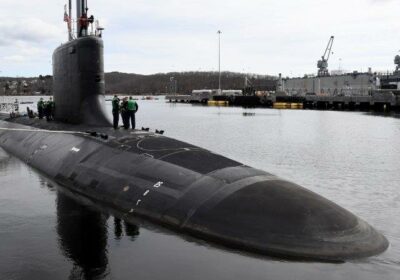 After 18 months, Australia has outlined how it is going to acquire nuclear-powered submarines under the AUKUS agreement with the United Kingdom and the United States.
Prime Minister Anthony Albanese, US President Joe Biden and British Prime Minister Rishi Sunak on Tuesday announced Australia will build a fleet of eight nuclear-powered submarines in Adelaide.
President Joe Biden speaks after meeting with British Prime Minister Rishi Sunak, right, and Australian Prime Minister Anthony Albanese in San Diego.Credit:Alex Ellinghausen
Getting here hasn't been easy, with Australia dumping a $90 billion agreement with France in favour of building nuclear submarines.
This is how Australia plans to do it.
The timeline
When the AUKUS partnership was announced in September 2021, the timeline didn't make sense.
Australia's current fleet of diesel-electric Collins-class submarines is due to start going out of service in 2038 and the nuclear-powered boats were always unlikely to arrive until the 2040s, so the nation faced a massive capability gap.
This will now be addressed by Australia buying three of the US's existing Virginia-class submarines from the early 2030s, at a cost of between $50 billion and $58 billion, with an option to buy an extra two.
To ensure the US isn't left worse off, Australia will contribute about $3 billion to the efforts in the US and UK to increase their industrial capacity to build submarines.
While this is happening, Australia and Britain will begin work on a new class of submarine – to be called SSN-AUKUS – which will be the next class of submarine for both countries. It will be a British design but have American technology including its nuclear reactor, weapons system and vertical launch system.
Britain plans to deliver the first SSN-AUKUS to its navy by the late 2030s, while Australia will begin construction in Adelaide on the submarines later this decade and deliver the first boat by the early 2040s.
Australia plans to build five of these submarines by 2055, giving the nation a total of eight nuclear submarines by that date (taking into account the three Virginia-class vessels from the US).
By the mid-2060s, Australia plans to have built eight of the submarines in Adelaide's Osborne Naval Shipyard.
What will the SSN-AUKUS look like?
The submarine, which will have a lifetime of more than 30 years, is expected to be heavier than both Britain's current class of Astute and the US's Virginia class.
The crew size is expected to be 100, which is bigger than the Astute class but smaller than the Virginia.
Why do we need the SSN-AUKUS?
Unlike conventionally powered submarines such as Australia's Collins class, the nuclear submarine will be able to leave its base and stay underwater for weeks on end without having to surface to "snort" to recharge its batteries.
This is the key reason Australia wants nuclear submarines.
In the past, Australia believed it only needed submarines to operate closer to home.
But the growing power and assertiveness of China have changed everything; Beijing has militarised the South China Sea by constructing defence bases out of artificial islands, and threatened to invade Taiwan.
Now, Australia believes it needs to operate its submarines much further from home, both as a way to deter China from aggression and to sink ships and other submarines in a potential war.
Australia's current class of submarines – the Collins – would be almost useless for this task.
The cost
The total cost of acquiring, building and sustaining the submarines is expected to be between $268 billion and $368 billion by 2055. This compares with the $225 billion Australia estimated it would cost to build and sustain 12 submarines under the French agreement.
When the government is trying to forecast that far ahead, that is a highly speculative figure.
In the more immediate future, Australia will spend $9 billion over the next four years (over the forward estimates of the budget). This will include the $3 billion to underwrite construction of extra Virginia-class submarines in the US, although a fraction will go to the UK for shipbuilding, $2 billion for infrastructure in Adelaide and $1 billion for an expanded naval base in Perth.
According to the Australian government, the $9 billion will be cost-neutral over the forward estimates, with $3 billion in cuts to other areas of defence and $6 billion in savings from scrapping the French submarine project.
The US will commit $US4.6 billion ($6.9 billion) to its industry to support the Australian project, while the UK will spend £2.2 billion ($4 billion).
Jobs
The union movement and the South Australian government are unlikely to be pleased with the decision to buy three submarines from the US.
But the government estimates the nuclear submarine program will need 20,000 jobs over the next 30 years including in the Australian Defence Force, domestic industry and the Australian public service.
This includes 8500 direct jobs in Australia's building and servicing of the submarines, including scientists, engineers, project managers, operators, technicians, welders, construction workers, electricians, metal fitters and builders.
Port visits and crew sharing
Beginning in 2023, members of the ADF and civilian personnel will embed with the navies of the US and Britain and in their industrial workforce.
The US plans to increase its visits of nuclear-powered submarines to Australia from this year, with Australian sailors joining American crews for training. British submarines will increase their visits in 2026.
As early as 2027, Britain and the US plan to establish a permanent rotation of one UK Astute-class submarine and up to four US Virginia-class submarines at the HMAS Stirling naval base near Perth.
The Royal Navy's Astute-class submarine, which will start visiting Perth more frequently this decade. Credit:Jay Allen/Royal Navy
How do we deal with the nuclear waste?
Australia will not build the vessels' nuclear reactors, which will instead arrive from either Britain or the US in fully welded power units that will not require refuelling during their lifetime.
According to Tuesday's announcement, Australia will not enrich uranium or reprocess any spent fuel from the submarines.
However, Canberra has committed to managing all radioactive waste generated from the submarines, including spent nuclear fuel, in Australia.
What happens to Australia's current class of submarines?
The nation's six Collins-class submarines are all scheduled to undergo full rebuilds – called a life-of-type extension (LOTE) – at a cost of $6 billion.
They will begin going into the two-year refits from 2026, extending their life for 10 years, to avoid a capability gap.
However, now that Australia has decided to purchase between three and five nuclear submarines from the US starting in the early 2030s, it is possible it won't need to refit all the Collins-class boats.
Cut through the noise of federal politics with news, views and expert analysis from Jacqueline Maley. Subscribers can sign up to our weekly Inside Politics newsletter here.
Most Viewed in Politics
From our partners
Source: Read Full Article