Early NAPLAN results delayed as illness, floods cause high absenteeism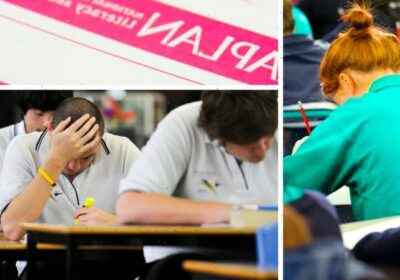 Student participation in NAPLAN fell to an all-time low this year, with COVID-19, flu and floods blamed for so few students taking the standardised test.
The "historically low participation rates" have led the Australian Curriculum, Assessment and Reporting Authority to delay the release of preliminary NAPLAN data, which is normally published in August, warning it could not be relied on for accuracy.
NAPLAN was completed entirely online for the first time in 2022, but preliminary results have been delayed due to low participation rates.Credit:The Age
The preliminary data gives early insights into how students in each state and territory performed in reading, writing, spelling, grammar, punctuation and numeracy.
Low participation rates will not affect results of those who did sit the test, and schools and parents can expect to receive their results in the next few weeks, ACARA said.
Participation rates ranged from a low of 85 per cent in year 9 numeracy to 95 per cent in the year 5 reading test.
The authority said participation rates were below the technical data standard of 90 per cent and would require further analysis.
"In light of the lower participation rates, closer analysis of results at a state and territory level needs to be done this year to ensure that the results adequately account for those lower participation rates, and that takes time," ACARA chief executive David de Carvalho said.
Participation rates were down by 1 to 2 percentage points in primary schools and 2 to 3 percentage points in secondary schools.
De Carvalho said the significance of the degree of absenteeism this year affected the analysis.
About 1.2 million Australian students in years 3, 5, 7, and 9 took the literacy and numeracy tests at 9313 schools and campuses in May.
"In light of the lower participation rates, closer analysis of results at a state and territory level needs to be done this year."
This year was the first time the annual NAPLAN assessments were completed entirely online, with 4.3 million tests done.
From next year, the national standardised tests will be completed in term one, instead of in May, so that results will be available to education authorities earlier.
All tests except the year 3 writing task were completed on computers for the first time, with online tests tailored to individual students, with the tests automatically adapting to a student's test performance and asking questions that match their achievement level.
It is designed to give students and teachers more targeted and detailed data on students' performance.
The test was cancelled in 2020 due to COVID-19. Last year's NAPLAN results were reassuring, revealing that NSW and Victorian students' literacy and numeracy skills did not suffer because of lockdowns.
Cut through the noise of federal politics with news, views and expert analysis from Jacqueline Maley. Subscribers can sign up to our weekly Inside Politics newsletter here.
Most Viewed in National
From our partners
Source: Read Full Article