Duchess Sophie 'bridges divide' between royals, expert claims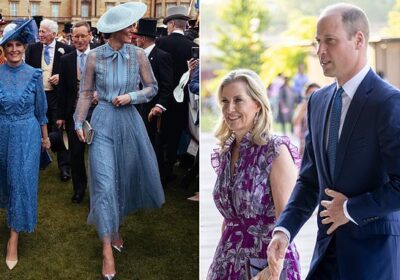 Duchess of Edinburgh is a 'bridge between royal generations' and has formed a 'tight bond' with William and Kate during a period of turbulence for the Royal Family, expert claims
Royal correspondent Jennie Bond spoke to OK! Magazine about the Duchess
READ MORE: How Sophie, Duchess of Edinburgh, turned to an ARCHDUCHESS for her astonishing collection of 74 handbags and clutches – all by the same designer 
The Prince and Princess of Wales are said to have formed a strong bond with the Duke and Duchess of Edinburgh over recent months, it has been claimed.
The past year has been particularly challenging for William and Kate, both 41, who have mourned the loss of Queen Elizabeth II and taken on new duties within the Royal Family – while a rift remains between the Prince of Wales and his estranged brother Prince Harry.
However, a royal expert has claimed the royal couple have helped to managed challenges over the last year by forming a close friendship with Duchess Sophie, 57, and Prince Edward, 59.
Jennie Bond, a former royal correspondent for the BBC, has said: 'Sometimes it seems strange to realise that these are two different generations of royals as they seem much closer.'
She added the couples have formed a 'tight bond' during difficult times, with both Harry and Meghan's departure to the US, Prince Andrew being stripped of royal titles and Queen Elizabeth's death.
The Duchess of Edinburgh is a 'brilliant bridge' between royal generations and has formed a close bond with the Prince and Princess of Wales, a royal expert has claimed (pictured: Sophie and William in Battersea)
'Sophie, in particular, is a wonderfully empathetic woman. The late Queen regarded her as another daughter,' Ms Bond told OK! Magazine.
She added the Duchess acts as a 'brilliant bridge' between generations.
Mother-of-two Sophie, 57, is especially important in the lives of her nephew and niece-in-law thanks to her all-round discretion – and she has been pictured on the Buckingham Palace balcony sharing tender moments with Princess Charlotte, Prince George and Prince Louis.
In June, Sophie joined William for a rare joint engagement at Battersea Power Station.
Princess Kate and Duchess Sophie are 'key members' of the royal family as a new generation rises following King Charles's ascension, Ms Bond claimed
She wore a printed midi dress by Erdem, accessorised with a Habsburg clutch bag and Prada sandals. Since becoming the Duke and Duchess of Edinburgh in March, Prince Edward and his wife Sophie have started appearing with the Prince and Princess of Wales more often.
At King Charles' coronation, the couple were seated in the front row of Westminster Abbey – next to Kate, William, Princess Charlotte and Prince Louis.
And just two days later, the same quartet took the lead at a Buckingham Palace Garden Party, which praised volunteers up and down the country.
Kate and Sophie even matched their outfits that day in blue, long-hemmed dresses.
Ms Bond explained the royal women were 'key' members of the royal family and that members of the public have welcomed Sophie into the royal fold with open arms, particularly after her outpouring of grief following the deaths of Prince Philip and Queen Elizabeth. 
Since marrying into the royal family, Sophie, like Kate, has long since cemented her place at the centre of the Monarchy – having been loved by both the late Queen and Prince Philip.
On several occasions in recent years, the couple have both mirrored not only each other's sartorial choices but also their body language at events ranging from state occasions to more informal appearances at Wimbledon or Royal Ascot.
William and Kate have reportedly 'closed their minds' to the possibility that a rift with Harry and Meghan can be fixed.
Sophie, who has been married to Prince Edward, since 1999, has been known to step in to soothe tensions on a number of occasions.
Following the funeral of Prince Philip, in 2021, she is said to have sought out Harry and spoken with him for some 30 minutes.
Additionally, other reports say Sophie was the first royal to visit the Sussexes at Frogmore Cottage after the birth of their son Archie in 2019.
Sophie also shared a car with Meghan at the Queen's funeral, travelling behind members of the Royal Family walking on foot.
Source: Read Full Article