Drake's 8 Most Impressive Guinness World Records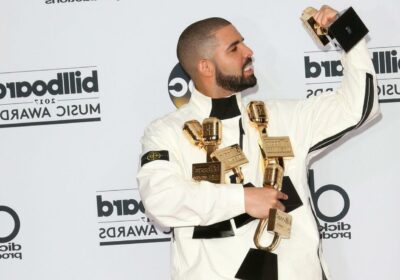 In the past decade, the artist has released six studio albums that have people bobbing their heads to catchy tunes and electric music. With over 139 singles, two extended plays, and three compilation albums, Drake has accomplished a feat that not many artists can. The singer has become one of the top rappers globally and joined a group of elites when it comes to holding Guinness World Records. Being of the most loved musicians in pop culture, Drake's albums have enraptured and entertained audiences over the years. It isn't surprising that fans eagerly wait for the album drop and rush to stream it online.
Drake has also succeeded in creating a world record for every category of music. Be it digital streams to selling copies to winning awards at some of the most coveted award shows, and the rapper has topped it all. So, let's take a look at the most impressive world records held by Drake.
8

Most Streams On Spotify In One Year For A Male Musician

2016 was a successful year for Drake when he had a record-breaking 5.8 billion streams on Spotify, which was the highest by a male artist worldwide. His fourth studio album, Views which was released in 2016, was a significant contributor and had chart-topping singles like Views and Summers Over Interlude.
7

Most Streamed Act-On Spotify

Drake also had the Most Streamed Track on Spotify with his head-bopping, One Dance, which has been streamed 2.08 billion times, as stated by Guinness World Records. It raked on the top number, leaving Ed Sheeran's Shape Of You and Dance Monkey by Tones And I.

RELATED: Taylor Swift's 10 Most Impressive Guinness World Records
6

Most Simultaneous New Entries In The 'Hot 100' By A Solo Act

On March 20, 2021, Drake established a new record that made him a Billboard 100 legend when Oprah's Bank Account debuted at the 89th spot on the Hot 100 chart. The song was his 208th entry as a solo artist, which broke the record held by the Glee Cast, which had 207 entries.
5

Most Streams For Tracks From One Album In A Week (USA)

The artist is known for creating new records and also breaking his own. The record he held in 2016 was because Most Streams from his album Views were shattered when he released the 2017 album More Life: A Playlist By October Firm. Twenty-one songs from this album had hit the Billboard charts, and it streamed a record of 384.8 million times. As mentioned by USA Today, the album also sold 225,000 copies while breaking his previous 245 million streams record.
4

Most Billboard Music Awards Won By An Artist In A Single Year

2017 was a successful year for Drake when the Passionfruit-singer broke a record for winning 13 Billboard Awards In A Single Year, including significant categories like Top Artist and Top Billboard 100 Artist. According to Forbes, Drake won for every category he was nominated that night. He joined the elite gang of Whitney Houston and Usher by winning in double digits.
3

Most Consecutive Weeks In Top 10 Of US Hot 100 (Male)

There is no greater song produced in 2016 than Drake's Hotline Bling that was a pop culture phenomenon for beats and the infamous memes. Drake was on the Top 10 list for a record-breaking 56 weeks with his singles Hotline Bling, One Dance, and Summer Sixteen. The Weeknd held the previous record with 45 weeks on the chart.
2

Most Streamed Album On Apple Music In 24 Hour

In June 2018, Drake released his album Scorpion, streamed 170 million times within 24 hours on Apple Music. The record remains unbeaten and so do hit singles such as In My Feelings and God's Plan.
1

The Biggest-Selling Digital Artist (US)

A post shared by champagnepapi (@champagnepapi)

A record held since 2018, Drake has been hailed the Biggest-Selling Digital Artist in the United States with 142 million digital singles, as noted by The Things. Rihanna previously held the record with 124 million digital singles, followed by Taylor Swift with 108.5 million, Eminem with 107.5, and Katy Perry with 98 million digital streams in the United States.

Drake has managed to break long-held records by artists such as Usher and Rihanna with his Hip-Hop and Jazz tunes that have people swooning everywhere. Drake's latest album, Certified Lover Boy, was released on September 03, 2021, and fans await to see the artist shatter records.

READ NEXT: 10 Celebs That Earn Millions As Royalties

Sources: Guinness World Records, USA Today, Forbes, The Things

Source: Read Full Article