Do you know what ASOS stands for? People are only just finding out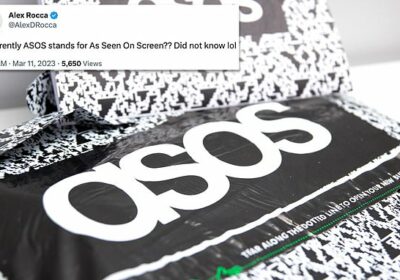 Do you know what ASOS stands for? People are only just finding out – and they're shocked
Shocked ASOS shoppers are just now realising what the acronym stands
It turns out the four letters ASOS actually stands for As Seen On Screen
Read More: Shopper baffled after being told her parcel will arrive in TWO YEARS
ASOS is one of the largest clothing brands in the world with millions of shoppers purchasing the newest trends on its online platform every day. 
However, many shoppers are only now realising what the acronym stands for – and they are shocked.
It turns out the four letters of ASOS don't have any sentimental meaning, but actually stand for As Seen On Screen.
In fact, when the outlet was found back in 1999, it was intended to be a place that TV and movie fans could turn to to find replicas of the ensembles they'd seen on their screens.
From there, people began referring to the company as As Seen On Screen, and in 2000, that was what it officially became known as.
ASOS shoppers are just now realising what the acronym stands for and they are shocked with many rushing to social media to share their thoughts 
Several years later, British founders Nick Robertson and Quentin Griffiths, who hadn't expected their idea to grow into something so huge, decided to go just by their acronym, as they began to sell other clothes as well.
By 2001, the website was officially www.asos.co.uk, and the AsSeenOnScreen name had well and truly gone.
By 2013, the brand was selling products across several departments, including menswear, womenswear, accessories, and even beauty products.
Customers in the USA, France, and Germany were also able to order the top trends from ASOS's website by 2010.
The year after, websites were launched for those living in Spain, Italy, and Australia, and ASOS chose the Australian city of Sydney to open its first non-UK office. 
Nowadays, ASOS has gone global, providing its huge range of clothing to the masses.
But despite its global presence, many were unaware of the origin of the name ASOS, and upon finding out, shocked social media users took to Twitter.    
However after learning the origin of ASOS' name, shocked social media users took to Twitter
One person wrote: 'Apparently ASOS stands for As Seen On Screen?? Did not know lol.'
Someone replied: 'Whoa. Idk why I never thought to look it up lol' 
Another said: 'Your telling me that ASOS stands for as seen on screen ?!?!!!'
While someone else joked:' Can't believe some people didn't know that ASOS is an acronym for 'As Seen on Screen'
It comes after IKEA recently revealed the first two letters refer to the name of its founder Ingvar Kamprad. 
Meanwhile, the last two letters refer to the name of a farm and a village that he grew up close to. 
Source: Read Full Article