Differences spotted in engagement videos of Sussexes and Cambridges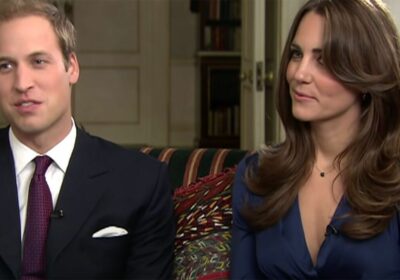 Prince William discusses Diana in 2010 engagement interview
A body language expert revisiting the Cambridge and Sussex engagement interviews says the footage reveals "extreme" differences in the power dynamic of both couples.
Expert Martin Decoder unveils several noteworthy components about each pair's interview tactics in a clip onilne, argueing these mirror the relationships.
While there was a relaxed atmosphere in Kate and William's interview, the ambiance in the Duke and Duchess of Sussex's felt more competitive in contrast, noted the expert.
Prince William exhibited signs of control and being "comfortable in his skin", which had a relieving effect on a seemingly more nervous and shy Kate, the expert noted.
The Prince of Wales also used self-deprecating comedy throughout the interview in a bid to put his fiancée at ease, which Harry did not need to do given Meghan's apparent confidence from the get-go.
In general, Kate showed signs of being very well supported in all of William's statements, as he provided a more relaxed ambiance by asserting control.
Harry, in contrast, did not seem as composed in his interview, noted the body language expert.
The expert said Meghan was very much in control of the discussion, often veering into directions that allowed her to control the narrative, explained the narrator.
In the interview, Harry was seen putting on a blatant display of hesitancy as he often paused or used hesitation markers to show that he was having trouble answering some of the questions.
The Prince was seen turning to Meghan on several occasions, answering the interviewer's questions with a slight inflection in his voice as if seeking approval from Meghan.
When questions were relayed to Harry, he often glanced at Meghan, allowing her to interject.
She is seen throwing glances in his direction as a signal not to disclose too much information, explained the body language expert.
Don't miss…
Expert claims Meghan 'deflected questions' about her ring in interview[LATEST]
Harry's 'noteworthy gesture' to William before engagement to Meghan[LATEST]
Meghan's 'bond with Diana' was first seen in her engagement ring[LATEST]
It was noted that the Prince relied on his fiancé's body language for cues that "he should stop talking", which indicates he was comfortable letting her take control of the situation.
Some eagle-eyed viewers who picked up on additional factors about the couples' body language took to the video's comment section to share their observations.
Several noted that there was a tendency for Kate and William to give each other turns to answer every question and give "beautiful" and "complete" answers, whereas the Sussex interview, in contrast, appeared more disrupted.
Follow our social media accounts here on facebook.com/ExpressUSNews and @expressusnews
Source: Read Full Article