Did famous faces protest against Lagerfeld by not attending Met Gala?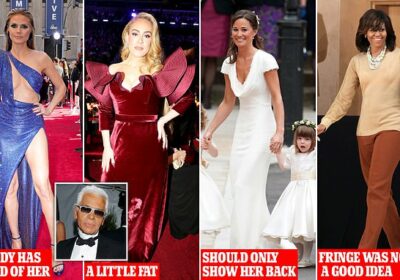 Hell had no fury like Karl Lagerfeld! The late designer's most cutting barbs about women revealed, as 'famous feminists' are blasted for celebrating him at the Met Gala (but was this the reason for Heidi Klum's no show?)
The Met Gala took place in New York on Monday evening – but this year's tribute to late designer Karl Lagerfeld sparked protests over his controversial views 
Read more: Jameela Jamil slams female Hollywood stars for going to the Met Gala saying they've 'chosen to celebrate known bigot' Karl Lagerfeld
This year's Met Gala, which took place at the Metropolitan Museum of Art in New York on Monday night, attracted dozens of A-listers showboating in outlandish couture – with Kim Kardashian, Jennifer Lopez and Rihanna among them. 
Yet not everyone in the fashion industry was onboard with this year's theme, Karl Lagerfeld: A Line of Beauty, dedicated to the life of one of couture's most controversial designers. 
During his lifetime, and particularly in his later decades, Lagerfeld, who died in 2019 at the age of 85, sparked many a headline with comments that were at best waspish and frequently deeply offensive – he was branded racist, Islamophobic and misogynistic. 
This week, British actress Jameela Jamil, 37, blasted the charity event's organisers for honouring the life of a 'known bigot'.
The Good Place actress slammed the 'selective cancel culture' shown by organisers and attendees of the annual Metropolitan Museum of Art's Costume Institute benefit.
Fashion designer Karl Lagerfeld provided the inspiration for this year's Met Gala in New York -but this year's tribute to late designer Karl Lagerfeld sparked protests over his controversial views, which often saw women in the public eye targeted 
A long-term fan of Lagerfeld, Anna Wintour co-chaired this year's Met Gala – alongside Roger Federer, Dua Lipa, Michaela Coel and Penelope Cruz (Pictured with the designer in 2011 in New York)
She wrote on Tuesday: 'Last night Hollywood and fashion said the quiet part out loud when a lot of famous feminists chose to celebrate at the highest level, a man who was so publicly cruel to women, to fat people, to immigrants, and to sexual assault survivors.
'And all the women's publications, and spectators online, chose to gleefully ignore it.
There were some official protests though. Advocacy organisation Model Alliance, took to the steps of the art museum on Sunday to make clear its members didn't want to celebrate Lagerfeld's life, saying he had 'problematic attitudes toward women' and 'regressive views'.
The flamboyant German-born designer's nickname was 'Kaiser Karl' – and plenty of women in the public eye felt the brunt of his straight talking. 
Here, FEMAIL looks at some of the comments that the former Chanel and Fendi creative director unleashed…with 2012 and 2013, as the designer headed towards his ninth decade apparently his peak period of mean: 
HEIDI KLUM 
Heidi Klum didn't attend Met Gala 2023; despite being at the charity bash in previous years
Lagerfeld unleashed mean comments on both Klum, and her husband at the time, Seal, in the early nougties
A previous attendee of the Met Gala, it's unclear as to why supermodel Heidi Klum didn't attend this year. 
Lagerfeld once claimed he'd never heard of the supermodel, despite the German American model being at the height of her catwalk powers.
He said: 'I don't know Heidi Klum. She was never known in France. Claudia Schiffer also doesn't know who she is.'
And when he did finally acknowledge the beauty's existence, he had nothing nice to say, calling her 'simply too heavy, [with] too big a bust'. 
He also spoke of Heidi's ex-husband Seal: 'I am no dermatologist but I wouldn't want his skin. Mine looks better than his. His is covered in craters.'
ADELE  
The Tottenham-raised singer who found stratospheric success thanks to her honeyed voice has never been to the Met Gala, but this probably wasn't the year she was about to start. 
Just over a decade ago in 2012, Adele, 23 at the time, found herself a Lagerfeld target, just as her career was taking off in the US. 
In an interview, the designer was quoted as saying that Adele was 'a little too fat, but she has a beautiful face and a divine voice.'
Following the comments, Adele came back fighting, and insisted she had never aspired to look like the type of women that Lagerfeld sends down his catwalks.
Adele hit back when the designer dubbed her 'a little fat' in 2012, saying she would never aspire to look like a model on the front cover of a magazine
She told People magazine: 'I've never wanted to look like models on the cover of magazines. I represent the majority of women and I'm very proud of that.' 
The Hello singer's response evoked a rare apology from Lagerfeld, who was 78 at the time. He insisted his comments were taken 'out of context', adding that he was actually the singer's biggest fan.
He told the Metro New York newspaper: 'I'd like to say to Adele that I am your biggest admirer.
'Sometimes when you take a sentence out of the article it changes the meaning of the thought. Adele is my favorite singer and I am a great admirer of her.'
KIM KARDASHIAN  
Forgiven: Kim Kardashian at this year's Met Gala; she wore a gown that featured several layers of pearls draped along a nude bodysuit and white draped coat
Kim Kardashian arrived at the Met Gala dripping in pearls, clearly onboard with the Lagerfeld tribute…but the reality TV mogul didn't escape the designer's straight-talking side.   
Back in October 2016, the designer criticised Kardashian for flaunting her wealth, a day after the reality television star was robbed at gunpoint in Paris of £8.5million worth of jewellery.
He chastised: 'You cannot display your wealth and then be surprised that some people want to share it with you,' the designer told reporters after a Chanel show that week.
He said: 'If you're that famous and you put all your jewellery on the net, you go to hotels where nobody can come near to the room'. 
Kardashian tweeted a picture last week of a diamond ring worth around £3.5million which police said had been stolen in the early morning raid.
Days earlier, Lagerfeld had written the star a note saying: 'Dearest Kim, we are all with you', after she was tied up and robbed at a luxury apartment in Paris.
MICHELLE OBAMA 
Michelle Obama didn't respond to Lagerfeld's comments about her new fringe – bangs – in 2013
The former First Lady felt the wrath of the fashion guru after she changed her hairstyle, getting a fringe – or bangs – cut in in 2013.  
The then Chanel designer likened the U.S. First Lady's new look to that of a news anchor – apparently a bad thing in his book.
In an interview that aired on French television network Canal Plus, he said: 'I do not understand the change in hairstyle.'
Though he said – twice – that he loves 'Madame Obama', he went on to add that a 'speakerine do LCI' typically has this hairstyle, referring to a popular television news network.
'The fringe was not a good idea,' he concluded.
Mrs Obama, living in the White House at the time, didn't respond to his comments. 
PIPPA MIDDLETON 
Ouch: The Chanel designer was plain rude about Pippa Middleton, saying the Princess of Wales' sibling should 'only show her face'
In July 2012, just over a year after the wedding of the now Prince and Princess of Wales, the German-born designer proffered his opinions on the Middletons, pouring forth on Kate, younger sister Pippa, and their mother Carole. 
Full of praise for the Princess of Wales, he said: 'Kate Middleton has a nice silhouette and she is the right girl for that boy. I like that kind of woman, I like romantic beauties.  
On the other hand, her sister struggles,' he continued. 'I don't like the sister's face. She should only show her back.'
He reserved his nicest comments for the sibling's mother, Carole Middleton, saying: 'I think Carole is very sexy. I think the mother is sexier than the daughters. There is something full of life about her. For a woman who must be 50 or so, I think she's great. Full of energy.'  
He'd previously praised Kate's physique, saying: 'She knows pretty well what to wear and what to do. She has a divine silhouette so she can wear anything.
'She has a sense of what's right for the moment because you can not dress like a mad woman in those situations.'
PRINCESS DIANA 
The late Princess Diana, a former client of Lagerfeld's, was called 'sweet but stupid' by the designer after her death
In 2006, Lagerfeld didn't hold back when it came to his thoughts on the late Princess of Wales, a former client of his.
The outspoken Chanel designer, who was among the mourners at Diana's funeral, took aim at her in a magazine interview, saying: 'She was pretty and she was sweet, but she was stupid.'
He added that he much preferred Queen Consort Camilla, saying: 'If you had to make a choice to live with somebody, this is the one.'
MERYL STREEP
The most recent public spat Lagerfeld had with a celebrity came in the unlikely form of Hollywood royalty Meryl Streep.   
In 2017, Streep furiously lashed out at Lagerfeld for 'lying and defaming' her.
The row between the actress and the designer blew up after he accused her of being cheap and demanding money to wear one of his dresses to the Oscars.
Awkward: Streep received an apology from the late Chanel designer in 2017 after a debacle over her Oscars' dress
He subsequently admitted this was not true, but the actress was not happy, slamming both him and a fashion site for printing his statements.
Lagerfeld claimed she had ordered a dress from Chanel, designed by Lagerfield, but then said she didn't want it because she'd found another designer who was going to pay her to wear one of their pieces.
'I made a sketch, and we started to make the dress,' he told the site, claiming that someone from her team later called to say: '"Don't continue the dress. We found somebody who will pay us".'
He miaowed: 'After we gift her a dress that's 100,000 euros, we found later we had to pay,' he said. 'We give them dresses, we make the dresses, but we don't pay.
'A genius actress, but cheapness also, no?' he added.
Lagerfeld subsequently admitted in a statement that he was wrong.
'Chanel engaged in conversations with Ms. Streep's stylist, on her request, to design a dress for her to wear to the Academy Awards. 
'After an informal conversation, I misunderstood that Ms. Streep may have chosen another designer due to remuneration, which Ms. Streep's team has confirmed is not the case,' he said.
Source: Read Full Article