DAVIDsTEA's 2018 Holiday Collection Features The Best Sips For Every Wintertime Occasion
Come Friday, Dec. 21, a change of seasons will be upon us, friends, which means a shift in seasonal flavors is in order. As much as I love PSL-flavored everything come autumn, to me, there's nothing quite like the cozy winter delicacies, like peppermint and gingerbread, that smell and taste like the holidays. And if you love all things merry and bright, too, you might want to mull over your current tea stash as you start rearranging your spice drawers and snack cabinets for winter 2019, because DAVIDsTEA's 2018 Holiday Collection has arrived, and the festive flavors basically embody Christmahanakwanzika in a mug.
Though autumn is by far my favorite season of all, Christmastime comes at a close second, and I truly believe that's because my parents always made the holidays feel extravagant. It's unfortunate that the most wonderful time of the year only comes around once every trip around the sun, but the holiday spirit is something you and I can sustain within our hearts year-round.
And yes, I do realize how incredibly corny that sounds, but if you, like me, feel as if you're living your best life between Thanksgiving and New Year's Day, then why not find ways to keep the good vibes going throughout the rest of the year?
I'm not saying tea will solve all of your back-to-the-real-world woes after the holidays — trust me, I know damn well that easing back into things after the new year is never easy — but I'm also a firm believer in the notion that sipping the right cup of tea can make any task feel more doable.
Instead of searching for a present that's trendy and, let's be real, probably way too expensive, why not go with a gift that's good for the mind, body, soul, and tastebuds? Here are a few ideas from DAVIDsTEA's 2018 Holiday Collection to add to your shopping list.
Santa's Secret Recipe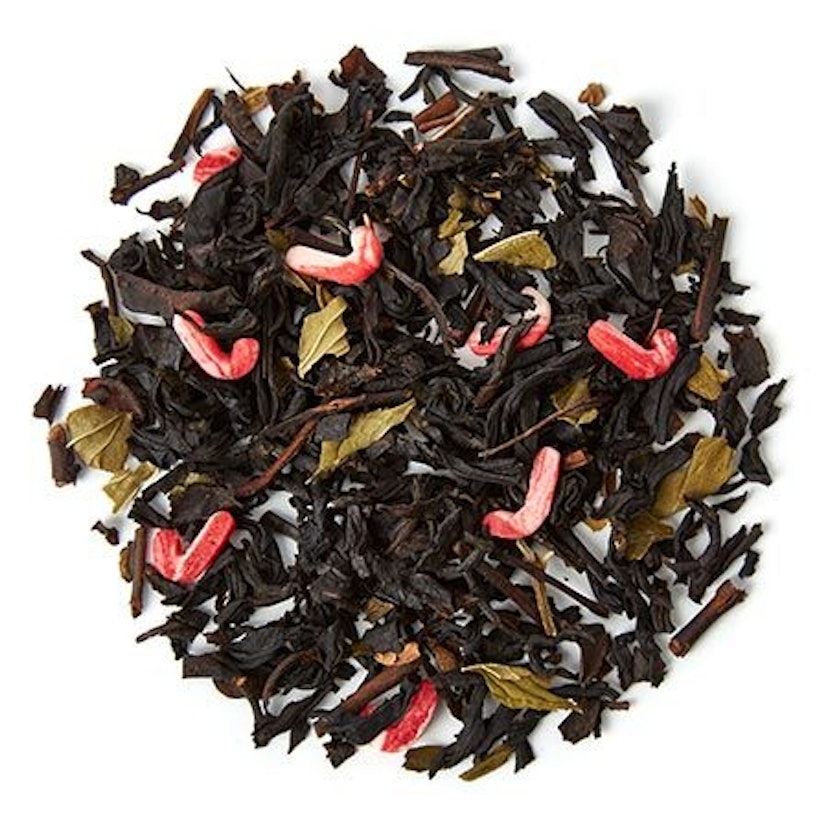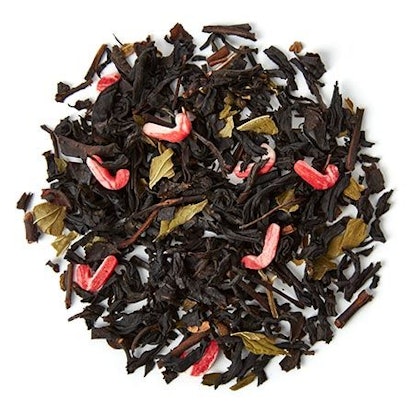 DAVIDsTEA Santa's Secret Black Tea
$9.99
DAVIDsTEA
If you've volunteered to take on the role of hostess with the mostest for your family this Christmas, I'd highly recommend brewing a large pot of Santa's Secret Black Tea to pair with dessert. This loose-leaf blend is a mix of minty freshness (good for the tummy!), naturally sweetened vanilla, and comes garnished with sprinkles.
A Candy Cane Brew That's Minty Fresh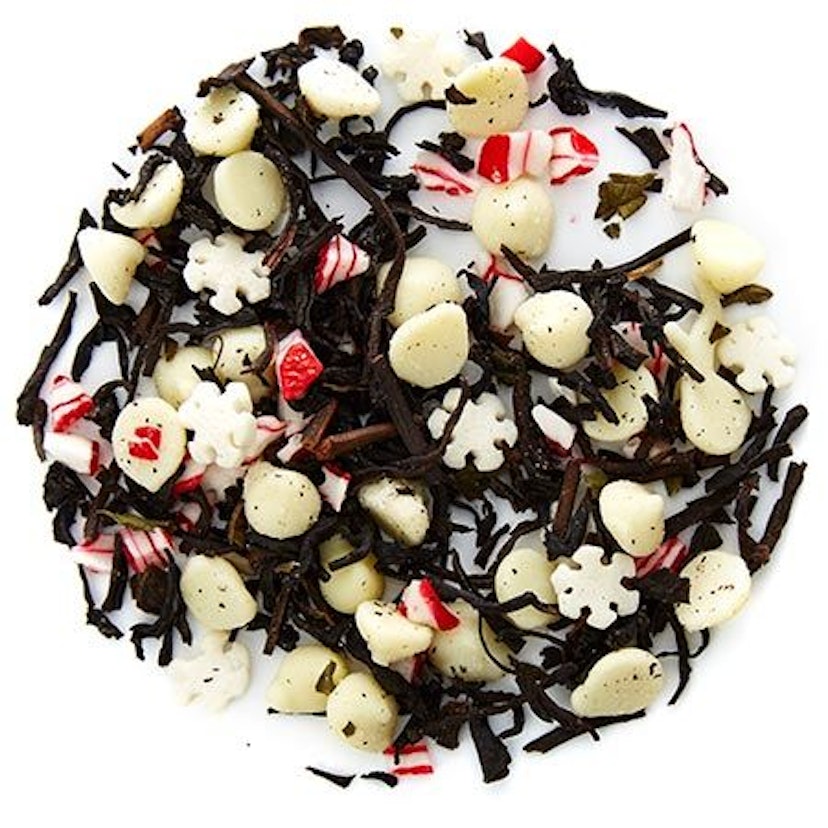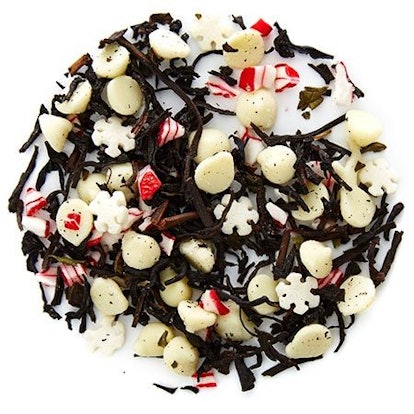 DAVIDsTEA Candy Cane Crush Black Tea
$8.98
DAVIDsTEA
Candy Cane Crush is a DAVIDsTEA classic, and to say that I was thrilled to see this flavor return to the tea brand's holiday menu would be an understatement. Honestly, you could skip dessert altogether and swap for a mug full of this minty-sweet indulgence made with black tea, white chocolate pieces, peppermint candy, and sugar snowflakes. It's festive, it's fun, and according to the brand, the flavor pairs especially well with a traditional glass of eggnog.
A Cup For The Chocolate Lover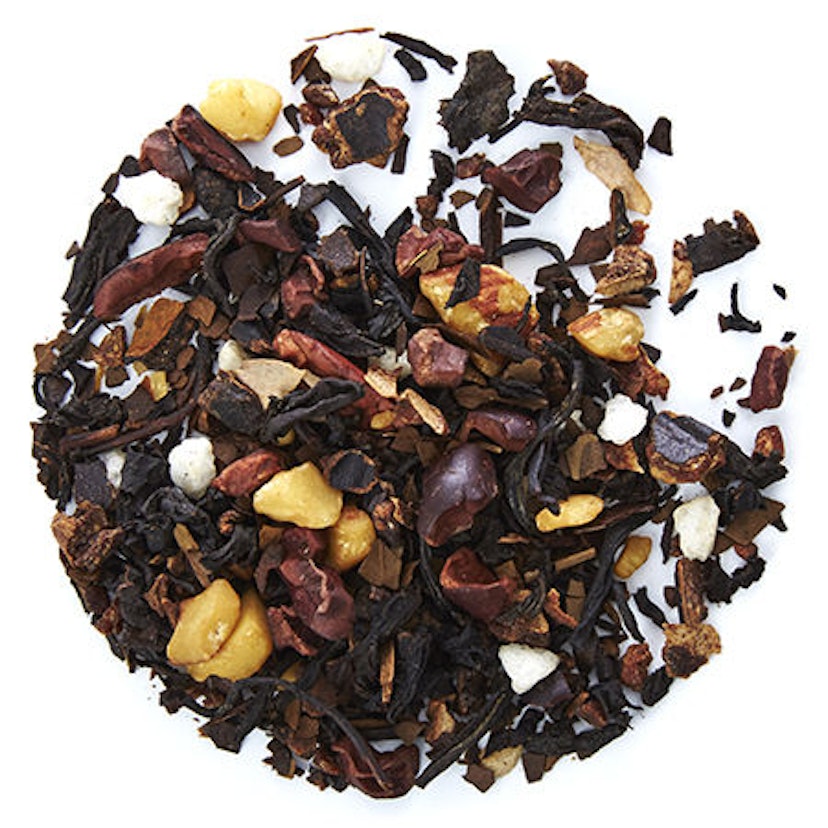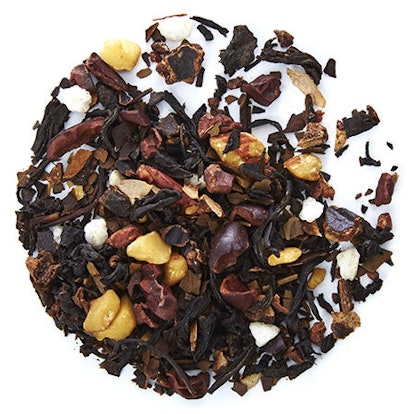 DAVIDsTEA Chocolate Covered Almond Black Tea
$9.98
DAVIDsTEA
Even if you're lucky enough to have a DAVIDsTEA store nearby, you'll have to shop this loose-leaf brew online. An exclusive flavor to DAVIDsTEA's online store, this choco-nutty delicacy is just as addictive as the classic treat it was inspired by. With rich flavors coming from the combination of cocoa, carob, crunchy almonds, and roasted yerba mate for even more of that toasty taste, you'll find yourself pouring mug after mug of the stuff — which is perfectly fine, BTW, as this brew is low on caffeine.
8 Nights Of Tea For Your Loved Ones Celebrating Hanukkah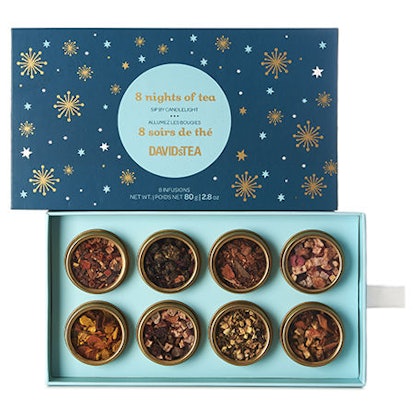 DAVIDsTEA 8 Nights of Tea
$20
DAVIDsTEA
At DAVIDsTEA, there's something for everyone, so if you're looking for the perfect gift for a tea-lover who celebrates Hanukkah, look no further. Though Hanukkah 2018 technically ends on Monday, Dec. 10, it's the thought that counts, right?
All eight individual flavors — Blackberry Blizzard, Caribbean Crush, Carrot Cupcake, Cinnamon Rooibos Chai, Just Peachy, Serenity Now, Super Ginger, and Turmeric Glow — are kosher and caffeine-free, so your loved one can treat themselves to a new sip each night as they wind down for bedtime.
Skip The Mug And Splurge For A Pot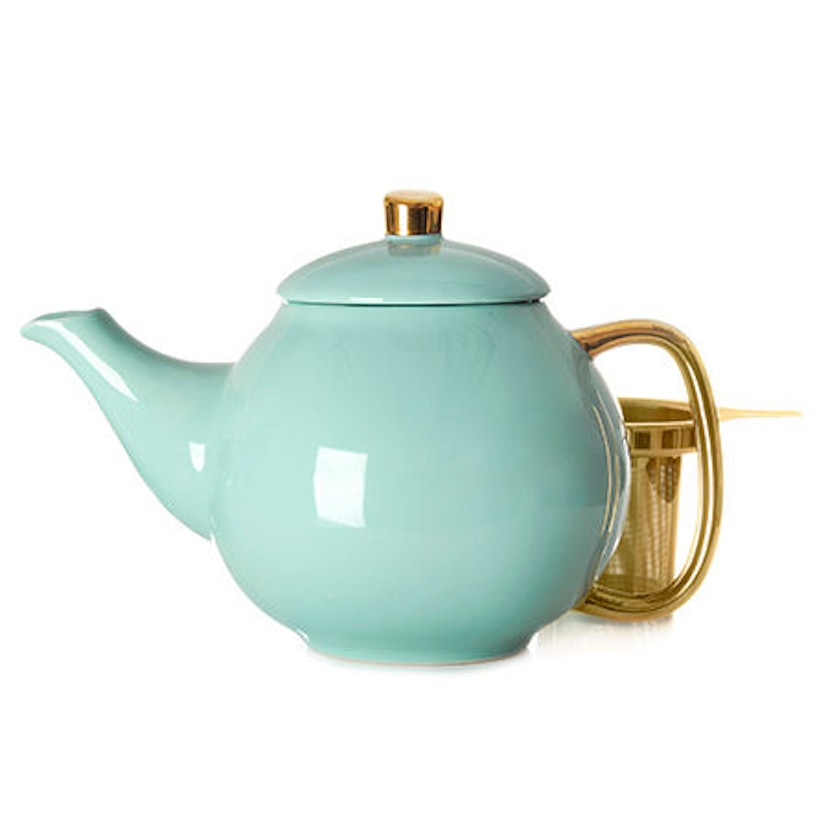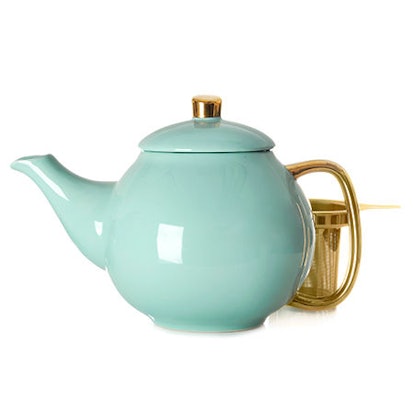 DAVIDsTEA Jolly Teapot
$34
DAVIDsTEA
Whether you're pouring tea for two or sipping solo, DAVIDsTEA's pale blue pot is darling for gifting or receiving. Even if it becomes a for-display-only type of trinket, I could definitely see this pot sitting pretty on the shelves or countertops of tea-lovers.
A Sparkling Glass Mug To Raise On New Year's Eve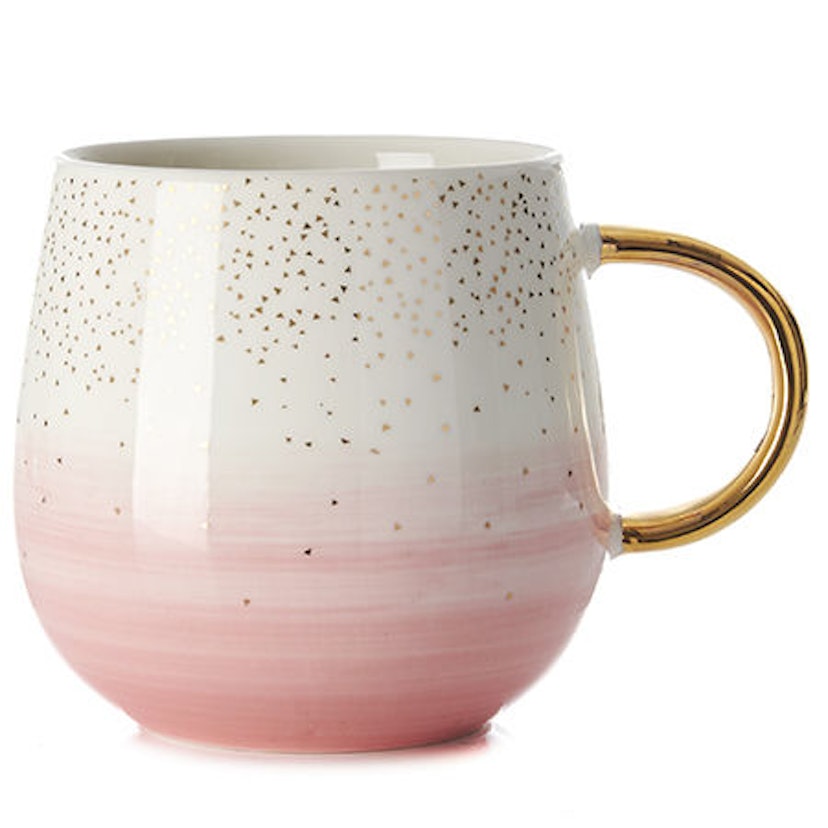 DAVIDsTEA Rose Sparkling Raindrop Mug
$16
DAVIDsTEA
Just in case champagne isn't your thing, you can always cheers to the new year with this festive mug that brings the bling. With this elegant piece of glassware in hand as the ball drops in Times Square, who needs actual confetti when the mug you raise is already decked out with the stuff? It's classy and festive without any post-celebratory clean-up.
A Set Of Tea And Chocolates For Dessert Pairings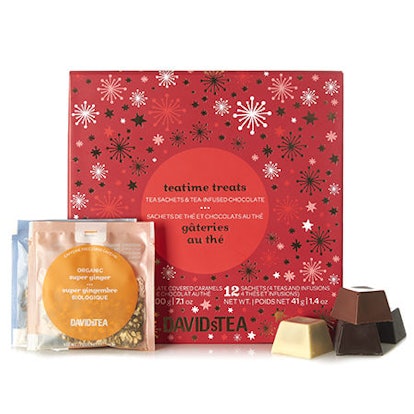 DAVIDsTEA Teatime Treats
$30
DAVIDsTEA
Growing up, at 9 p.m. on the dot every single night, my mom or dad would brew a pot of tea, and the three of us would sip and snack on a little bit of dessert. If tea time means treat time in your home, too, then you'll love this decadent set from DAVIDsTEA that pairs its Cream of Earl Gray, Peppermint Amour, Saigon Chai, and Super Ginger brews with Belgian chocolates infused with loose-leaf teas and gooey caramel. My mouth is watering just thinking about it.
A Merry Mug To Keep You In The Holiday Spirit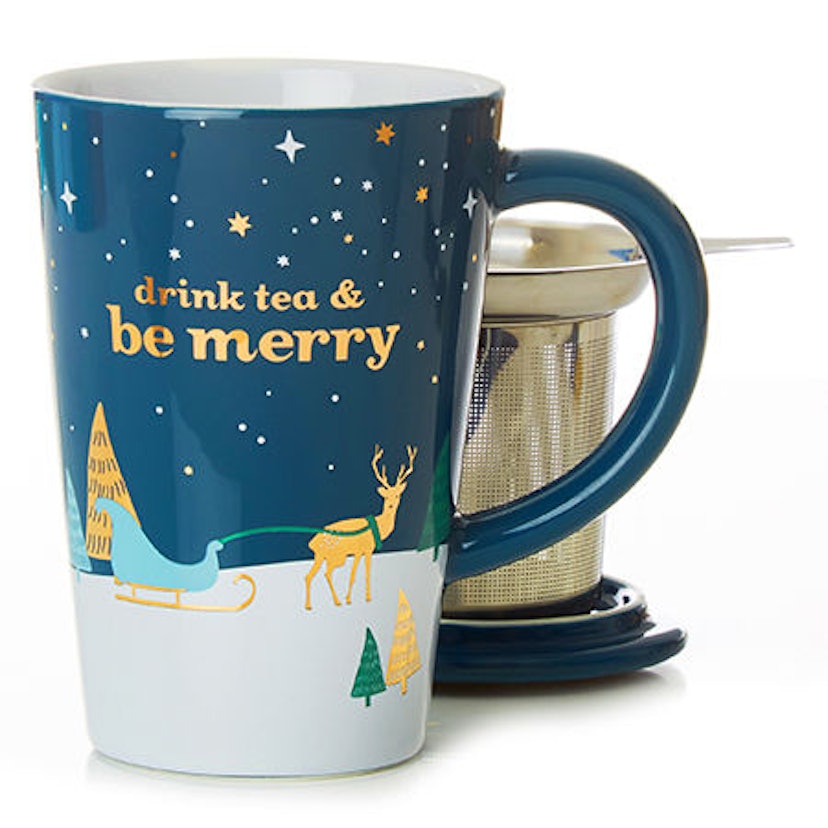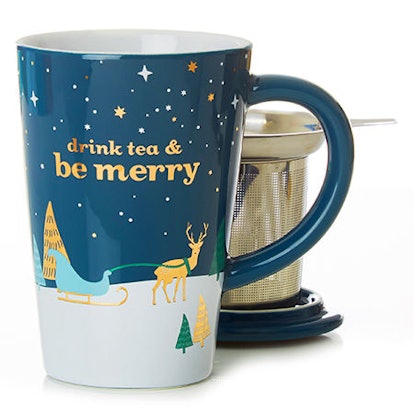 DAVIDsTEA Deep Tea Perfect Mug
$20
DAVIDsTEA
The holidays are full of happiness and cheer, but once New Year's Day comes and goes, it's normal to lose a little bit of that joyfulness when you're settling back into the daily grind of work and adult responsibilities. As that little diddy goes, "Oh, that we could always see, such spirit through the year."
It's not easy to keep up the holiday spirit once you're back at work after a long break full of relaxation and time spent with loved ones. DAVIDsTEA can help, with this holiday-inspired mug you or your loved one can sip on throughout the winter season, reading the friendly reminder embossed on the cup to continue being merry and bright today, and every day thereafter.
An Adorable Travel Mug To Show Off While You Sip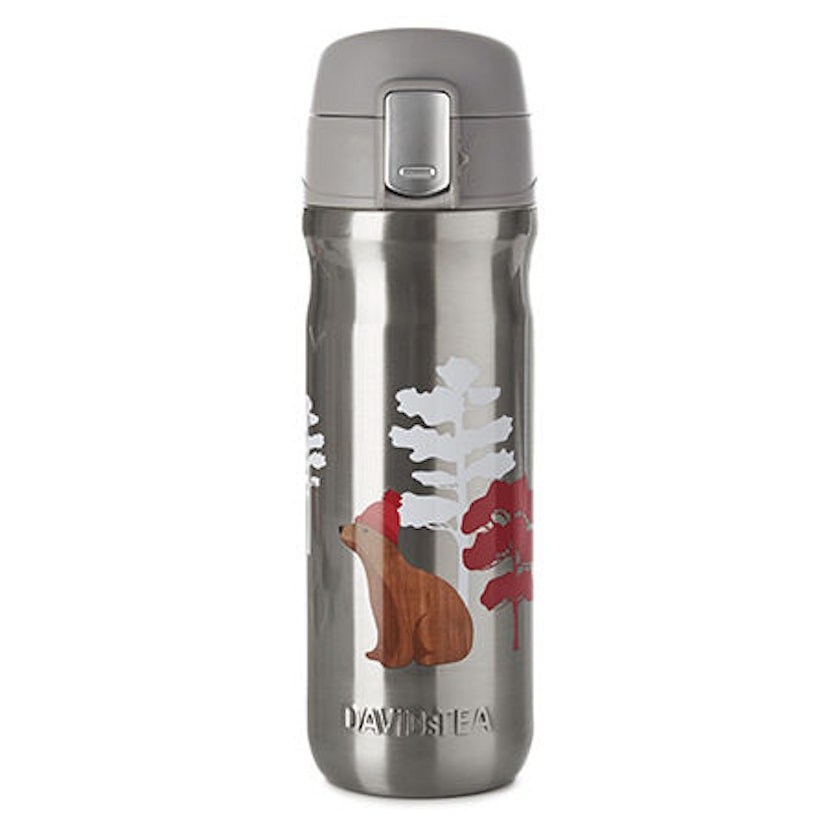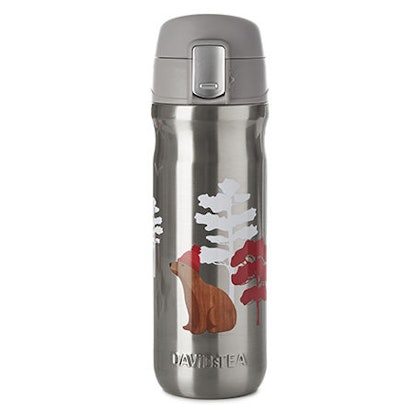 DAVIDsTEA Woodbear Lock Top Travel Mug
$34
DAVIDsTEA
I am such a sucker for an adorable cartoon sketch of a bear looking all cozy and whatnot for the wintertime, so when I came across this travel tumbler from DAVIDsTEA, I instantly added it to my wishlist. First of all, who couldn't use a fresh tumbler to keep their favorite tea nice and toasty en route to the office or school each day? Second of all, is this not the cutest travel mug you've ever seen?
Boozy Gummy Bears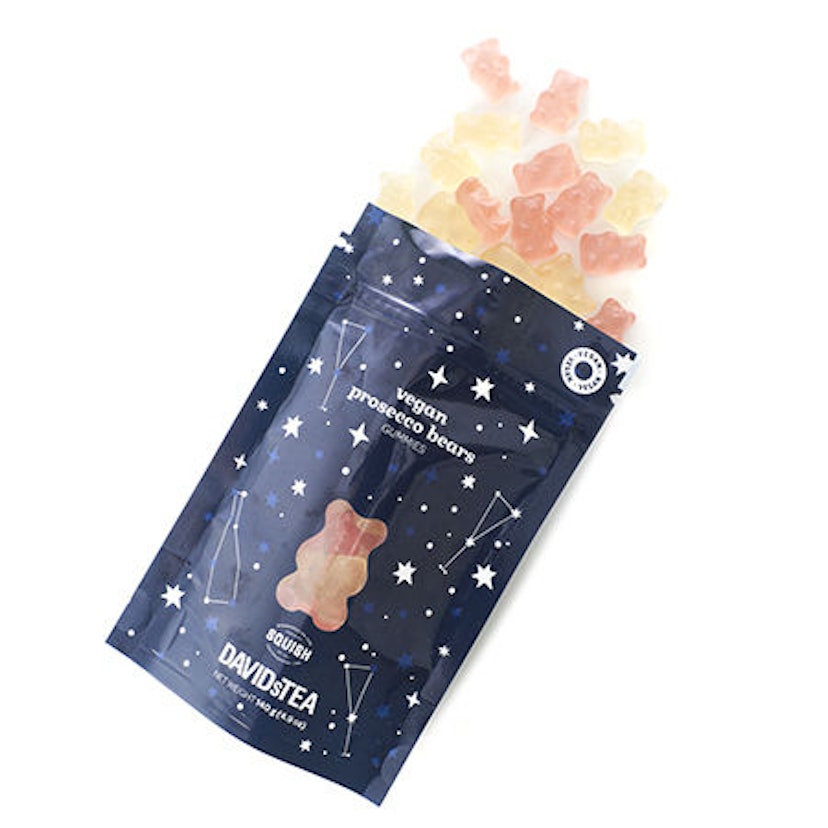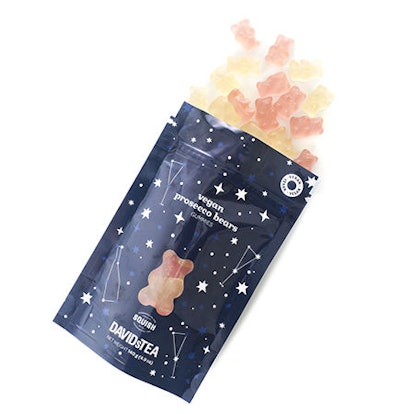 DAVIDsTEA Vegan Prosecco Bear Gummies
$6
DAVIDsTEA
Sure, poppin' bottles over ice is the traditional way to cheers to the new year, but I'm thinking toasting with these gummy teddies might just be even cooler. Serve a few pouches of these boozy bears at your NYE soirée, and I can guarantee your guests will be impressed.
A Tea To Cure All Holiday Hangovers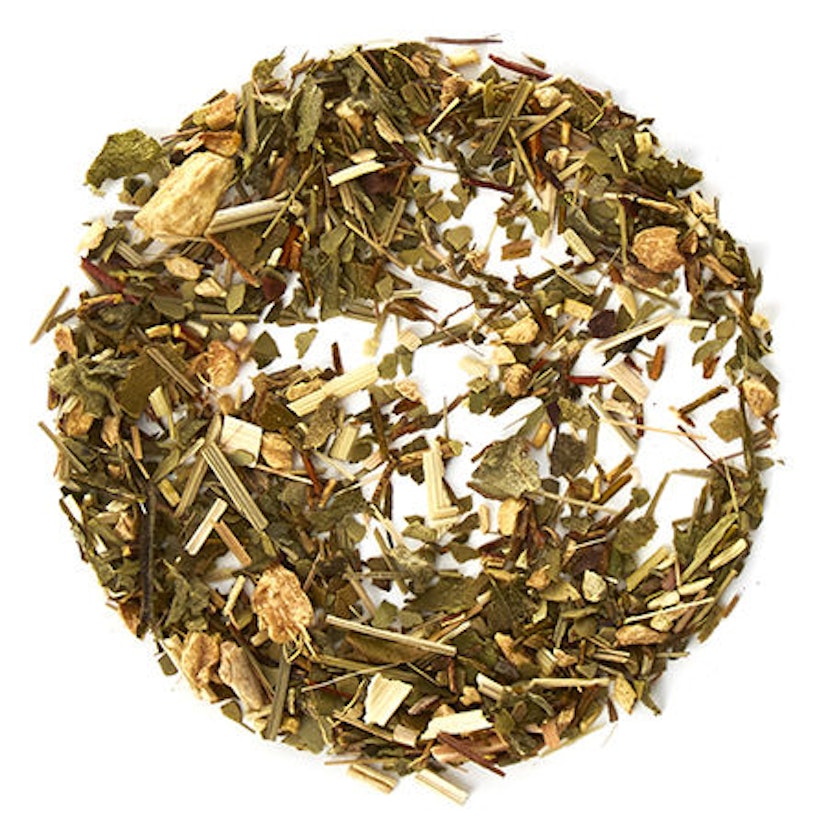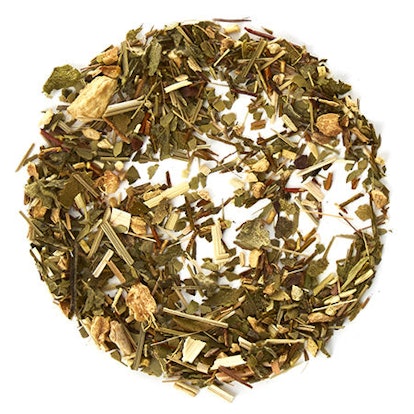 DAVIDsTEA Organic Hangover Helper
$9.50
DAVIDsTEA
Raise your hand if you're excited for holiday celebrations. Now raise your hand if you're anticipating a holiday hangover that's anything but cheery.
Obviously you should never go into festivities with the intention of getting a little too boozy, but if the champagne keeps pouring and the wine is plentiful, and you wake up the next morning a little loopy, there's a tea for that. Made with lemon, mint, and dandelion root, a few sips should have you back on your feet in no time.
Source: Read Full Article