Coalition begins to quietly reverse deep foreign aid cuts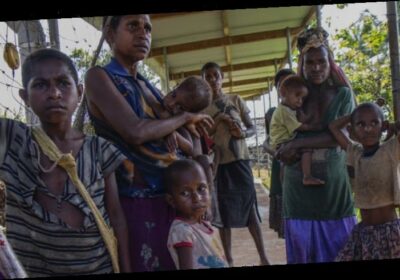 The Morrison government has substantially lifted foreign aid spending in the wake of the coronavirus pandemic, reversing some of the huge funding cuts made to poor nations during the past decade.
Australia's aid expenditure will be $4.4 billion in 2020-21 an increase of 9 per cent on last financial year, new analysis shows.
Families wait at a health clinic in Papua New Guinea. Australia has increased its aid spending in Pacific region this financial year.Credit:Louise Kennerley
But Australian National University economist Stephen Howes, who used publicly available documents to calculate the growth in aid spending, said it appeared the government did not want to draw attention to the increased help for low-income nations.
"What's been odd about it is the desire to hide this aid increase," he said. "The government, perhaps worried about attacks from the likes of One Nation that charity should begin and end at home, seems to be hoping that no one will notice."
Professor Howes said there has to yet be a full official estimate of aid expenditure for 2020-21.
The Coalition government cut aid spending in real terms for six budgets in a row between 2013-14 and 2018-19. Annual aid spending fell from $5.5 billion to $4.1 billion over that period, after adjusting for inflation.
The swingeing cuts pushed foreign aid to an all-time low when measured as a share of national income, according to the Australian aid tracker website. The federal government spends 10 times more on defence than it does on foreign aid, which compares to a defence-to-aid spending ratio of five-to-one in 2013-14.
But the downward trend in Australia's foreign aid spending has reversed in the past few months. Shortly after the October federal budget the government announced it will spend $500 million in support of COVID-19 vaccine access in the Pacific and south-east Asia. Then in mid-November, the Prime Minister Scott Morrison announced a four-year $485 million to support the region's recovery.
Professor Howes said the recent increases will take Australia's foreign aid spending back to the same level as 2015-16, after adjusting for inflation.
The government previously said it would spend about $4 billion this financial year on foreign aid, which is also called overseas development assistance (ODA).
But a spokesperson for the Department of Foreign Affairs and Trade said: "in recognition of the scale of the impact COVID-19 is having on the region and the uncertain recovery, Australia has announced a series of temporary and targeted initiatives supplementary to the $4 billion ODA budget."
Professor Howes said it will be difficult to scale back these "temporary and targeted" increases in aid given the huge economic damage caused in Australia's region by the pandemic and the growing strategic and diplomatic influence of China, especially in the Pacific.
There have been predictions the number of people living in extreme poverty in Australia's immediate region will skyrocket due to the effects of the coronavirus outbreak.
"If you look at the underlying factors for the aid increase, there's COVID and its economic consequences and there's China, neither of which are going away anytime soon," Professor Howes said.
"That's why I don't think the increase in overseas aid will be reversed."
Catch all the day's headlines
At the end of each day, we'll send you the most important breaking news headlines, evening entertainment ideas and a long read to enjoy.  Sign up to The Sydney Morning Herald's newsletter here, The Age's here, Brisbane Times' here, and WAtoday's here.
Most Viewed in Politics
Source: Read Full Article