CMA Triple Play Awards Honor Country's Most Prolific No. 1 Songwriters, Including Father/Son Team Thomas Rhett and Rhett Akins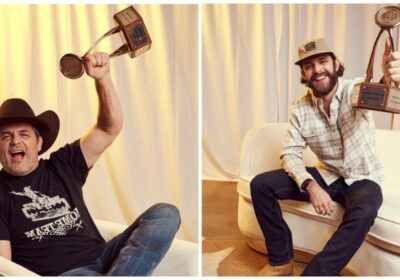 It all begins with a song. That's the time-honored country music mantra, an acknowledgment that all hit tunes start with words and music steeped in the blood, sweat and tears of songwriters. And it was ringing out loud and clear at the Country Music Association's Triple Play Awards Wednesday night at Saint Elle in Nashville.
The Triple Play Awards recognize songwriters who've notched three No. 1 hits in a 12-month period based on Billboard and Country Aircheck charts tracking radio play, streaming services and album sales.
Sixteen winners were announced at this year's ceremony, for a total of 17 awards, since the famously prolific Ashley Gorley got two Triple Plays for his six No. 1 songs for the year. Additionally, song publisher and former BMI Nashville chief Jody Williams was feted with the CMA's 2023 Songwriter Advocate Award for his four decades as a Nashville publishing executive whose dedication to music made him a mentor and a friend to hundreds of aspiring writers and artists. (See below for a full list of winners and songs.)
Backstage at the event, two of the award recipients talked to Variety about songs and songwriting, the muse of inspiration — and what made them unique in the evening's lineup.
Rhett Akins and his son, singer-songwriter Thomas Rhett, were each separate 2023 Triple Play honorees. They're also musical collaborators who've been writing songs together for nearly 20 years, and hitting the musical highway together for even longer.
"I know I've been up on stage with you a bunch," says Rhett, 32, with a grin, about getting out of school early to travel with his dad to gigs when he was just a lad. "I remember going out on the bus with you and waking up for soundcheck, getting up and playing drums with you and your band when you covered 'Sweet Home Alabama' or something. That had to be 20 or 25 years ago."
"He's been going out on the road with me since he was 5 years old," says Akins, 53. "And now I go out on the road with him, write songs, and sometimes even play the whole show with him."
Akins had his own recording career in the 1990s as an artist signed to Decca Records, and later became one of Nashville's top tunesmiths, writing more than 30 No. 1 hits for Luke Bryan, Dustin Lynch, Blake Shelton, Jason Aldean, Joe Nichols and others, including his son. This year's Triple Play marked his eighth time receiving the honor.
Thomas Rhett, whose full name is Thomas Rhett Akins, has released six studio albums and seen almost 20 of his singles rise to No. 1. "I can't believe I've been doing it for 10 years," he says. "It kind of feels like yesterday."
"The first time he ever said, 'I'm going to write a song,' he was about 6 or 7," says Akins. "He had this idea about a guitar, [for a song] called 'A Piece of Wood,' about how it starts out as a piece of wood and then you add some guitar strings and then you write songs."
Guitar strings and songs have been good to both the father and son, leading to careers and livelihoods — and a multi-generational musical bond shared by very few other hitmakers. "It's just a miracle," says Akins. "God has blessed us, to be able, first of all, for me to do this for this long, to still be around 30 years later — and to get to do it with your kid is just an extra blessing."
Akins says one of the main things he's passed along to Rhett is "always have your antenna up, always be listening and looking" for inspiration. "It could be a billboard sign or something someone says." Or it could be a glance at your filthy boots, which inspired "Dirt on My Boots," a song he cowrote that became a 2021 top 10 hit for Jon Pardi.
Both father and son agree that creating a piece of music, writing a song, is the most rewarding thing they can do.
"If I had to pick one love," says Rhett, "it would be writing songs. That's my favorite thing in the world to do."
The Triple Play ceremony, held at Nashville's chi-chi venue St. Elle, was a celebration of a rarified world of musical achievement, but also a reminder of the highly collaborative nature of the business. Most of the evening's honored songs had multiple cowriters, and there were constant shout-outs to the support-system infrastructure that undergirds and enables Nashville's songwriting network — publishers, song pluggers and pitchers, record labels, fellow artists and family.
"I want to thank my team," said Nicolle Gaylon, the only woman to receive a Triple Play this year (for No. 1s from Dierks Bentley, Kelsea Ballerini and Morgan Wallen). "It would not be sustainable for me to continue to write songs and keep my day job going if they were not holding it down at the office — which happens to be my kitchen table." The Kansas native, who came to Nashville to attend Belmont College, has been writing songs since 2010, and placed five on Miranda Lambert's critically hailed 2014 album "Platinum." In 2019, she launched the all-female record label Songs & Daughters.
The evening also cast a spotlight on the many ways songs make their long-winding ways to becoming recordings, and maybe even hits.
"I'm looking at these songs on here," said Thomas Rhett when picking up his trophy for his trio of two self-recorded songs ("Country Again" and "Slow Down Summer") and another, "She Had Me at Heads Carolina," recorded by Cole Swindell. "One was written on Zoom right when COVID happened. One was from a writer camp in Montana, and the other was, I think, the first one I ever wrote in Nashville."
Morgan Wallen, who not so long ago was country music's poster boy for bad behavior, continued the rewards of his more recent redemption arc. "I'm just glad to be allowed to be here," he said, taking the stage for three No. 1 songs that he both wrote and recorded ("Wasted on You," "Thought You Should Know" and "You Proof") and giving a sly acknowledgment to the events a couple of years ago — flaunting COVID protocols and the use of a racial slur—that resulted in his "cancellation" from TV's "Saturday Night Live," the temporary removal of his music from radio and streaming playlists, and dis-invitations and disqualifications from CMT, the CMA Awards and the ACM Awards. "This is not something I take lightly. It means a lot to me. I get to put food on my little boy's plate and clothes on him, and I'm damn proud of that."
The event also pointed out the winds of change buffering country music, and entertainment in general, with references to new technology (streaming, and the specter of artificial intelligence encroaching on human creativity) and a recognition of artists who primarily co-write their own songs — including Wallen, Luke Combs and Thomas Rhett.
"More artists are writers now than back in the day," says Akins, looking back across the decades when singer-songwriters like Merle Haggard, Dolly Parton and Alan Jackson were the exceptions, and most hits were written by songwriters who weren't necessarily artists and performers. "Nowadays more artists than ever write their own songs."
Several writers were repeat honorees. Ashley Gorley, the most decorated Triple Play songwriter ever, with 62 No. 1 hits, was the evening's only double Triple Player, taking home two awards (bringing his Triple Play total to 20), while Kurt Allison, Charlie Handsome, Tully Kennedy and Ben Johnson were first-time recipients.
"I played baseball for 12 years and never got a triple play," quipped Johnson, who attended Nashville's Belmont University on a cello scholarship. "So I'm really glad to get one tonight."
His inaugural Triple Play hits were cuts by Wallen, Cole Swindell and Dierks Bentley (with Hardy and Breland).
In his acceptance speech by video, Michael Hardy — who records as simply Hardy — shotgunned a can of beer, sharing a remote toast to his fellow winners while the music-industry attendees and recipients swilled wine and other drinks from the free bar.
The man of the night, Jody Williams, basked in special unannounced performances by three artists who strolled onto stage with their guitars to serenade him for his unflagging support of their singing and songwriting careers: CMA and ACM Award winner Ashley McBryde, who's also one of the more recent additions to the Grand Ole Opry; Texas musical treasure Robert Earl Keen; and Eric Church, who parlayed his "outlaw country" into a thriving career. Church, whose wife once worked with Williams, debuted a new song he wrote just for the occasion, "My Nebraska."
Williams, a Nashville native and Music Row veteran who started his career in the mailroom of the publishing-rights organization BMI, went on to become a vice president there and worked for BMI, in three phases, across nearly two decades. He's also been a record-label exec and held high-ranking posts at other song-publishing companies. In 2020, he started his own, Jody Williams Songs, to nurture writers and artist-writers and help them get their songs into the hitmaking machinery.
"Today I'm just standing on their shoulders," Williams said of the who's-who of creatives with whom he's worked over the years, championing the careers of many of the night's honorees plus such superstars as Taylor Swift, Brooks & Dunn, Carrie Underwood, Vince Gill and Alison Krauss. "The truth is, I would not have a career at all if not for the songwriters in this community. You're incredibly special to me. You've left me beyond all expectations I ever had."
The event's host, Jim Beavers, brought a bit of zip and zap to his duties. A longtime music executive and an accomplished songwriter himself (with hits by Dierks Bentley, Tim McGraw, Toby Keith, Brad Paisley and Faith Hill), he got knowing chuckles with zingy observations about social media and how not every song, alas, makes it through the gauntlet to become a hit.
Noting that he had never received a Triple Play honor, Beavers dryly added that "this week, I did earn the coveted 'Triple Pass' award, with the same song."
Songwriters certainly know about rejection, about pitches that get a pass, about the odds against anything they write getting onto the charts. It can be a grueling way to earn a living, especially when minuscule fees from streaming have choked the income stream for song royalties.
But hope springs eternal, especially in Nashville at the 2023 Triple Play Awards, where contemporary achievements staked new high ground in a high-tech world. At the event, each recipient was announced on big-screen monitors with video of a photograph needle bobbing on a spinning vinyl LP — a retro-hip nod to country music's roots in another era, and a reminder that no matter how much things might change, at least one thing doesn't: Music may arrive in our ears by different platforms, but it all begins with a song.
"It's in our blood so much," says Rhett Akins. "I literally retire every night when I come home: 'This is impossible, I've had it.' My wife, Sonia, has to listen to it all. And every morning I get up and I show up. That's the glory of songwriting, man. No matter how hard it is, we get up every day and think, 'Today, I'm gonna knock that thing out of the park'."
The full list of CMA Triple Play Awards winners for 2023:
Rhett Akins
"To Be Loved by You," recorded by Parker McCollum
"Slow Down Summer," recorded by Thomas Rhett
"Half of Me," recorded by Thomas Rhett featuring Riley Green
Kurt Allison
"Blame It on You," recorded by Jason Aldean
"If I Didn't Love You," recorded by Jason Aldean and Carrie Underwood
"Trouble With a Heartbreak," recorded by Jason Aldean
Luke Combs
"Cold as You," recorded by Combs
"Doin' This," recorded by Combs
"The Kind of Love We Make," recorded by Combs
Jesse Frasure
"Whiskey and Rain," recorded by Michael Ray
"One Mississippi," recorded by Kane Brown
"Slow Down Summer," recorded by Thomas Rhett
Nicolle Galyon
"Gone," recorded by Dierks Bentley
"Half of My Hometown," recorded by Kelsea Ballerini
"Thought You Should Know," recorded by Morgan Wallen
Ashley Gorley
"Sand in My Boots," recorded by Morgan Wallen
"Beers on Me," recorded by Dierks Bentley featuring BRELAND and HARDY
"You Proof," recorded by Morgan Wallen
"Slow Down Summer," recorded by Thomas Rhett
"Take My Name," recorded by Parmalee
"New Truck," recorded by Dylan Scott
Charlie Handsome
"I Love My Country," recorded by Florida Georgia Line
"More Than My Hometown," recorded by Morgan Wallen
"Wasted on You," recorded by Morgan Wallen
Michael Hardy
"Single Saturday Night," recorded by Cole Swindell
"Sand in My Boots," recorded by Morgan Wallen
"Beers on Me," recorded by Dierks Bentley featuring BRELAND and HARDY
Ben Johnson
"Take My Name," recorded by Parmalee
"Best Thing Since Backroads," recorded by Jake Owen
"New Truck," recorded by Dylan Scott
Tully Kennedy
"Blame It on You," recorded by Jason Aldean
"If I Didn't Love You," recorded by Jason Aldean
"Trouble With a Heartbreak," recorded by Jason Aldean
Shane McAnally
"Half of My Hometown," recorded by Kelsea Ballerini
"23," recorded by Sam Hunt
"Never Wanted to Be That Girl," recorded by Ashley McBryde and Carly Pearce
Chase McGill
"Waves," recorded by Luke Bryan
"Never Say Never," recorded by Cole Swindell and Lainey Wilson
"Don't Think Jesus," recorded by Morgan Wallen
Thomas Rhett
"Country Again," recorded by Thomas Rhett
"Slow Down Summer," recorded by Thomas Rhett
"She Had Me at Heads Carolina," recorded by Cole Swindell
Ernest Keith Smith
"Breaking Up Was Easy in the 90's," recorded by Sam Hunt
"One Mississippi," recorded by Kane Brown
"Wasted on You," recorded by Morgan Wallen
Josh Thompson
"Whiskey and Rain," recorded by Michael Ray
"Wasted on You," recorded by Morgan Wallen
"Half of Me," recorded by Thomas Rhett
Morgan Wallen
"Wasted on You," recorded by Wallen
"Thought You Should Know," recorded by Wallen
"You Proof," recorded by Wallen
Read More About:
Source: Read Full Article