Charles Leclerc, Carlos Sainz Front New Ray-Ban Campaign for Scuderia Ferrari Sunglasses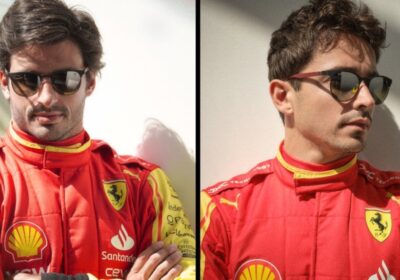 If you purchase an independently reviewed product or service through a link on our website, Variety may receive an affiliate commission.
Formula 1 fans — are you ready to ride in style?
Scuderia Ferrari's Charles Leclerc and Carlos Sainz are front and center in a new campaign for the F1 team's latest collaboration with Ray-Ban. The limited-edition Ray-Ban for Scuderia Ferrari Monza Collection takes inspiration from Italian style — and the Italian Grand Prix — with chic, contemporary sunglasses adorned with red and "Modena" yellow details — a nod to the beloved F1 team's iconic colors.
Ray-Ban
Ferrari x Ray-Ban Sunglasses$346Buy Now
The Ferrari x Ray-Ban sunglasses feature a face-flattering round silhouette with red carbon fiber temples and Chromance mirror lenses. The frames are not only adorned with the official Scuderia Ferrari colors, they also come in a special racing-inspired carrying case, along with Ferrari-inspired packaging and an authenticity card to ensure their validity. The sunglasses are available in super limited quantities — only 1200 pairs are being released — and they retail for $346 at Ray-Ban.com.
In accompanying photos released for the new drop, teammates Leclerc and Sainz are seen sporting Ferrari's red F1 uniforms while showing off the new frames. This is the latest release from Ray-Ban's Scuderia Ferrari collection, which features more than 40 styles of sunglasses inspired by the racing team's beloved colors and iconic race tracks around the world. Customized pairs by Sainz and LeClerc are available in addition to a portfolio of styles racing lovers are sure to love.
Ray-Ban
Ferrari x Ray-Ban Sunglasses$346Buy Now
Leclerc first joined Ferrari in 2019, signing a contract that will last him through 2024. He went on to earn his first race win with Ferrari at the 2022 Australian Grand Prix, going on to win both the Bahrain and Austria Grand Prix events.
Sainz joined Ferrari in 2021, also landing a contract through 2024 with the team. Sainz's maiden win with Ferrari came in 2022 at the British Grand Prix.
Ferrari is currently third in the 2023 F1 Constructor Standings, behind Mercedes and Red Bull. Sainz and Leclerc, meantime, are fifth and sixth in the Drivers Standings, respectively.
The new Ray-Ban collection isn't the only reason the automaker is trending. The new movie, "Ferrari," just premiered at the Venice Film Festival to rave reviews. Based on the biography "Enzo Ferrari: The Man and the Machine" by Brock Yates, the film stars Adam Driver as racecar driver Enzo Ferrari.
Read More About:
Source: Read Full Article