Charles 'ignores' Camilla on royal engagements – 'Future King doesn't want to be upstaged'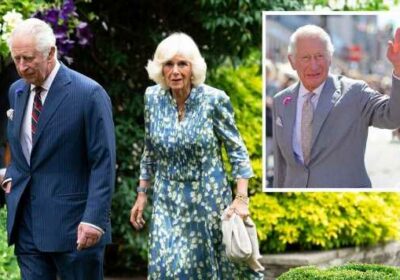 Charles and Camilla: Body language 'horrible' says expert
We use your sign-up to provide content in ways you've consented to and to improve our understanding of you. This may include adverts from us and 3rd parties based on our understanding. You can unsubscribe at any time. More info
Prince Charles and Camilla, Duchess of Cornwall make several public engagements together. Body language expert Judi James, who has nearly two decades of experience analysing human behaviour, commented on how the future King and Queen Consort interacted with one another.
Judi appeared on GB News last month to discuss Charles and Camilla's appearances across the Platinum Jubilee weekend.
She said: "His [Charles'] treatment of her in public I find appalling, I don't know what it's like behind the scenes.
"He ignores her in almost every clip we've seen and Camilla quite rightly is very nervous, she's obviously still a bit worried about public acceptance.
"He doesn't help her out at all; he tends to come out – when you saw them on the balcony, he walked out, as 'I'm the next King' and she had to edge around him, dance around him, and you can see her hands begin to shake.
royal
"He doesn't really give her that much time at all.
"Did you see with Kate [Middleton]? At the Service of Thanksgiving when he blew her a kiss and I thought 'You've never done that to your wife in public, how nice would a gesture like that be?'
"He tends to look as though he's the centre of attention, I think it looks as though she nanny's him slightly and flatters him – so it's a complementary relationship."
Express.co.uk asked Judi to expand on her comments, and give details as to what body language signs Charles displays that made her reach this analysis.
Judi opined: "Charles always looks like a man troubled by the idea that he might be upstaged by anyone, including his sons.
"When he first appeared with Diana, who we should remember was only nineteen at the time, it was hard to even imagine they were a couple during many of their royal outings.
"He tended to go about his visits as though still single and she would be left to do her own thing.
"There were no touches or glances or shared smiles and he hasn't changed much with Camilla."
"For many (not all) of his appearances Charles will walk in first with barely if any backward glance to his wife," she claimed.
"He is often seen standing central to the action, chatting animatedly in the middle of a group, with Camilla hopping around behind him.
"Any synchronicity between them is rare, as are any of the small tie-signs that she might find useful in terms of choreography."
"Diana was young and needed reassurance," Judi suggested. "Camilla is much older but she also appears very nervous and anxious to get things right when she appears in public and this treatment tends to make her look awkward.
"Dancing around her husband and seeming to try to second-guess his movements so she can fall into place looks lacking in generosity on his part.
"Charles is clearly happy to perform PDAs," the expert commented. "He will hug Zara, he blew a kiss to Kate and he made a huge performance out of kissing Queen Letizia's hand in the most gallant and devoted way recently.
"But it seems less so with Camilla, appearing to prefer much subtler signals of affection.
"It's possible to quote protocol when it comes to Charles walking ahead of his wife but as he proved himself when he divorced Diana, royal rules are his to break and I'm sure no one would be complaining if he used the more even status and openly affectionate body language of William and Kate." '
Judi James is a leading communication and body language expert who regularly appears on several high-profile TV and radio programmes across many channels. She has written 26 fiction and non-fiction books covering a range of subjects, and titles include The Body Language Bible.
She also runs training courses and keynote seminars in business on the subjects of body language, charisma, empathy, stress and lifestyle, personal image skills, motivation skills, and communication skills.
Source: Read Full Article