Cate Blanchett makes 'pointed' statement in Cannes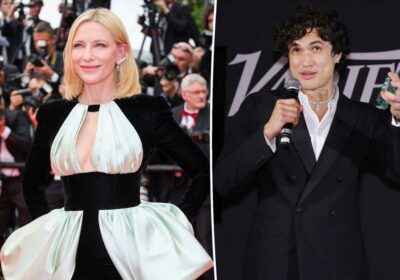 More On:
cannes film festival
'Hot' at 80, Harrison Ford jokes, 'I've been blessed with this body'
Dua Lipa and boyfriend Romain Gavras make red carpet debut at Cannes Film Festival
Elle Fanning rocks a dress with metal pasties for night out at Cannes Film Festival
Harrison Ford checks out wife Calista Flockhart before 'Indiana Jones' premiere
Cate Blanchett made a pointed statement at Variety and the Golden Globes' Cannes Film Festival bash.
The "Tar" star presented a pointy-shaped award at the event to Iranian actress Zahra Amir Ebrahim, and quipped, "This is to stab all the people who stand in the way of women's rights."
Blanchett then held the award by her crotch and moved it skyward, exclaiming: "Up the vajajay!"
She also took her shoes off on the stage, "in honor of the women of Iran," she said.
Ebrahim, who stars in the film "Holy Spider," gave an emotional speech saying Iran is in a "time of sorrow, of anger, and of grief."
There have been ongoing protests in Iran led by women against the government, prompting some experts to say a regime change is in the cards.
Also at the Variety event, director Todd Haynes presented an award to Charles Melton, who stars in his new film "May December."
"Slave Play" playwright and "Euphoria" producer Jeremy O. Harris gave a touching speech to his former Yale classmate, "Indiana Jones and the Dial of Destiny" star, Shaunette Renee Wilson. Harrison Ford reprises his famous role in the movie at age 80.
"Hey guys shut the f–k up," Harris told the packed party during his speech. "Yeah, I wasn't kidding. I'm not going to talk unless you shut up."
Wilson told Page Six of being in the latest, and last, Indiana Jones film, which made its debut in Cannes, "I was just happy to be part of the team that sends [Ford] off in such a beautiful and wonderful way."
Actor Tye Sheridan, who stars with Sean Penn in "Black Flies," about New York paramedics, dedicated his award to first responders.
He told Page Six he spent time with real EMTs in Bushwick, Brooklyn, to prep for the role.
"It was an amazing way to immerse yourself in the world of the EMS community," he said. "Not only going to the calls, but being around them and talking to them in an intimate place and learning spiritually how they are, who they are."
Cannes festival head Thierry Fremaux and Sony Pictures Classics co-head Tom Bernard were also spotted at the Variety celebration.
The bash at the Hotel Barrière Le Majestic's beach was one of the best bashes so far at the fest, and attendees raged till 1:30am with a packed dancefloor of revelers.
"Hannibal" star Mads Mikkelsen was seen shutting things down, hanging with friends on a couch and puffing cigarettes.
The event was hosted by HFPA/Golden Globes president Helen Hoehne and Variety's co-editor-in-chief Ramin Setoodeh.
Share this article:
Source: Read Full Article